How do banks make money?
Australian banks are known for their massive profits, but where do those profits come from?
We're reader-supported and may be paid when you visit links to partner sites. We don't compare all products in the market, but we're working on it!
We hear constantly that Australia's banks are some of the most profitable in the world, but it can be difficult at first glance to discern how they generate that profit. The banking sector can seem confusing and byzantine, and reading profit results from any of the big four doesn't clear the picture up.
So how do banks actually make money? While there are some very complex structures contributing to banks' profitability, the simple answer is that banks lend money at a rate of interest higher than they pay on deposits.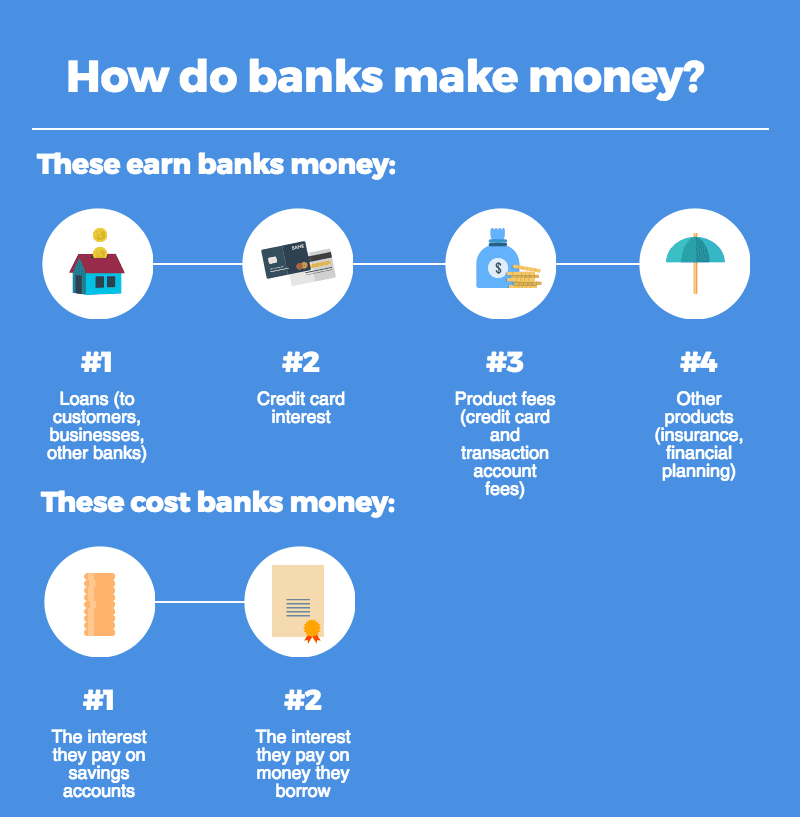 Loans
The main services banks offer to customers can be broken down into two basic categories: deposits and loans. In simple terms, deposits cost banks money while loans make them money.
When you deposit your money in a bank, you're doing so with the understanding that the bank will pay you interest on the amount of your deposit. This is because banks use depositors' money as one of the sources of funding for loans for other borrowers.
While deposits cost banks money, loans make money for banks. Borrowers repay loans at a higher rate of interest than banks offer depositors.
Loans to customers
While banks have a variety of funding sources, a simple way of looking at bank revenue is to look at the difference in the rate offered to savers versus the rate charged on loans. The difference in the amount it costs a bank to raise funds versus the amount it charges customers to borrow them is called the net interest margin.
Most banks will offer a variety of loan products, such as personal loans, car loans and home loans. The net interest margin will vary for all of these products, but in each case the interest charged will be higher than the interest paid on deposits.
Home loans generally make up a significant majority of banks' interest-earning assets. For example, Commonwealth Bank's half year results for 2017 show the bank had more than twice the amount of net interest income from home loans than it did from personal loans and credit cards.
Loans to businesses
Banks also lend to both small and large businesses. These loans are often for much larger amounts, and can carry higher interest rates. Banks loan funds to large corporations, agri-businesses and small-to-medium enterprises, and also provide private banking services to businesses.
Loans to other banks
Banks also raise funds, and consequently make money, on funds lent to other banks. Banks borrow money from other banks in order to maintain what's known as liquidity. Liquidity is the ability to have enough cash on hand at all times to cover all customer deposits.
Banks will lend money to one another for extremely short terms, ranging from overnight to a few weeks. While the borrowing bank gets a much better interest rate than a consumer could, the lending bank still makes money on the funds it provides.
Credit cards
Another way banks make money in the form of interest is through issuing credit cards. Credit cards extend a customer a certain amount of credit with the understanding they'll pay back any funds they use with interest. Credit cards are usually charged at a higher rate of interest than many loans.
Making money on interest represents the overwhelming majority of bank profits. For example, in Commonwealth Bank's 2017 half year results, the bank reported $13.126 billion in total operating income. Of this, $8.743 billion came from net interest income. That represents more than two-thirds of the bank's operating income for the half year.
Other products and fees
In addition to loans and deposits, banks offer a variety of other products, including insurance, financial planning and superannuation. Banks also make money on fees charged on products such as credit cards and transaction accounts. While these products and fees provide revenue for the bank, their contribution to mosts banks' overall profit is far eclipsed by interest income.
More guides on Finder