Hotel health and safety measures that will help keep you safe during COVID-19
This is what your favourite hotel chains are doing to make sure you have a COVID-safe stay.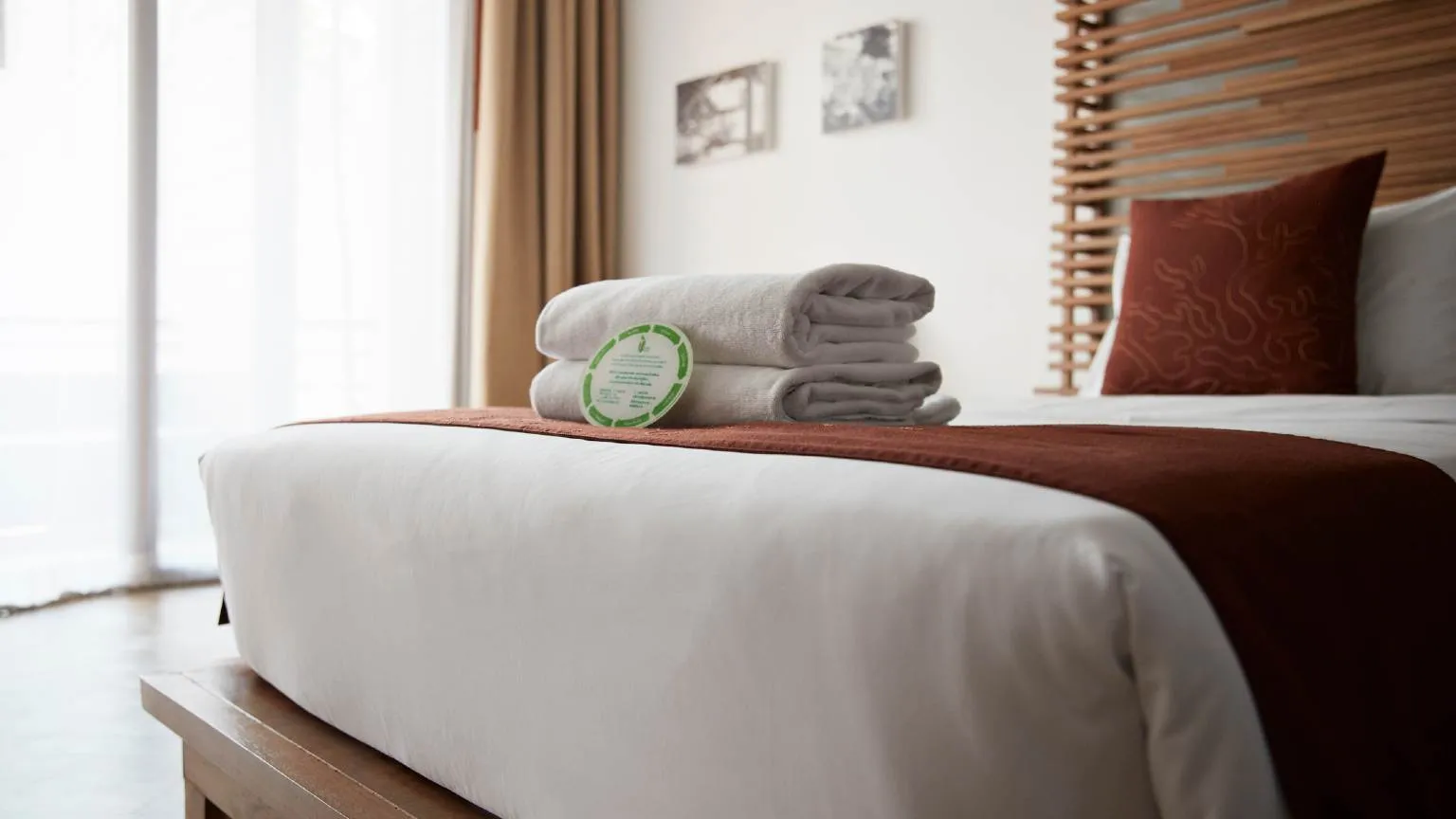 We're reader-supported and may be paid when you visit links to partner sites. We don't compare all products in the market, but we're working on it!
With coronavirus changing the way we travel, hotels around the country have had to increase their health and safety measures accordingly, to keep their guests and team members safe.
We've collected the current sanitisation measures of major hotel chains in Australia and exactly what procedures they've put in place to help stop the spread of coronavirus.
As businesses are opening their doors again, the Marriott and Sheraton's focus has shifted to bringing its guests a safer stay while they travel. In order to amplify its cleaning and safety standards, The Marriott Cleanliness Council has made a few notable improvements across its chains.
To protect the health and safety of guests and team members
Cleaning practices:
The established cleaning protocol has been upgraded to hospital-grade standards and disinfectants.
Room cleaning includes thorough disinfecting on all surfaces including the bathroom, office desks and bedrooms. All guest rooms feature disinfecting wipes for personal use.
Air purifying systems and electrostatic sprayers have been introduced for an enhanced clean throughout the hotels.
Safe food preparation and service practices training has been completed by food handlers and supervisors. Self-inspections and external audits are continuously testing the standards of the company's food and beverage operations.
Social distancing:
Alongside mobile bookings, guests are now encouraged to check in electronically from their phones. After notifying the hotel of your arrival time, a notification will be sent to your phone once your room is ready.
Physical keycards are now replaced with a digital key that's accessible via the mobile app. This feature allows you to open your room, the fitness centre, lounge, parking garage, pool and other shared areas of the hotel.
Guests and team members are encouraged to wear face masks in accordance with the local government laws.
The mobile app also includes contactless services such as room service and special requests.
Public areas of the hotel include social distancing signage, sanitiser stations, gloves and masks.
Furniture in shared spaces has been rearranged to go hand in hand with social distancing protocol.
---
As a result of the current health crisis, Oaks Hotels, Resorts & Suites has introduced the Oaks Sure Stay Program.
To protect the health and safety of guests and team members
Cleaning practices:
Cleaning tools and products have been upgraded to hospital-grade from commercial-grade.
Deep cleaning of high touch areas including all handles, doorknobs, light switches, temperature control panels, remotes, telephones, vanities, toilet buttons and seats, tapware, irons, safes, kitchen and laundry amenities, tabletops and desks.
A long-lasting sanitisation fogging system is being applied to surfaces of the hotels.
Showers, baths and toilets are double cleaned with both commercial and hospital-grade disinfectants.
Each room is cleaned with different coloured cloths to avoid cross contamination.
Unnecessary items such as notebooks and pens are no longer available in rooms but can be requested at reception.
Each room receives a customised hygiene seal after each clean.
ATP testing is carried out to test residual levels within the hotels.
Common areas are cleaned on an hourly basis during peak times. High-touch points such as switches, door handles and counters are given extra attention.
Protective sheeting is placed over all lift buttons for a more effective clean.
Wipes and hand sanitiser are available at reception.
Guests are not allowed to share gym equipment until it has been thoroughly cleaned.
QR codes have replaced menus.
One-off consumables such as salt and pepper are available upon request.
Communal books, toys and newspapers have been removed.
High-touch food and beverage areas such as EFTPOS and POS machines, self-serve drink dispensers, handrails, elevator buttons and post-mix guns are more frequently disinfected.
Social distancing:
Hotel lobby seating has been removed.
Social distancing regulations have been put in place with restrictions to how many individuals are allowed in one given area.
Some hotel facilities have been temporarily closed.
Meeting and event rooms have been rearranged to suit social distancing guidelines.
Buffets have been removed and replaced with box meals.
---
With 18 Meriton Suites locations and 4,800 rooms, the hotel is implementing improved sanitation standards to assist in a safer stay for its guests. You can find a Meriton Suites in the heart of Australia's biggest cities, including Sydney, Brisbane, Melbourne and the Gold Coast.
To protect the health and safety of guests and team members
Cleaning practices:
Frequency of cleaning procedures are increased to areas such as reception, lifts (buttons included), door handles, bathrooms and room keys with hospital grade products.
Guest suites are also disinfected by housekeeping with antibacterial, hospital-grade products.
Hand sanitiser is readily available to all guests in the hotel alongside the high-traffic areas including reception.
The hotel's linen partners are also committed to a safe stay by washing sheets in extreme heat.
Hand sanitiser is highly encouraged among team members.
Social distancing:
As a part of Meriton's Stay Safe program, the hotel is following government guidelines. Such regulations include social distancing practices and maximum capacity per area. It is urged that if you are feeling unwell to isolate.
Face masks are mandatory for all team members working within 1.5m of other people in accordance with the local government laws.
Staff are health screened prior to commencing their shifts with a temperature check.
---
Founded in cities right across the country, the IHG group hotels offer luxury options when you're travelling. In an effort to keep COVID-19 at bay, the hospitality group has introduced the IHG Clean Promise.
To protect the health and safety of guests and team members
Cleaning practices:
Deep cleans are now conducted with hospital-grade disinfectants throughout the hotels.
Shared spaces of the hotels now receive increased cleaning, focusing on high-touch/traffic areas such as reception, bathrooms, elevators, door handles and railings.
Guest rooms have a reduction in unnecessary furnishings/high-touch pieces, new laundry practices, electrostatic technology (at selected hotels) and guides to the IHG Clean promise.
Staff training and certification has also been brought up to speed with the new COVID-19 standards.
Gathering areas such as meeting and event rooms are receiving more frequent and deeper cleans with socially distanced seating, hand sanitiser stations as well as updates to the meal options.
Social distancing:
Receptions now have reduced contact at check-in and paperless check-out, touchless transactions, screens at front desk, sanitiser station and sanitised room cards.
Guides are implemented across public spaces with "last cleaned" charts, best practices for pools, fitness rooms and lounges as well as social distancing signage.
Buffets, banquets, room service and catering have been adapted to suit the new standards of food and beverage handling. Seating charts have been adjusted to new social distancing measures and room service is now left at the door.
---
Take your pick from stays at Circular Quay, Adelaide, Melbourne, Brisbane or Sydney with Stamford Plaza's selection of luxury stays. This is what the hotel's updated health and safety measures include.
To protect the health and safety of guests and team members
Cleaning practices:
Hand sanitisers can be found at concierge, reception, meeting rooms, restaurants, staff canteen and back of house spaces.
All team members have access to face masks and gloves at multiple points of the hotel including reception, housekeeping, hospitality and maintenance departments.
Cleaning schedules have increased with hospital-grade disinfectants in public areas like elevators, door handles, the lobby, railings, bathrooms.
Guest rooms are also seeing more frequent cleans with touch points being a main focus for housekeeping. These include remotes, telephones, all handles, toilets, kitchen appliances and their contents, bins and light switches. Magazines have also been removed. The same policy goes for meeting rooms.
Key cards are sanitised upon return to reception.
Room service food is covered in transit and single-use menus are available.
Social distancing:
Signages for social distancing are present at reception, concierge, the lobby, restaurants, fitness room and by the pool.
Furniture and exercise equipment have been separated according to social distancing policies across the hotels.
Staff training has been improved and implemented across the teams to reflect COVID-19 standards.
Restaurants are in compliance with state government regulations for distance and density. Self-service buffets and communal food stations have been removed.
Room service has been updated to minimise the guest/team member exposure. Hand sanitisation is mandatory for staff before and after drop-off.
---
A total of 12 Hilton hotels span across Sydney, Adelaide, Perth, Alice Springs, Darwin and the tropical Queensland coast. Alongside a more flexible booking policy, Hilton Hotels and Resorts has partnered with the makers of Lysol & Dettol to align its policies with an ever-changing COVID-19 world.
To protect the health and safety of guests and team members
Cleaning practices:
The Hilton CleanStay program comes from a collaboration with RB, the company that has brought out Dettol, Lysol, Napisan and Sagrotan.
Guest rooms are deep cleaned with a linen removal, vacuum, mop and wiping down all surfaces with a hospital-grade disinfectant. Light switches, controls, remotes, handles and bathroom surfaces are given a thorough clean with one of the trusted brands mentioned above.
Shared spaces feature hand sanitiser stations as well as wipes. Team member areas are also cleaned at scheduled intervals alongside public areas.
High-touch areas such as elevators and bathrooms include hourly maintenance and hygiene checks. The same standards run for meeting rooms.
Social distancing:
Housekeeping is now tailored to you. Feel free to schedule what time works for you, and request any amenities via the front desk. Deliveries will be left at your door for a contactless service.
Guests are encouraged to use online check-in and key for a contactless stay. The Hilton app offers an electronic check-in, room choice, digital room key and check-out.
Select locations across the world have mandatory masks policies in accordance with the local government laws, including the United States of America, the Caribbean and Latin America.
In-house restaurants are also compliant to the social distancing rules and seating has been changed accordingly. Guests have the option of biodegradable, disposable dishware upon request.
Each property has a designated pick-up spot for contactless food delivery. Buffet-style services have been replaced with Grab & Go pre-plated meals.
---
Over six decades of hospitality goes into a night's stay at a Hyatt Hotel. With the current health situation, the hotel chain is committed to Hyatt's Global Care & Cleanliness Commitment.
To protect the health and safety of guests and team members
Cleaning practices:
Hotel and resort patrons have access to multiple hand sanitiser stations.
Increased frequency of public space cleaning such as the bathroom, elevators, door handles and reception.
Unnecessary, high-touch items like magazines and decor have been removed from the guest rooms.
Housekeeping cleaning supplies have been upgraded to hospital-grade disinfectants and electrostatic sprayers have been introduced.
Social distancing:
A hygiene and wellbeing leader has been appointed to ensure the new COVID-19 standards are being met.
Food and beverage safety and hygiene protocols have been enhanced via the HACCP certification. This is an independently audited food safety management system that's recognised globally. Guests can expect socially distanced dining options within in-house restaurants.
Face masks are mandatory in accordance with the local government laws.
Public areas in the hotels feature social distancing signage and maximum capacity rules have been reduced.
Room service is contact-free with a knock-and-go policy in place.
The Hyatt app allows for a contact-free check-in, check-out, hotel stay bills, meal ordering and even in-room Chromecast.
Team members are temperature checked at all global locations, with guest checks occurring at selected hotels.
---
Wyndham (or Ramada by Wyndham) can be found in a number of destinations across Australia including Hervey Bay, Cairns city centre, Marcoola Beach, Ballina Byron, Dunsborough and Port Douglas. Now, with its Count on Us campaign, you can travel with added peace of mind.
To protect the health and safety of guests and team members
Cleaning practices:
High-touch areas of the public spaces and guest rooms have had increased cleaning sessions. These would include handles, bathrooms, reception areas, remote controls, light switches and commonly used appliances.
If in stock, guests will receive a complimentary travel-sized hand sanitiser for the room.
Key cards come with disinfecting wipes at check-in.
Cleaning supplies are being sourced from EcoLab's EPA-approved disinfectant range.
Social distancing:
Social distancing rules are enforced in shared spaces of the hotels.
Face masks are mandatory in accordance with the local government laws.
Meeting rooms and conference spaces have been updated with the latest social distancing density rules.
---
Known for its convenient locations and comfortable rooms, Travelodge keeps it simple for your next holiday. It's also committed to the wellbeing of its guests with the implementation of the Clean Touch program.
To protect the health and safety of guests and team members
Cleaning practices:
Hand sanitiser stations have been implemented across the hotel locations.
Shared spaces of the hotels are frequently sanitised with high-contact areas being given extra attention, including door handles, elevator buttons, bathrooms, light switches and remote controls.
Unnecessary items within the hotel rooms, such as magazines, are removed for hygienic reasons.
The cleaning products used are approved by the Australian Department of Health (TGA).
Social distancing:
Social distancing is enforced in the public areas of the hotels.
QR codes via mobile feature within restaurants and receptions for contactless-information.
Cashless transactions as well as contactless check-in from your mobile phone.
Room service and cleaning is contact-free, with deliveries left at the door.
Floor plans have been revised according to new social distancing rules.
---
Latest hotel deals
More guides on Finder