Horizon Zero Dawn review: A tribe called main-quest
Guerrilla Games has mastered the third-person, open-world RPG on its first shot.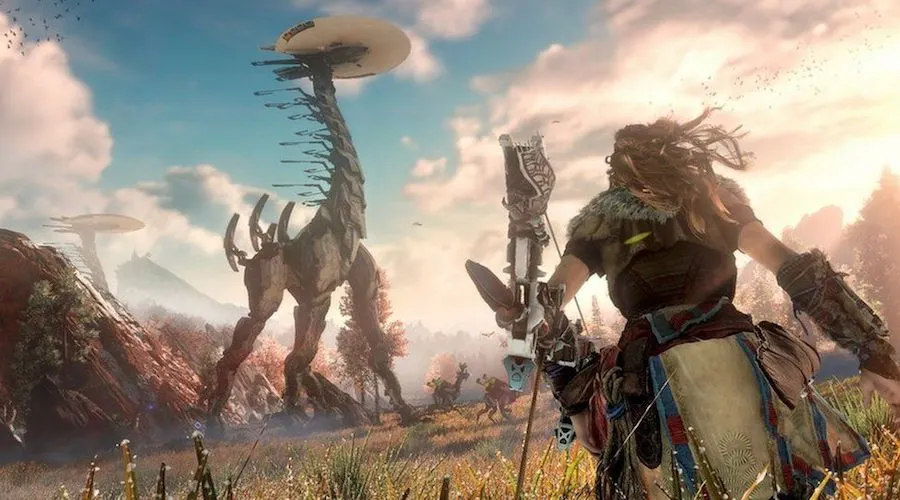 We're reader-supported and may be paid when you visit links to partner sites. We don't compare all products in the market, but we're working on it!
Earth, the distant future. Over the course of many centuries, decimated tribes of humanity have clawed their way back to some semblance of civilisation, their efforts constantly stymied by megafauna machines of unknown origin. How'd the robo-pooch get this screwed? That's a story to be uncovered by your heroine, Aloy, through memory code fragments siphoned from old world tech. Fittingly, playing Horizon Zero Dawn (HZD) itself feels like you're sifting through the bytes of gaming past. The genre greats it shamelessly cribs from are old; the joy it weaves feels fresh and new.
Every hour or so you'll feel a pang of deja vu as you recognised this game or that. When getting your RPG on in settlements, doing errands, selecting from dialogue wheels, and watching the digital acting play out, HZD feels like a topnotch Witcher 3. Later, when the action moves out into the wild blue yonder – the main event of this game – the whiff of Far Cry Primal is pungent. Even the most focused adventurer can be lured away by the pouch upgrade loop of reaping the various flora and fauna out there. Just you try to resist being a klepto when your pool of life and homemade arrows come from twigs and berries.
And, hey, who wouldn't want to aimlessly gallivant across a countryside that looks so gorgeous it makes you question your own attractiveness? Killzone Shadow Fall showed us right out the gate that Guerrilla Games knows how to ride Sony's tech harder than Zorro; HZD is yet another level above that benchmark.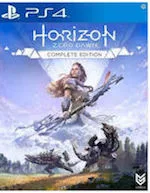 Horizon Zero Dawn Complete Edition PS4 Game
from ozgameshop.com
Includes all content from the Digital Deluxe version of the PlayStation 4 title, along with The Frozen Wilds expansion.
View details
We're talking draw distances till next Tuesday (assuming it's Wednesday), lush hectares of vegetation that tussle in the wind, and herds of complex AI dinobots and NPCs living their lives. It's diverse, too. This Skyrim-sized world transitions from frosty mountains, to vast Savannah plains, to desert mesas, and the deepest darkest jungles imaginable. Dotted about are culturally distinct villages, and epic walled cities that will put your jaw on the floor when you first spy them in the distance. (Your mandible will stay sub-level when you see the intricate architecture and how populated the towns' marketplaces are.) Everywhere is a lived-in space. NPCs thrusting exposition and side-quests at you have to be beaten away with a stick. Learning the rich history of this world quickly becomes an escapist's drug.
Come head-bashing time, HZD is just as addictive. We could totally understand if you saw shades of Assassin's Creed III on the surface of it – if somebody cranked Connor's speed and responsiveness up about 100%, that is. Aloy is primarily a distance fighter in HZD, relying on a modest array of bows and ammo types that offer handling and damage boosts for different situations (hurried mid- to close-range encounters, or planned sniping from cover). Brute force it, by wading into a mob of three robo-sabretooths and belting them with your last-resort spear, is messy at best and a death sentence at worst. Aloy's strengths lie in shrewdness.
Early on you acquire an old-world trinket called a Focus; think of it as a Google Glass that offers Batman Detective Mode levels of insight. Pre-tagging enemies before a scrap is a good practice, revealing their patrol paths is even better, and X-ray noting their major components and elemental weaknesses is the best idea. Bookworms should dive into their bestiary log at this point to discern what each of these components allow the beast to do in combat.
Is the giant robo-bird strafing you with lasers or mortar fire? Before you go ham on its main critical point, maybe use your bullet-time skill to target and shatter the circuitry tied to those attacks. Every bot feels like a mini-boss battle in this regard, and the stakes, complexity and sheer fun-factor gets raised when you're juggling a mob of them.
In truth, HZD is best played like a Stealth-RPG in any difficulty above normal. Aloy is spry and unbounded by any sort of stamina meter, so when an encounter goes wrong it's a cinch to break contact, obscure line of sight and retreat to the safety of tall grass. From here you can reposition, re-engage, or divide and assassinate your foes with guerilla tactics: thrown lures, electrified rope, slingshots and crossbows.
It's so wonderful to have tactical retreats be a viable option, as opposed to the old dance of: "we're stealth until I screw the approach up early, and now this has to be an Action game encounter until one of us dies – probably me". Of course, you could also give yourself an advantage by swapping into a series of fashionista outfits that provide better resistances (depending on their rarity level and which additional trinkets you clip into their three modification slots). Weapons follow the same principle by being divided up into three different rarities and ammo element types. Don't expect Blizzard loot mania.

The main quest took us around 18-20 hours (at a single-minded pace, because we chose to mop up the buttload of side content after credits). It charts the journey of Aloy from a spurned outcast, through the mysteries of her origins and of all life on this new Earth, to a crisis only she can avert. Ashly Burch shifts well away from her lamentable Tiny Tina shtick, and does a great job in keeping Aloy likeable and grounded in this topsy-turvy world. Supporting characters like the bumbling, big-hearted screw-up, Erend – and a mysterious benefactor character voiced by Lance Reddick – are also standouts.
However, the rare robotic head movement can mar some line deliveries. If you could point to one specific weakness in the overall package, nitpickers would probably zero in on the narrative. Some beats are a touch predictable, and there's an under-utilised villain whose impressive menace fizzes out a bit in the end. Go in expecting a solid tale, not something exceptional to rival CD Projeckt or BioWare. It's a fair expectation to have, given this production leans much more heavily on the Action side of things, rather than the RPG. Bottom line: the touching, more-than-satisfying ending leaves a sequel door open. We are itching to walk through.
In the meantime, we're happy to post-credit pick at a dizzying array of collect-a-thons and skill challenges. The combat is so fun, and the visuals so captivating we just don't want to leave here.
We reviewed Horizon Zero Dawn on PlayStation 4 with a copy provided by the publisher.
Horizon Zero Dawn
9.5 AMAZING
What we liked...
Supremely strategic and entertaining combat/hunting
Riveting story that lays solid foundations for a series
The sort of visuals that justify a PS4 Pro and 4K TV
What we didn't like...
Important villain doesn't quite live up to his potential
VERDICT
Most of our time is spent walking about in a daze, wondering how the hell HZD is this good. Guerrilla Games has gone from having no stake in RPGs, platforming, open-world gaming, or even third-person shooting to… this. Every single discipline attempted has been mastered. This is a truly remarkable, must-have experience that plays just as good as it looks. A new franchise has dawned.
Available for PS4
Buy at Amazon
For more information on how finder scores games, check our review guidelines.
More guides on Finder