Everything you need for the ultimate honeymoon in Hawaii
Plan your perfect Hawaii honeymoon in minutes with this helpful guide.
Hawaii is an outstanding choice for a honeymoon. The mild tropical climate, Polynesian culture and dramatic landscape make it naturally romantic, and loved-up couples are spoiled for choice when it comes to idyllic honeymoon suites and tropical villas.
If you are planning a honeymoon in Hawaii, make sure you consult this guide first. It includes some helpful guidelines on travel, accommodation and everyday costs. It also includes a suggested itinerary for a one-week dream honeymoon.
If you are not sure where to stay, check out the hotels section. We have included some of our favourites plus excellent couples-only options.
---
The best Hawaii honeymoon package deals
It looks like we don't have any coupons at the moment. Take a look at our most recent deals
---
Hawaii honeymoon itinerary
Keep in mind that Hawaii has six regularly frequented islands, so it's impossible to see it all in one week. We have focussed on Oahu, Kauai and Maui.
Day one
Arrive at Honolulu and get settled into your hotel or resort.
Hit the beach and explore Honolulu. Take in the historic Polynesian Museum and get some shopping in.
Head back to your resort and enjoy your first night dining in while overlooking the vast Pacific Ocean.
Day two
Rent (or buy) some snorkelling equipment and spend the morning getting acquainted with the local aquatic life. Alternatively, you may like to scuba dive the waters instead.
Be sure to fit in a few hours at a day spa getting face and body treatments.
Book a romantic moonlight catamaran trip and watch the sun go down as you float on the water.
Day three
Wake up early and hike the Diamond Mountain Monument for sweeping views of the island.
Take an afternoon flight to Maui and travel to Wailea to your new resort. Spend the afternoon soaking up the quiet beaches.
Day four
Take a chartered helicopter tour of the island for breathtaking views of canyons, waterfalls and mountain ranges.
Enjoy traditional Hawaiian Poke for dinner.
Day five
Visit a local farm for breakfast and sample locally grown papaya and coffee.
Take a chartered whale watching tour and see breaching humpbacks in all their glory.
Day six
Take a morning flight to Kauai, rent a car and drive up the Eastern Coast to Wainiha for lunch in the tropical forest.
Stay in Wainiha or drive back down to the South Shore for the night.
Get a couples massage.
Day seven
Wake up early and hike to the top of Waimea Canyon, called the Grand Canyon of the Pacific. Say goodbye to Hawaii.
Take a plane back to Honolulu for your return flight.
---
Hawaii honeymoon activities
---
Hawaii honeymoon cost
Prices in Honolulu will be higher than further out from the city. How much you spend on your accommodation will also predict how expensive your stay will be overall as most resorts offer excellent dine-in options and prices vary by place. You might also find that your accommodation is far away from a local city, so keep that in mind when you book.
An average or budget-conscious room in a hotel or resort will set you back from $1,000–$2,000 for a one-week stay for two. If you came to splurge, a suite in one of the higher-end resorts will set you back $500–$1,000 a night.
Most food items are imported into Hawaii, so the average cost of food and other essentials might surprise Australian visitors used to Southeast Asian holidays. Expect to pay about $20 for a meal at an average restaurant and about $5 for a beer. If you go grocery shopping, expect to pay about $6 for a loaf of bread and $3 for a litre of milk.
Return flights from Australia to Honolulu can drop as low as $500 when on sale with a budget airline and can reach up to $1,500 for full-service economy tickets. Flights between islands cost about $100, but it's important to book in advance as fares tend to skyrocket closer to the departure date.
---
Six hot Hawaii honeymoon resorts
Hawaii is no stranger to high-end accommodation. The most popular hotels tend to be resort-style properties that offer a blend of villa style accommodation and romantic rooms and suites.
Most upscale options will offer a range of guest services and activities including water sports, day spas and on-site restaurants.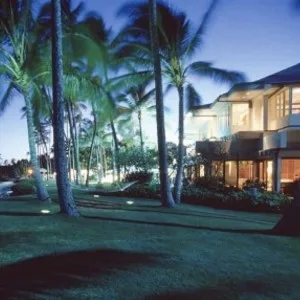 1. The Kahala Hotel & Resort

The Kahala provides high-end tropical accommodation, complete with private lagoon, private beach, jacuzzi and on-site day spa. Guests will enjoy the classy restaurants and services as well as its proximity to the vibrant inner city.
Location. Honolulu
Best suite. Each Signature Suite is unique, however Ralph Lauren decor and its ocean view make The Presidential Suite the pinnacle of luxury.
Hotel features. Gym, swimming pool, sauna, jacuzzi, day spa, beauty salon, private beach, garden, child pool and restaurant.
Go to The Kahala Hotel & Resort website View coupon codes for The Kahala Hotel & Resort
---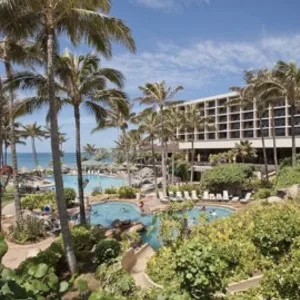 2. Turtle Bay Resort

Located on Oahu, Turtle Bay Resort offers a range of unique accommodation types including private villas and premier suites. Exciting activities surround the hotel including horse-riding and water sports.
Location. Kawela Bay, Oahu
Best suite. The Deluxe Ocean View Suite is ideal for honeymooning couples and offers a romantic and luxurious base from which to enjoy all the exciting activities.
Hotel features. Gym, swimming pool, massage services, beauty salon, day spa, tennis courts, sauna and restaurant.
Go to Turtle Bay Resort website View coupon codes for Turtle Bay Resort
---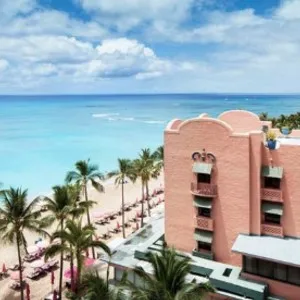 3. The Royal Hawaiian - A Luxury Collection Resort

Boasting a beachside location and stunning ocean views, The Royal Hawaiian is ideal for honeymooners who want to enjoy the complete luxury of a high-end resort, while still being close enough to Honolulu to explore the city.
Location. Honolulu
Best suite. Each one of the Prestige Suites, the Mailani Tower Oceanfront Suite, the Historic Ocean Suite and the Mailani Tower Loft Suite, offers luxuriant open-plan living, unbeatable views and first-class service.
Hotel features. Private beach, gym, massage services, beauty salon, day spa, garden, playground, water activities and hiking tours and restaurant.
Go to The Royal Hawaiian - A Luxury Collection Resort website View coupon codes for The Royal Hawaiian - A Luxury Collection Resort
---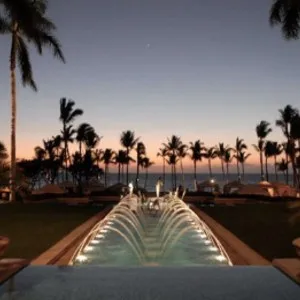 4. Grand Wailea - A Waldorf Astoria Resort

Grand Wailea offers guests resort-style accommodation with everything you need for a comfortable stay on-site. Highlights include private access to the exclusive Spa Grande and the Wailea Tennis Club.
Location. Wailea
Best suite. The Grand Suite is located in the exclusive Napua Tower and is exquisitely furnished with extra touches, including a grand piano.
Hotel features. Fitness room, gym, swimming pool, beauty salon, day spa, massage services, sauna, garden, golf course, tennis courts, squash courts, volleyball, child pool, restaurants and bars.
Go to Grand Wailea - A Waldorf Astoria Resort website View coupon codes for Grand Wailea - A Waldorf Astoria Resort
---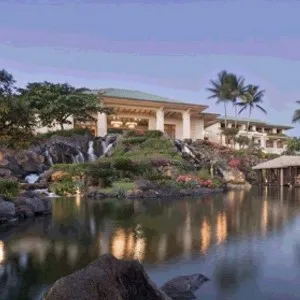 ---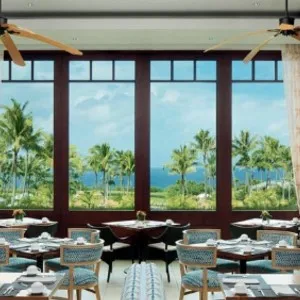 6. Ritz-Carlton Kapalua

Enjoy Hawaii's tropical paradise from the 5-star Ritz-Carlton's ideal Maui location. Guests have access to a range of hotel services including a day spa and high-end dining options.
Location. Maui
Best suite. Enjoy sweeping views of the Pacific Ocean from two lanai balconies and over 200 square metres of superbly designed space when you stay in the signature Ritz Carlton Suite.
Hotel features. Fitness room, gym, swimming pool, child pool, beauty salon, day spa, sauna, garden, jacuzzi and massage services.
Go to Ritz-Carlton Kapalua website View coupon codes for Ritz-Carlton Kapalua
---
---
Hawaii couples-only resorts
For added romance and intimacy on your honeymoon, as well as special services for couples, check out one of these resorts.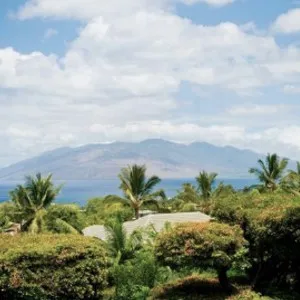 ---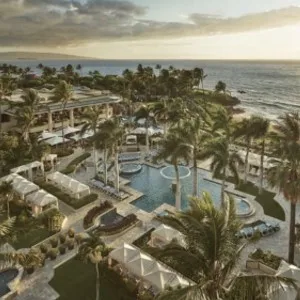 2. Four Seasons Maui

Four Seasons Maui is ideal for a romantic honeymoon and offers a range of couples-only activities including couples' massages, private dinners for two and the poolside Missoni Cabanas which come stocked with espresso machines and Veuve Cliquot.
Location. Wailea
Best suite. The Elite Presidential Suite features two bedrooms, two marble bathrooms, separate entertaining areas and unobstructed views of the ocean.
Hotel features. Restaurants, bar/lounge, gym, swimming pool, golf course, garden, beauty salon and a day spa.
Go to Four Seasons Maui website View coupon codes for Four Seasons Maui
---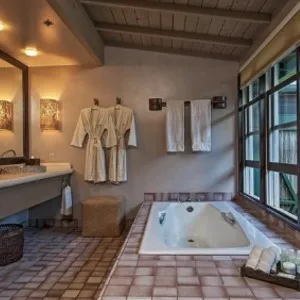 3. Travaasa Hotel Hana

Travaasa Hotel blends the luxury and services you would expect from a 5-star resort with a casual, low-key vibe. The infinity pool is adults-only and provides the perfect romantic setting for honeymooning couples.
Location. Hana
Best suite. Couples will enjoy the intimacy and views from the Ocean Bungalow.
Hotel features. Fitness room and gym, swimming pool, gardens, beauty salon, jacuzzi, day spa and wellness centre, restaurant, bar and lounge.
Go to Travaasa Hotel Hana website View coupon codes for Travaasa Hotel Hana
---
Didn't find what you're looking for?
Search for more hotel options here:
Related Posts