Home theatre system Finder
How to choose the best audio visual equipment to get a cinema experience from the comfort of your couch.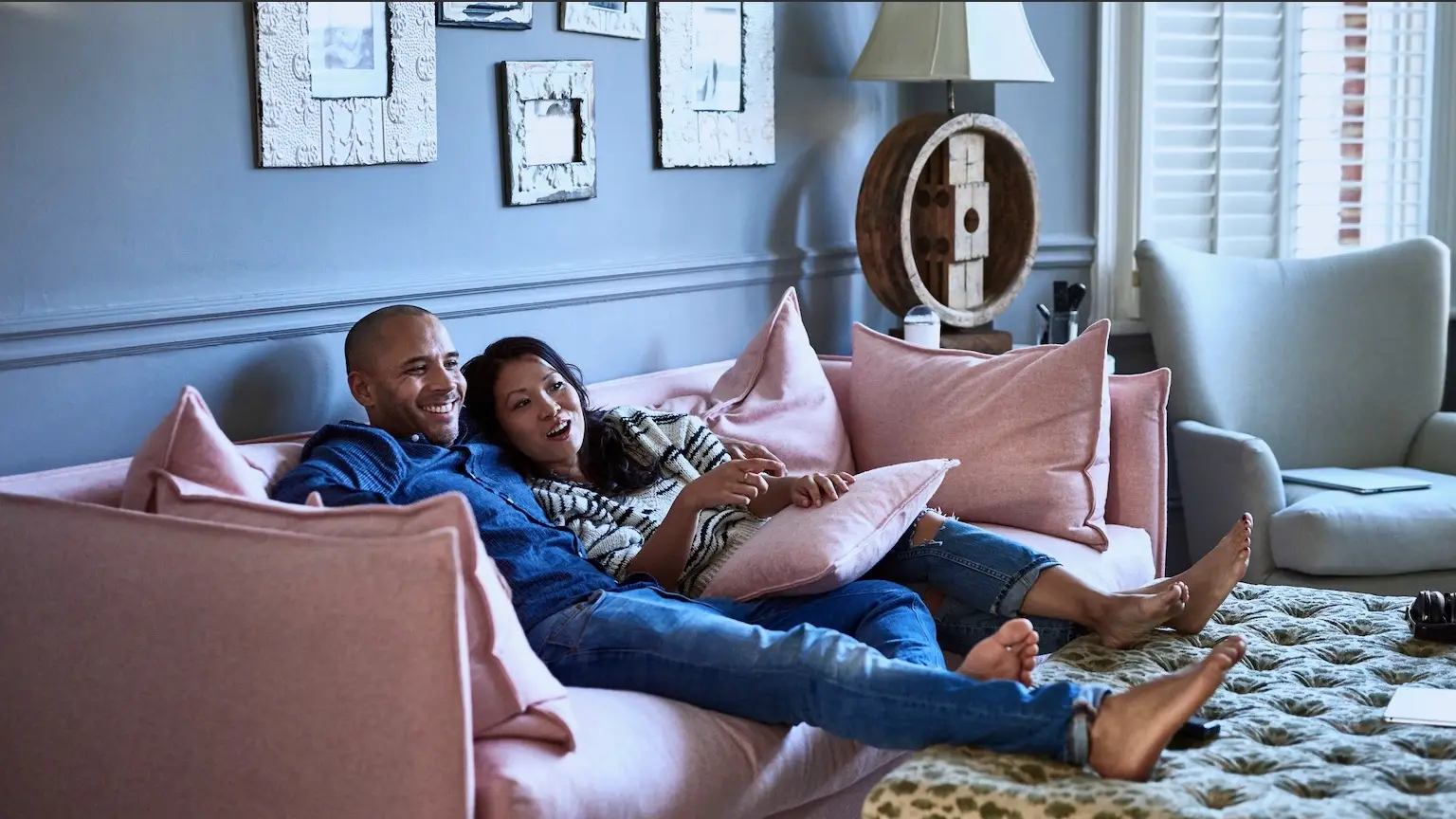 We're reader-supported and may be paid when you visit links to partner sites. We don't compare all products in the market, but we're working on it!
Best Rated Home Theatre System Brand: Bose
Bose is the best-rated home theatre system brand according to Australians. Top rated for ease of installation, it also rated highly for sound quality and connectivity.
Quick facts about home theatre systems
A home theatre system can add extra realism to movies and TV shows, and offer cinema-quality sound you can enjoy right from your couch.
Prices can range from $400 up to $4,000 or more.
To choose a home theatre system, consider your budget and the size of the room.
What is a home theatre system?
Technically speaking, a home theatre system includes all the audio and visual equipment in your living room – TV screens, speakers, Blu-ray player and everything else.
However, people generally use the term "home theatre system" to refer to the audio component of your living room electronics. An all-in-one home theatre system (sometimes also called a home theatre in a box) has a few key components:
AV receiver. The AV receiver is the brain of your home entertainment system. It's the central hub where you can organise the audio and video inputs and outputs from all your connected devices. In other words, it takes the pictures and sound from your DVD player or games console and feeds them to your TV screen and speakers.
Speakers. Most home theatre systems have at least five speakers to create a surround sound effect. In some units, the speakers are separate and include a centre speaker and front and rear speakers for the left and right side of the room. However, some other systems incorporate multiple speakers into a soundbar system.
Subwoofer. The subwoofer delivers the bass and is essential for those deep booms and rumbles you get in any action movie worth its salt. Most systems have one subwoofer but some come with two or more.
Please note that it's also possible to buy an AV receiver on its own and a separate speaker package. While this allows you to pick and choose the features you want, it can lead to a complicated set-up process and may be too technical for some people.
Pros and cons of home theatre systems
High-quality sound. A home theatre system gives you high-quality surround sound to match those crystal-clear images you see on your screen.
Get the cinema experience at home. Home theatre systems can create a fully immersive experience – rather than simply being launched at you front on, these systems let you hear sounds from above, beside and behind.
They're expensive. You can easily pay a few grand for a top-spec system.
They take up space. Many systems take up a whole lot of space in your lounge room and create excess clutter.
If you don't have much space to work with, or if you're happy with the viewing experience provided by your TV's built-in speakers, there's no point splashing out on a top-end surround sound system. Also, if you decide you want better sound quality than what your TV offers without taking up as much room as a home theatre system, you might want to consider buying a soundbar instead.
Speaker configuration: Types of home theatre systems
If you've started comparing home theatre systems already, you will have seen different systems referred to by a variety of numbers – 5.1, 7.1, 7.1.2 and so on.
These numbers indicate how many speakers and channels a home theatre system has. The most common options are 5.1 and 7.1 home theatre systems, but there are many other configurations available.
The first number indicates how many speakers or channels the system has. Most home theatre systems have five or seven.
The second number indicates how many subwoofers are included. Most have one subwoofer but others have more.
Many systems only have two numbers, but some also feature a third number that indicates the number of "height" channels a system has. In other words, it refers to how many upward-firing or ceiling-mounted speakers are included to produce sound that creates a sense of height.
When you see a system with a third number listed in the sequence, this means it supports Dolby Atmos, which is an advanced surround sound technology. However, there's a competing technology, known as DTS:X, which is designed to work with standard surround sound set-ups and unlike Dolby Atmos, doesn't require additional overhead channels.
Top 9 sites to buy speakers online
How to compare home theatre systems
The best home theatre system for you depends on several key factors, most importantly your budget and the size of your room. Before you start shopping, consider the number of speakers and subwoofers you need, the size of your room, how you'll use the system and how much you're willing to pay.
Home theatre systems aren't cheap. Entry-level models generally range from $400 to $600, while top-spec units start around $1,500 and go up to $4,000 or more for high-end or bespoke options. While you generally get what you pay for, make sure the extra spend is worth it for what you need. Many people will be more than happy with a 5.1 system, so paying for anything larger may be overkill.
These are the key factors you need to take into account:
Room size
You not only need to consider how much space your speakers will take up, but also how the size of the room will affect their performance characteristics. For example, small speakers in a large, open room may sound localised and inadequate, while large speakers in a small space can create an overload of bass.
Speakers and subwoofers
The ideal number of speakers for your system will depend on how you plan on using it. For example, while extra speakers lend themselves to an improved movie-watching experience, anything more than five speakers may not offer any noticeable advantage when listening to music. The space you're working with will also have an effect. For example, if your couch backs up against a wall, there's no point trying to fit a 7.1 system into the available space.
Wireless or wired
Cheaper systems tend to use cables which, although functional, can be messy and present a tripping hazard. Wireless Bluetooth speakers are an increasingly popular option, but sound distortion and drop-outs can be a problem.
Ease of set up and use
Check out some online reviews from other users to find out how easy the system is to set up and use out of the box. Is it easy to connect and configure with all your other entertainment devices? Is there an automatic set-up process to help take the hassle out of selecting speaker locations and distances? Is the instruction manual simple and straightforward?
Connectivity
Check how easy it is to connect external devices (like games consoles and DVD players) to your sound system. Some units offer HDMI inputs, optical or coaxial audio inputs, or all of the above. Before you buy, make sure the system has the right ports (and enough of them) to connect everything you want.
Design
You may also want to consider the look of the speakers and how they'll match the existing decor in your room. This will often involve a trade-off between style and substance – for example, while compact speakers can be sleek and unobtrusive, they may not offer the same impressive performance as bulkier units.
Additional features
Two-zone. A two-zone (or zone 2) feature allows you to send a second signal to speakers or a separate audio system in another room. This means you could be watching a DVD in one room while someone could be simultaneously streaming their Spotify library through another set of speakers at the same time.
Wi-Fi and Bluetooth. Wi-Fi and Bluetooth allow quick and easy connection between your home theatre system and other compatible devices, allowing you to stream music, TV shows and apps.
Blu-ray/DVD player. Some entry-level models come with a Blu-ray/DVD player built in for extra convenience.
Remote. Is the remote that comes with the system sensibly laid out and easy to understand? Some units can be controlled directly from a smartphone app.
Warranty. Check the length of the manufacturer's warranty – this typically ranges from one to three years – and exactly what it covers.
Best rated home theatre system award breakdown
| | Total Score | Overall rating | Value for Money | Connectivity / Reliability | Ease of Installation | Sound quality |
| --- | --- | --- | --- | --- | --- | --- |
| Other | 8.40 | 4.62 | 4.62 | 4.54 | 4.46 | 4.46 |
| Bose | 8.33 | 4.52 | 4.52 | 4.52 | 4.48 | 4.55 |
| Samsung | 8.17 | 4.49 | 4.37 | 4.40 | 4.34 | 4.31 |
| Sony | 8.04 | 4.40 | 4.20 | 4.23 | 4.40 | 4.50 |
| LG | 7.96 | 4.29 | 4.46 | 4.50 | 4.29 | 4.32 |
| Yamaha | 7.77 | 4.28 | 4.04 | 4.16 | 4.44 | 4.32 |
| Sonos | 7.72 | 4.31 | 4.46 | 4.23 | 4.31 | 4.00 |
| Panasonic | 7.70 | 4.11 | 4.41 | 4.30 | 4.19 | 4.56 |
Data: Finder Retail Brand Survey, 2020, Kantar. Metric out of 5 stars unless indicated. Methodology and more info.
More guides on Finder