Engagement ring insurance
Engagement ring insurance could save you some serious heartache – and a few thousand dollars too.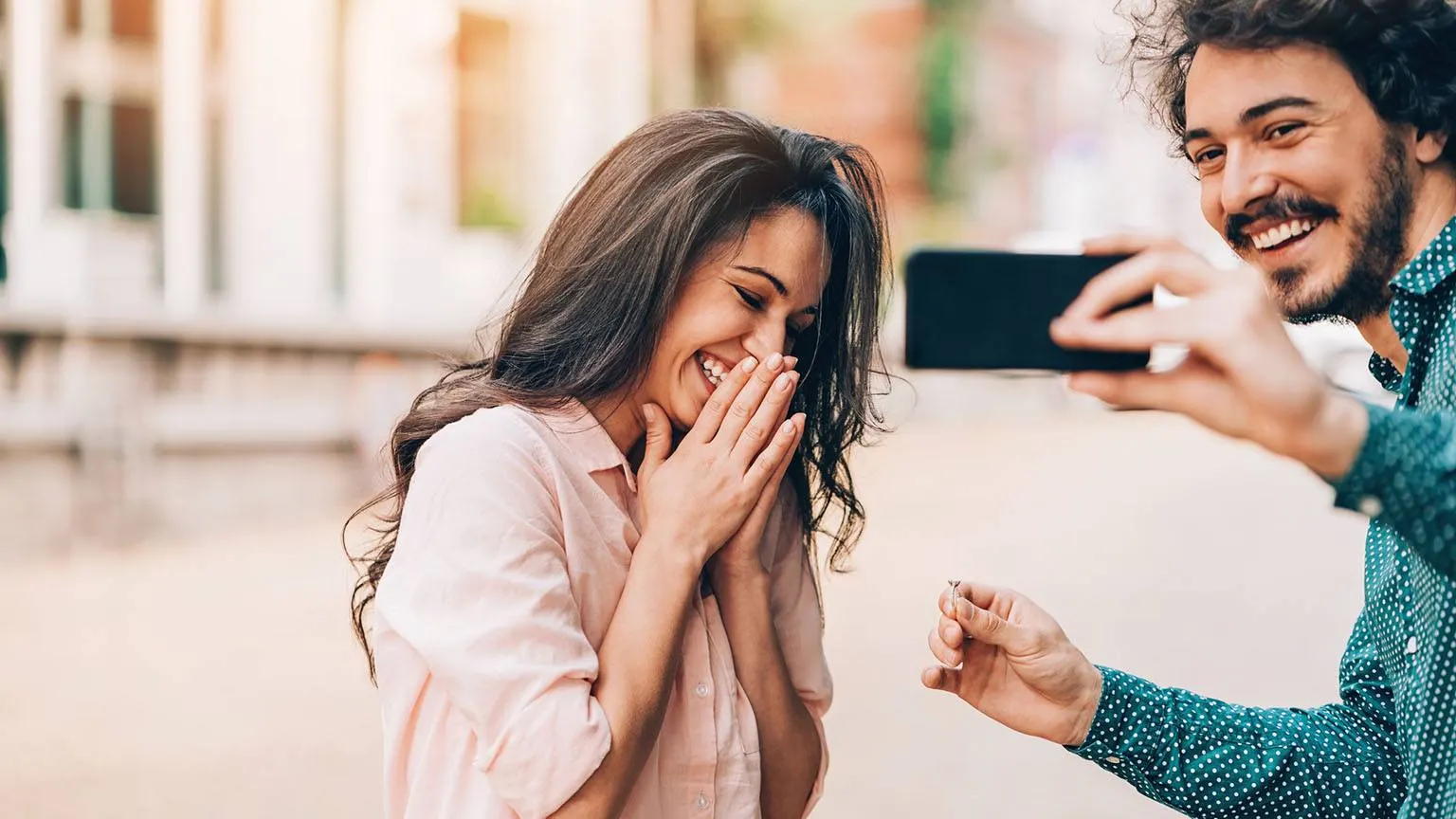 We're reader-supported and may be paid when you visit links to partner sites. We don't compare all products in the market, but we're working on it!
Losing an engagement ring can be stressful and upsetting, not to mention expensive. With engagement ring insurance, you don't have to worry about the cost of replacing your favourite piece of jewellery and can focus on getting a ring back on your finger instead.
Sounds great, right? Well, the price is even better. Our research shows that if you add cover for a $6,000 ring to your home contents insurance, it could cost less than $4 a week. Hooray!
What is engagement ring insurance?
Engagement ring insurance covers the cost of repair or replacement if your ring is lost, damaged or stolen. You might not think it'll happen to you, but one study found that 11% of couples lose a wedding or engagement ring between them.
How can I get engagement ring insurance in Australia?
There are three main options for engagement ring insurance in Australia. You can add cover to your home contents insurance, buy specialised engagement ring insurance or take out single-item insurance. Each option has its own pros and cons.
Contents insurance
If you have contents insurance for your home, you can add cover for an engagement ring to your policy. This option is usually the cheapest, but it's only economical if you already have contents insurance, or are looking to buy a policy anyway.
If you do decide to add cover for an engagement ring to your policy, make sure you're also covered for loss outside of the home. You may have to include portable contents insurance, sometimes known as personal effects cover.
Specialised engagement ring insurance
Some insurance companies specialise in jewellery, including engagement rings. This option is great for people who don't have contents insurance or have higher-value items that wouldn't be covered by their home insurance policy.
If you're unsure about the value of your jewellery, some brands will even offer valuations as part of the service, including Jewelsure and QReport.
Single item insurance
Single item insurance is designed for people who want to insure certain items in their home, rather than the entire contents. It's great if you only have a few valuable pieces that you'd like to protect, and is pretty low-cost too.
If you opt for single item insurance, you may have to upgrade the policy so that your item is covered outside of the home.
Get insurance for your engagement ring through contents insurance
Do you already have a home insurance policy?
You can always try to switch up your home and contents insurance to see how much you can save, while adding cover for your engagement ring. Otherwise you can call your insurer and ask them to add cover for your ring on your existing policy.
What does engagement ring insurance cover?
If you get engagement ring insurance, you'll be covered for a variety of different scenarios, including:
Theft of your ring
Accidental loss of your ring
Accidental damage to your ring
Incidents that occur at home or away from home
The repair or replacement of your ring
Remember though, in some cases you'll have to upgrade your policy to include personal effects cover or portable contents insurance. Without it, you wouldn't be covered for loss or damage to your ring that happened outside the home.
If you do decide to cover your ring under your home contents policy, make sure the full value would be covered. This may mean specifying the value of your ring and having it valued. If you don't specify the item and its value, you might find you can only claim back a fraction of the cost.
Some insurers will only cover your ring if it's lost within Australia. If you're heading overseas, make sure to get travel insurance and list the ring as a specific item.
How to get the most out of engagement ring insurance
There are a few potential pitfalls when looking for engagement ring insurance, but they're pretty easy to avoid when you know what they are.
Get your ring valued. Even if you think you know the value of your ring, it's always best to get an expert valuation that is up to date. The value of your ring can change over time, so it's best to do this on a semi-regular basis.
Specify the item. If you're covering your engagement ring under your home contents policy, make sure to specify the item and its value. If you don't, you might not be able to claim the full amount back from your insurer. The same goes for travel insurance when you head overseas.
Upgrade your policy. If you're covering your ring under single-item insurance or a home contents policy, check to see whether you are covered when you're outside the home. If not, you may want to upgrade to a portable contents or personal effects policy.
Check your options. Some policies might not let you choose where you get your ring repaired or replaced. If you're set on using a specific jeweller, make sure your policy allows this.
Take photos of your ring. Some insurers will allow an exact replica of your ring to be recreated. If your ring is one-of-a-kind, make sure to take lots of photos to make the process easier. Some jewellers even offer 3D scanning.
How much does engagement ring insurance cost in Australia?
The cost of engagement ring insurance depends on how much you spend on your engagement ring to begin with. However, you'll be pleased to know it's relatively inexpensive.
We looked at three different home insurers in Australia to see how much it would cost to add cover to a home contents policy. All of these quotes would cover your ring while outside the home. Here's what we found:
| Brand | Policy | Monthly cost without ring | Monthly cost with ring | Monthly cost of adding ring |
| --- | --- | --- | --- | --- |
| | Premier Care | $55.11 | $70.40 | $15.29 |
| | Smart Contents | $29.85 | $42.13 | $12.28 |
| | Contents Insurance | $48.07 | $65.51 | $17.44 |
*Quotes are based on adding a $6,000 ring to a home contents insurance policy already worth $60,000 in July 2020.
Steps to get your ring insured
Step 1. Get a valuation
Don't guess. Remember, the value of your ring can change.
Step 2. Compare policies
Compare options online to find the one that's right for you.
Step 3. Apply and pay
Tell the insurer everything they need to know. Done!
What's an engagement ring valuation?
An engagement ring valuation will tell you the most current value of your ring. It's particularly important if your ring is high-value, has been pre-owned or hasn't been valued for some time.
Some insurers will require an expert valuation before they offer cover on any item over a certain value. This is so the insurer is confident your estimated value is accurate, and the price of the policy can be tailored to suit.
Some jewellers charge a fee for providing a valuation certificate when you buy your ring, while others include it as standard. If you are seeking a valuation for a ring you already own, it's likely you will have to pay. However, some expert insurers offer valuation services for free.
Remember, you should consider getting your ring valued on a semi-regular basis, as its value can change over time. You can talk to your insurance company or jeweller about how often you should get your ring valued.
Why do I need insurance for my engagement ring?
Technically, you don't need insurance for your engagement ring – but it's a very good idea to have it. Here's why:
They're easy to lose. Engagement rings are notoriously easy to lose. Our hands are constantly moving, rings can easily slip off wet or soapy fingers, and are often misplaced when taken off for certain tasks. Their small size also makes them difficult to find. In fact, more than 10% of couples have lost an engagement or wedding ring between them.
They're expensive. Engagement rings are often the most valuable item of jewellery that anyone ever owns – or buys. One 2017 report found that Australians spend an average of $6,000 on an engagement ring. Do you own anything else that valuable which isn't insured? Their high value also makes them a target for theft, if your home is ever burgled.
They're sentimental. It can be upsetting to lose or damage an engagement ring, even more so if you don't have the money to replace it. Engagement ring insurance can restore a damaged ring back to its former glory, or get a new ring back on your finger as soon as possible.
What's not covered in engagement ring insurance?
Read your product disclosure statement (PDS) carefully so you know exactly what you are – and aren't – covered for. Some common exclusions are:
General wear and tear
Deliberate acts by you, your spouse or family members
Loss or damage while overseas
Lawful seizure or confiscation
Damage caused during cleaning or alterations
Get contents insurance to cover your ring
Frequently asked questions
More guides on Finder