From bartering and trades to Apple Pay – this is the history of how we save, and how we spend.
Where money came from
Before actual currencies existed, goods and services were traded amongst people in what is commonly referred to as a barter system. Goods that were commonly bartered included crops, general services or even slaves during these times. Some common problems with this early form of 'payment' included the varied seasonal value of certain goods, as well as goods changing in value dependant on their prevalence in the marketplace – i.e. if a lot of people sell apples, it's hard to sell them at a higher price than anyone else.
The first coins were made by the Lydians between 610-600 B.C., in an area that has now become the European country of Turkey. The coins (or 'trite' as they referred to them) were made of a gold and silver alloy and printed with a lions head on either side. Nowadays, these coins can set a collector back around $1,000-$2,000 a pop!
The first paper money, however, has been attributed to the Chinese during the Tang Dynasty (around A.D. 618-907), who carried folded credit bills and exchange notes around for more than 500 years before the practice caught on elsewhere.
Although the first coins are still pricey today - at around $1,000-$2,000 each - the most expensive coin in the world would set you back around $10,016,875!
The title of the world's most expensive coin belongs to the 1794 Flowing Hair Dollar, which was one of the first dollar coins ever minted by the U.S. Federal Government. It was sold at an auction in New York City in January, 2013.
Cheques, chips, cards – Oh my!
In 1659 the first cheque was written in England by Nicholas Vanacker, with cheques growing in popularity up until 1990. After this point, cheques diminished significantly – one strong contributing factor occurred in 1816, when gold became the official currency of England.
Then, in 1918, Federal Reserve Banks began to move currency via telegraph, which some historians mark as the birthplace of electric money, and where many types of international money transfers originated.
It wasn't long after – around the 1920's – that credit cards became a popular payment option in the United States. They were initially issued by individual firms such as oil companies and hotel chains to their customers. The first credit card issued by a bank was named 'Charge-It', and created by John Biggins who worked in Brooklyn, New York at the Flatbush National Bank. Initially designed for smaller business looking to work with local customers, these business owners would deposit the sales slips at Flatbush National and in turn the bank would proceed to bill the customer. Things were ramping up significantly in the payments space!
Enough about credit, time for debit cards
The first ATM was invented by John Shepherd-Barron in 1967, and was installed at Barclays Bank in London. It wasn't until 1977 that ATMs appeared in Australia.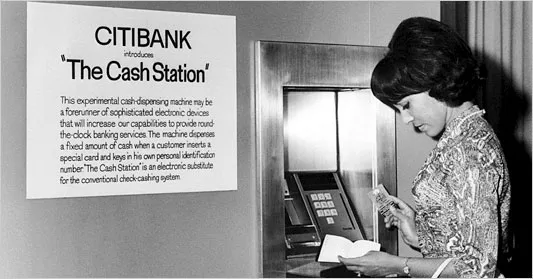 ATMs: The first contactless payment?
These machines were revolutionary at the time for a number of reasons – one pertinent point being that it was the first time a bank customer could be fully self-sustaining. This boosted the industry as a whole due to the fact that people could now quickly and independently utilise their favourite banking services without any need for help from a teller – so it's not much of a stretch to call it the first contactless payment system.
It's also the true ancestor of what we're now terming 'contactless payments', with cardless cash options being one example of how ATMs are being integrated into mobile payment systems.
The widespread use of contactless payments
The first contactless payment occurred in 1997, when ExxonMobil's Speedpass system allowed motorists to wave their Speedpass to pay at petrol pumps. It wasn't long after this introduction that contactless payments popped up in a more versatile format, with BPAY launching in the same year. This was the first time a payment system enabled payments to be made through a Financial Institution's online, mobile or telephone banking facility – and weren't we excited!
In 2004, tech companies Sony and Philips came together to create the Near Field Communication Forum, which was designed to promote and increase security around near-field payments. This promoted all kinds of wireless payments, such as 'smart-posters' and 'Google Checkout' in 2006. In 2007, contactless payments were ramped up even further with the introduction of PayWave, which allowed a near-seamless payment experience through holding credit card in front of PayWave-enabled terminals.