Hisense Series 9 preview: One night with ULED
On the fence about Hisense? Read our preview of the brand-spanking new Series 9 model.
Hisense's 75-inch 4K ULED TV wants to take up some serious real estate in your lounge room. With the stand attached, this monster of a telly measures at a whopping 1,677mm wide, 1,065mm high and 350mm deep. It is a colossal television set with an equally monstrous price tag – the Series 9 comes with a recommended retail price of $9,999, though you can pick it up for much cheaper (more on that in a moment).
We got the opportunity to spend a night with Hisense's brand-spanking new Series 9 ULED TV and while there are many reasons you'd want to go the distance for this 75-inch, 4K, HDR beast, there are also a few reasons your money might be best spent elsewhere.
Design
Did we say the Series 9 is big? The Series 9's 75 inches of screen makes for a heavy load to bear. Unless you're wall-mounting the Series 9 (at your own risk), you will need a suitably massive (depth and width) entertainment unit to match and preferably one with plenty of storage space for all your connected devices. While the Series 9 has an exceptionally modest bezel (a thin, metal bezel about 1cm thick), its heavy-set display means it needs a suitably large base to sit on. The front of the TV's base juts out like a huge, metallic underbite, while a clear plastic kickstand supports the weight from behind.
For what it's worth, the silver stand looks sleek as hell as does the angled speaker running along the bottom of the display. If you're looking to go big and beautiful, you could do much worse than Hisense's Series 9.
I suppose my only issues with the Series 9's huge stature is the way it sits on a flat surface. The sheer weight of this thing was a little too much to bear for the tiny plastic stand and so the Series 9 sat at a noticeable slant (at least with the model we checked out) and didn't feel too sturdy.
The Series 9 is a little unwieldy for those who like their television as close to the wall as possible (without mounting it) or those who like to have their connected devices accessible and not stuffed away in an entertainment unit. You could potentially fit your Xbox One or PlayStation 4 in the gaping space behind the television, but it would be a bit of an eyesore.
Display
With the Series 9, Hisense wants to burn Danny Rand's mopey mug into your retinas with what the company touts is the brightest display it has ever manufactured. We'll take their word for it. The light from this thing made the inside of a dimly lit room look like the surface of the sun. The Series 9 boasts a whopping 2,200 nits of brightness. For comparison, LG's Signature OLED peaks at about 902 nits of brightness.
The Series 9 is a good choice for a home cinema setup where everyone can sit at a safe distance from its blinding glow. The Series 9 I got to preview sat at the foot of my bed and I admittedly fell asleep mid-way through The Martian. Waking up at 12:00am to what seemed like the piercing midday sun was confusing.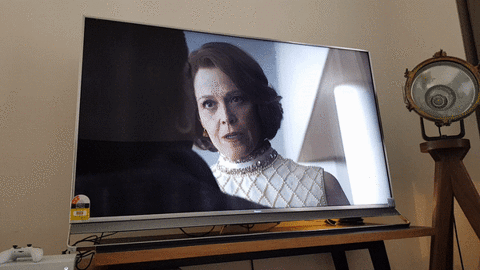 So the Series 9 set out to be a big, bright display and it is both those things without question. Where the Series 9's display falls over is when it's showing 4K/HDR content. We tested the Series 9 across Netflix and the Xbox One S, both which offer 4K/HDR content.
I perused Netflix's library of 4K content before landing on Marvel's The Defenders. While the colours popped in brighter scenes as you'd expect, there were some pretty severe colour banding issues in the darker, colour-saturated scenes. In The Defenders, each character has a colour theme (eg, Jessica Jones's scenes are drenched in purple). In these moments when the colour faded into black, the bands were quite noticeable. Defenders wasn't the only offender. I also checked out the colourful and aptly named Glow and noticed similar issues in the show's neon opening sequence.
I was also provided with a 4K/UHD copy of The Martian to use with a provided Xbox One S. This seemed to fare much better with brighter colours and finer details, at least. The brilliant surface of Mars glowed a fierce red, and Matt Damon's pores and imperfections were each wonderfully detailed. However, when the screen dipped to black, we noticed some issues. One of HDR's selling points is in the way it contrasts the whitest whites and darkest blacks. When staring into the void of space, you should see a magnificently dark black accentuated by the bright of the stars peppering the night sky. This wasn't the case with The Martian. The whites bled against the blacks, creating a grainy halo-like effect.
These were small annoyances, though, and the sheer brightness and colour of the content still produced a viewing experience unlike any other I've had in recent memory.
I'd have to get a hold of a unit to truly put it to the test, but for now, it's safe to say the Series 9 favours brightness over everything else.
Specs
Series 9 specifications
Resolution

3840 x 2160 pixels
Colour depth

10 bit
3D image

No
Quantum dot

Yes
Wide colour gamut

Yes
Input

4 x HDMI, 1 x RF antenna, 1 x analog composite video input, 1 x USB 3.0, 2 x USB 2.0
High Dynamic Range

HDR 10
4K

UHD Premium-certified
Display size

75-inch
Operating System

Hisense Vidaa U
Control
The good thing about the Series 9's controls is that they're none too complicated. What you see is what you get with just about every other standard Smart TV controller on the market. There are convenient Netflix and YouTube buttons to let you switch between the two video streaming apps with ease, but again, these have long been common features on Smart TV remotes.
If you're accustomed to universal remotes that control multiple devices, you might expect something fancier for the asking price. For someone used to the usual layout/features of a day-to-day Smart TV remote, the Series 9 control does nothing more and nothing less.
Early verdict
I only spent one night with Hisense's ULED Series 9, and that was more than enough to get a light tan from its big, bright display. While its 4K/HDR experience might not hold a candle to Samsung's QLED range, it's also a dime cheaper than Samsung's 75-inch QLEDs. While the recommended retail price comes in at under 10k ($9,999), you can pick up the 75-inch Series 9 at $5,996 from JB Hi-Fi or $5,995 from The Good Guys.