Hisense Series 8 65-inch (65P8) 2018 review: God of Phwoah
Hisense's mid-market conquest can add the Series 8 to its 4K frontline.
Quick Verdict
Forgetting the competition, the Series 8 offers a stellar 65-inch TV for below $3,000 that delivers crisp 4K visuals and some surprisingly sound audio.
The good
65-inch 4K/HDR for below $3,000
In-built Neus Audio brings the bass
A better proposition than the ultra-bright Series 9
Super-thin bezel and display
The bad
Bleary blacks and middling HDR
Tight-fit HDMI and USB input
RemoteNOW could be better
Strong competition
---
---
Late last year, we got to spend a night with Hisense's massive 75-inch Series 9 model and ultimately found it a tad overpriced in contrast to the middling quality of 4K/HDR it was peddling.
The 75-inch Series 9 (2017) has a premium price tag at $9,999 and if you've got the dosh it's still a worthy 4K/HDR option despite some small complaints.
The Series 8, on the other hand, is a much more affordable entry point to the Hisense range and despite some small drawbacks, it's a more aptly priced model that allows PlayStation 4 Pro and Xbox One X users to make the most of their Ultra HD hardware.
So what's the Series 8's schtick? On the box, it advertises Ultra Local Dimming, which applies contrast improvements to different areas of the panel simultaneously, Quantum Dot Colour technology (10-bit colour depth), HDR Plus (supporting HDR10), Neus Audio for deeper bass and more clarity and a 200 Smooth Motion Rate, all on a sesame seed bun, I mean edge-lit LCD panel.
What does the Series 9 do that the Series 8 doesn't?
If you have the clams, the Series 9 (2018, RRP $6,499) will get you full (or Prime) array backlit LEDs with over 1,000 dimming zones, HDR Supreme (which is HDR10 with 2500-nit peak brightness to boot) and the UHD Alliance's Premium tick of approval.
Design: The size of this lad
While by no means the monster that is the 75-inch Series 9 (or 8, for that matter), the 65-inch Series 8 is by no means small. With the legs attached, you're looking at a display that stands 920mm high and 1446mm wide. It's a hefty unit too, weighing in at about 23.7kg with the stand attached. It's not going to break your back but its thin display also makes it a little unwieldy. We definitely recommend recruiting a second pair of hands to set it up.
While I appreciated the easy set-up of the shiny silver legs, they really made themselves at home on top of my entertainment unit, taking up space where my soundbar used to sit. One symptom of the telly's size and not a problem if you've got the option to mount it (I do not).
Hisense really makes the most of the 65-inch display too with some incredibly thin and stylish bezels. The Series 8 is also bottom-heavy, cramming the ports and internal hardware towards the bottom of the display. This too leaves the top of the display nice and slim so it's as much a pleasure to view from the side as it is from the front.
Display: Going through the motions
For the going price of $3699.00 RRP (or $2996 at JB Hi-Fi, $2998 at Bing Lee), I can accept that the Series 8's edge-lit "Elite Backlight" display may not be up to snuff with the Series 9's 1000-zone Prime Array Backlight (full array to everybody else) but that's just one exception you'll make for the $1,000 saving with the Series 8.
I had the pleasure of playing through PlayStation's God of War when I was reviewing the Series 8 and I got the opportunity to test limits of the TV's contrast with the game's photo mode. And sure, with a high-contrast filter on, the Elite Backlight's shortcoming became noticeable with a slight glow around highlighted areas and some bleary blacks.
The imperfections shined through a little more when I dimmed the lights later in the night.
However, in the thick of gameplay, using the TV as intended, the game looked stunning.
The crisp detail of the character models and the warm, vibrant light from flames and vacant shadows in dimly-lit caverns was unlike anything my non-HDR 4K television is capable of. I constantly had to stop dead in my tracks and take a moment to appreciate the view with a full 360-degree camera rotation.
In my opinion, the Series 9 (2017) went a little over the top with its eyeball-searing 2,200 nits of brightness. The Series 8 sports a more modest 1,000 nits, which is a fair dip, not just from the Series 9 but from other similarly priced 4K televisions in the same price range.
---
---
If you're a stickler for picture, the jump to full array might be worth the asking price but I'd argue that the baby steps up the low-end of the 4K/HDR LED range are more noticeable and impressive than the jump from mid-range to high-range in most cases.
My biggest issue with the Series 8 came with its Smooth Motion feature. Motion smoothing, motion blur, the "soap opera" effect, whatever you call it, it's widely considered a scourge on home entertainment by directors, auteurs and cinephiles the world over, but I've personally never seen it impact anything quite as significantly as my time with the Series 8.
The Series 8 has been heavily marketed with sports in mind and even features a unique Sports Mode. Motion smoothing can make sense for viewing sports (especially live) because there's a lot of fast movements that can blur easily on your standard television set but for everything else, it's a bit of a nightmare.
Streaming Netflix in 4K/HDR (an otherwise magnificent experience), everyone in my household was constantly distracted by a sort of ghosting of characters on-screen, which is a fine outline or shadow that seems to follow characters around on-screen. Oddly, this was especially noticeable with Netflix's Disenchantment, the new animated series from Matt Groening. Thankfully, this is all easily fixed. Switching off the Series 8's motion smoothing feature did the trick and sent those ghosts packing.
Audio: Good Neus
One of the most pleasantly surprising features of the Hisense Series 8 for me was the bass-tastic sound the Series 8 pumps out. Rewind to the start of this review where I lamented having to move my soundbar from my entertainment unit. Well, it turned out for the best because the Series 8's inbuilt speakers offered more bass and crisper overall audio quality than my (admittedly aging LG soundbar).
This was especially complimentary to God of War's stellar sound design. In combat, every punch connected with a mighty thump and the main character's deep, intimidating voice came through crystal clear.
It was so good that I got my very first "turn it down" broom on the floor from the apartment above as I was going toe-to-toe with one of the game's more difficult bosses.
Inputs and connections: Tight-knit
While the Series 8 isn't lacking for input options with 4 HDMI (4K@60Hz w/ HDCP 2.2, HDMI type 1.4 w/HDCP 1.4), 2 USB (one 3.0 and one 2.0), optical audio output, AV and ethernet, I did have a small issue with how closely these ports were crammed together.
For most HDMI and USB cords this wasn't too much of an issue but I have specifically one USB and one thick, braided HDMI that couldn't fit next to any other inputs.
Remote: Phone it in
There's nothing too outstanding about the Series 8's pack-in remote control. The Netflix and YouTube quick-start buttons are convenient but also a fairly commonplace feature these days. I did like the little touches, like the chrome strip that matches the TV's shiny legs but overall it's a run-of-the-mill remote.
The remote option I was excited to toy with was RemoteNOW, Hisense's proprietary virtual remote control for iOS and Android. Looking at raw features, I'm a big fan of what RemoteNOW offers: Access to apps, inputs, EPG information, volume control, progress and display information and more, all from your smartphone. Sounds brilliant on paper but in reality, it's more trouble than its worth.
First of all, my super-slow home Wi-Fi connection didn't allow RemoteNOW to operate as smoothly as it should but that's no fault of the app. When I eventually managed to get it up and running the app crashed 3 times within the space of roughly 45 minutes. I trashed the app and went crawling back to the old reliable clicker.
I hope Hisense throws some money behind improving the app because I'd love to see it as a reliable and commonplace replacement for the traditional remote but it's not quite there yet.
Hisense Series 8 specifications
| Specs | Hisense Series 8 65P8 | |
| --- | --- | --- |
| Screen Size (Inches) | 65 | |
| Screen Type | LED LCD-Flat | |
| Screen Resolution | Ultra HD | |
| Resolution (Pixels) | 3840 x 2160 | |
| HDR (High Dynamic Range) | TRUE | |
| Contrast ratio | Ultra Local Dimming | |
| Local dimming | TRUE | |
| 4K Ultra HD disc compatible | TRUE | |
| 4K streaming compatible | TRUE | |
| Upscaling | 4K Ultra HD | |
| Dolby Digital | Dolby Digital | |
| TV Tuner(s) | HD Tuner | |
| Analog tuner | TRUE | |
| Digital Tuner(s) | DVB-T/DVB-T2 | |
| Broadcast decoding | MPEG-2 / MPEG-4 | |
| Teletext | TRUE | |
| Smart TV | TRUE | |
| Smart OS | VIDAA U 2.5 | |
| Streaming Apps | Netflix, YouTube, Stan | |
| Other apps | Plex | |
| HbbTV | FreeviewPlus | |
| Web Browser | TRUE | |
| USB Recording | TRUE | |
| PVR Function | TRUE | |
| Record / Pause Live TV | TRUE | |
| Recording Medium | External Drive Required (via USB) | |
| Processor Cores | Quad Core | |
| EPG (program guide) | 7 day | |
| Wall Mountable | TRUE | |
| Wi-Fi | 802.11 ac | |
| Bluetooth | No | |
| DLNA | TRUE | |
| Screen Sharing | TRUE | |
| HDMI-CEC | TRUE | |
| HDMI inputs | 4 | |
| USB Ports | 2 | |
| Ethernet / LAN ports | 1 | |
| PC Input | HDMI | |
| Digital audio output | Optical (TOSLINK) | |
| RF Input | TRUE | |
| Energy star rating | 5.5 | |
| Estimated yearly electricity use (kWh) | 412 | |
| Product Height with Stand (mm) | 920 | |
| Product Width with Stand (mm) | 1446 | |
| Product Depth with Stand (mm) | 264 | |
| Product Weight with Stand (kg) | 23.7 | |
| Product Height without Stand (mm) | 836 | |
| Product Width without Stand (mm) | 1446 | |
| Product Depth without Stand (mm) | 58 | |
| Product Weight without Stand (kg) | 23.1 | |
| Packaged Height (mm) | 1056 | |
| Packaged Width (mm) | 1614 | |
| Packaged Depth (mm) | 166 | |
| Packaged Weight (kg) | 31.2 | |
| Manufacturer's warranty | 3 Years | |
Verdict
For the average eyeballs, Hisense's Series 8 is a wonderful ticket into the world of 4K/HDR that won't break the bank. In fact, I had a more positive experience (price tag considered) with the Series 8 than the Series 9 which is saying something. Those who tend to dwell in the high-range to mid-range space will likely take issue with its subpar HDR, washed out blacks and an occasional dip in overall picture quality. But you wouldn't expect much more from a $2,966 television.
I think the biggest problem the Series 8 faces is more the price proximity of superior televisions. Take the Samsung 65-inch Q6 4K TV for example. For (roughly) an extra $300, the 65-inch Q6 offers HDR10+, a much nicer design and most important, the One Connect Mini, which is a cable solution that feeds one near-invisible wire from the television to an input management box. There really is no better cable solution out there, especially if you plan on wall-mounting.
Forgetting the competition, the Series 8 is still a stellar 65-inch TV for below $3,000 that delivers crisp 4K visuals and some surprisingly sound audio.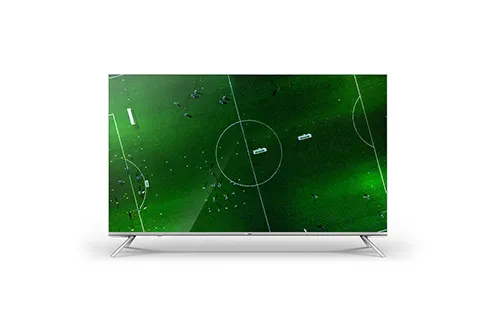 Shop the Hisense Series 8 range at The Good Guys
from The Good Guys
Hisense's wallet-friendly 4K Smart TV range is on sale at The Good Guys.
View details