Why you're going to want The Lion King x Havaianas collection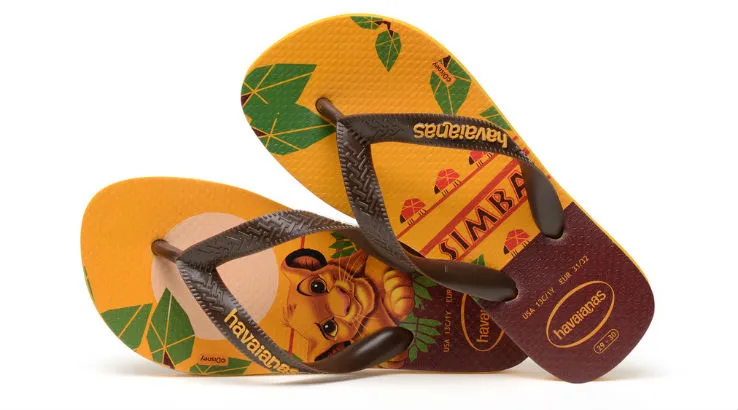 Image: Supplied
Perfect for both you and your cub.
If like us, the live-action remake of Disney's The Lion King has left you feeling a little nostalgic, Havaianas has the perfect collection for you. The Brazilian flip-flop brand has just released a line celebrating the film's release and we just can't wait to get our hands on a pair.
Available now from the Havaianas site, the new line sees two adorable new iterations of your favourite summer shoe come to life. The first naturally depicts our favourite future king Simba on a yellow and brown background reminiscent of his home in Kenya. The thongs also feature wide brown rubber straps and a contrasting yellow rubber Havaianas logo.
The second pair shows the beloved duo Timon and Pumbaa on a fun green and beige printed sole with white straps and a green Havaianas logo. Both pairs are available in both adults' and kids' sizing with the kids' sizes ranging from 23-34 and retailing for $35 each. The adult sizes run from 35-46 and are going for $40 a pop. Adult sizes are only available online though, so be prepared to jump on the Havaianas site if you want to get your hands on a pair.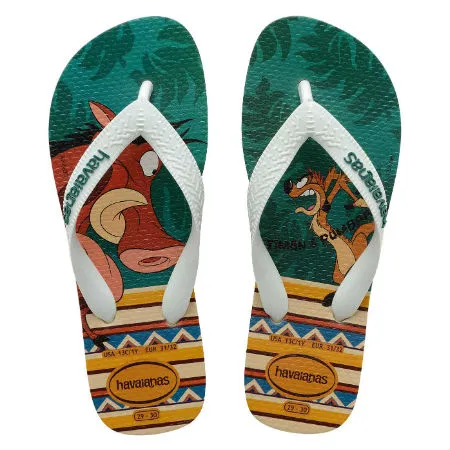 All Havaianas flip-flops are made from premium Brazilian rubber for ultimate comfort. If you purchase your pair online, you'll also get a six-month quality guarantee so you can enjoy your new purchase stress free. Hakuna Matata.
If you're in need of an outfit to go with your new footwear, you've also got plenty of options to choose from, with online fashion retailer ASOS recently dropping an entire range of The Lion King themed apparel in both men's and women's styles.
Fashion label MINKPINK has also gotten in on the fun and released its own capsule collection celebrating the classic story. Featuring 27 apparel and eyewear pieces inspired by all your favourite characters, this is a line you're going to want to get your hands on immediately.
Image: Supplied