Halo Recruit review: Is this combat evolved?
Windows enters the virtual reality space and brings its biggest gaming brand along for the ride: saddle up Spartan.
We're reader-supported and may be paid when you visit links to partner sites. We don't compare all products in the market, but we're working on it!
Windows launches its mixed reality platform over the next 24-hours through a Windows 10 update. As part of the Fall Creator's Update, the plug and play virtual reality software will be within the reach of those who have the right equipment. The virtual reality capability is free to everyone, but then a number of third-party headsets are vying at retail for your attention. All equally staged at AU$799, this includes such notable manufacturers as Dell, Asus, HP, Samsung and Lenovo.
I've just returned from a lengthy hands-on session with the platform, exploring the hub world and a bunch of experiences. This included Halo Recruit, which is a game launching alongside the update and designed to offer a bit of an insight into what the technology is like for early adopters.
Halo Recruit isn't meant to be a core new entry into the sprawling sci-fi series. Although developed by the series' current caretakers, 343 Industries, it's just a VR demo available for free. It's supposed to show off what is possible, but never truly stretches its legs.
You begin in front of a console and there's no second-guessing where you are as soon as you lay eyes on the iconic aesthetic. You're in what looks like the cargo bay of one of the larger vessels from the series' canon. Cortana's voice leads you through the drill, while you gaze gleefully at your surroundings soaking in that hard knock UNSC life.
Before the action begins, you're greeted with a number of enemy units that appear as holograms before you. This includes a Grunt and an Elite. It's a simple scenario given little fanfare, but it's also kind of a wow moment. I've had a similar experience playing Doom in VR. Usually, you view these enemy units on a 2D plane - often shooting at them from distance - so you just don't get a sense of their scale. But in VR, it's so much more visceral, and their sheer size up close is intimidating in the most beautiful of ways. The models are detailed and gorgeous to stare at, too.
So why not shoot them?
Shortly after the game commences in earnest. Holding a pistol in each hand, you reach out with the Windows Mixed Reality controllers, aim and fire at targets. At first there are just a few to shoot at before they vanish from view. Then there are a few that are moving. Then there are a lot… then a lot moving. Then targets with multiple hit points. You get the idea.
It's painfully short, unfortunately: perhaps ten waves at best. And like trying to pop balloons with a pellet gun at a carnival ride, none of your targets fight back. They also don't come in from your flanks or attack you from behind. You don't even have to engage your brain, thinking about when to reload – its endless clips - or when to swap out your gun to meet the next threat effectively. And criminally, you don't get to pick up an energy sword and gut something.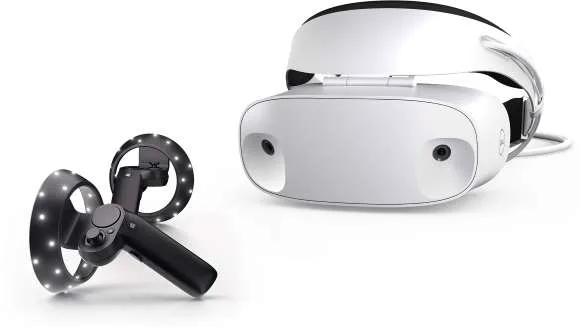 Buy the Dell Visor Windows Mixed Reality Headset
from Microsoft Store
Dell's Mixed Reality Headset and Motional Controller package is now available to purchase from the Microsoft Store.
View details
For technology touting room-scale capabilities and full 3D environments to explore, it's terribly unimaginative. Even for a demo. It would be the lamest minigame in the unlikely cross-series release of Halo: Carnival Games. It would win a Razzie.
At the end, you are scored on your accuracy and the number of targets killed; then ranked accordingly. On my first go, I got 49% accuracy. It was enough for my naked-not-naked Cortana hologram to give me some kind words, and for Master Chief to emerge mysteriously from somewhere else on the ship to give me his seal of approval. Hell yeah, the Chief is in da house. He gestures towards a Warthog's mounted gun and asks me to jump in, and…
And that was that. Game over, man. Game over.
Shooting gallery experiences are a lot of fun in virtual reality, and the basic aim and fire joy is apparent here. But this is as bare-boned as you can get for a demo, especially for a Halo game. When I think about how much fun Until Dawn: Rush of Blood was for PSVR on its launch, it makes me wonder what could have been possible with Halo Recruit. Even if it was just an on-rails shooter with units coming from everywhere and some cutscenes whacked on either end - I would buy that..
Imagine if they went even deeper and provided a genuine story and a full arsenal of powers and weapons. I couldn't help but think of Midnight Star - an on-rails shooter developed for mobiles and tablets by Alex Seropian, founder of Bungie and the lead on Halo: Combat Evolved. Think about what could have been. Gaming is only one aspect of what Microsoft is delivering with its Mixed Reality concept, but hopefully, the investment in Halo Recruit isn't an indication of where games sit in comparison to those other aspects. In the basement.
Still, if you have the means, Halo Recruit is priced right for what it offers: it is free. It's also fun and functional for all of its five minutes. But unless it wants to be remembered as a horrible tease of what could have been, Microsoft should back it up with something more fully-fledged in the near future.
After all Microsoft, the Chief wants me on that Warthog. Who are you to deny the Chief?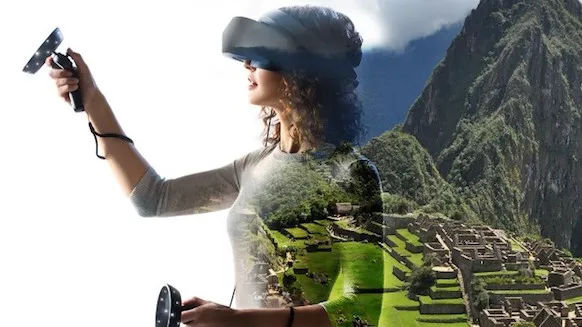 Shop Mixed Reality at Microsoft Store
from Microsoft Store
Browse Microsoft's revolutionary range of Mixed Reality headsets courtesy of HP, Dell and Acer.
View details
More guides on Finder