Six compelling reasons why GTA is Rockstar's next Nintendo Switch title
When will GTA be out on the Switch? Here is all the evidence you need that Rockstar will bring its legendary series to Nintendo's console.
We're reader-supported and may be paid when you visit links to partner sites. We don't compare all products in the market, but we're working on it!
The announcement and then release of L.A. Noire on Nintendo Switch came as a bit of a shock. Developed by Team Bondi and published by Rockstar, L.A. Noire was remarkable, unique gaming, but awfully niche. While a must-play in this writer's opinion, it's certainly an odd choice for the publisher as its first Switch title. Surely any other game from its beloved library would have greater brand awareness and sales potential.
However, as we detailed previously, L.A. Noire is not your typical Rockstar game and was built on an entirely different engine than the rest of the games released by the publisher over the last decade. And while I argued that this meant the doors weren't open for an avalanche of Rockstar titles to come to the Switch, I still believe Grand Theft Auto will make the move in the future. Here's why:
1. Rockstar wants a presence on all successful formats
Grand Theft Auto is the glue that holds the entire Rockstar Games empire together. The developer isn't short on excellent titles, but as a company that invests mightily in the production of its games, it relies on GTA's brand pull and money-earning potential to keep the ship afloat between big releases. Bringing the series to new formats is a guaranteed money spinner. Proof? Despite releasing in 2013, GTA V is still in the Top 10 weekly worldwide unit sales as I write this; this time for the PS4 version.
The studio rarely misses a chance to introduce GTA to a new audience if a format is succeeding. For example, all the major titles up to the PS2 era have now been released on Android, iOS and even Kindle.
2. RAGE is highly adaptable
All of Rockstar's games since 2006 have been built on its own Rockstar Advanced Game Engine (RAGE), which has shown itself to be quite adaptable. In fact, the first game released on the middleware, Rockstar Presents Table Tennis, appeared on the quite disparate Wii and Xbox 360 consoles. More recently, we've seen GTA V ported seamlessly from PS3/360 to PS4/XBO and then to PC. It's worth Rockstar's time to get RAGE working on Switch as it will grease the wheels for many of its titles to engage with a new audience.
3. Switch is luring mature content
Where the Wii U struggled to attract many titles rated mature or above, the Switch is proving to be quite a different beast. After its successful launch, we've seen the announcements of Resident Evil Revelations, Doom, The Elder Scrolls V: Skyrim, The Binding of Isaac: Afterbirth+, Doom Eternal and L.A. Noire among others. If these games find any success at all, it will only fuel the feeling that GTA could be a worthwhile port to the Switch.
4. GTA sells (and sells, and sells and sells)
GTA has never failed to find an audience wherever it has turned up. While the Nintendo Switch's install base is relatively low, its trajectory is looking far more promising than that of the Wii U catastrophe – which saw a 90% drop in third-party support. But clearly third parties are buying into the Switch: we've even seen the likes of WWE 2K18 and FIFA 18 return to a Nintendo console. Rockstar knows from past experience that GTA will continue to sell well through the console's entire lifespan.

5. Rockstar must appease its investors
After Activision-Blizzard and Electronic Arts, Take-Two Interactive is the third biggest publicly traded game company on the planet. Its two biggest subsidiaries are 2K Games and the mighty Rockstar Games. While, in an optimal world, all artists should be given the space and funds to create, the world of investors isn't that forgiving. They want results. They want dividends. And a quick way to keep everyone happy is to get a new audience in front of the money-making GTA brand so all those precious coins come rolling in.
6. Multiplayer split-test
Doom is taking an interesting approach with the Nintendo Switch and dealing with its hard-drive space issues. It's shipping the game on a 16GB cartridge, then leaving the multiplayer as a separate 9GB download for those who want it. This process enables Bethesda to save on production costs by lowering the space requirement of the cartridge. While GTA V originally fit on a 7GB disc, the subsequent port to PS4/XBO escalated that size to 45GB. This could prove a problem; but the Doom model provides a potential solution for Rockstar and could further grease the wheels to a GTA on Switch.
When will GTA release on Nintendo Switch?
It's not so much a question of when GTA will release on Nintendo Switch, but which GTA? Will the developer go retro and deliver GTA: Vice City, go spin-off with Chinatown Wars, or go all-in with GTA V? With L.A. Noire, the company has shown more recent, technically demanding, titles can exist on the Switch. With that title now out and Red Dead Redemption 2 landing around May 2018, maybe look for a sneaky GTA Switch announcement at Gamescom next year.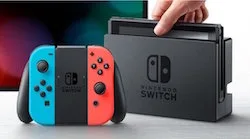 Purchase Nintendo Switch
from eBay Australia
Purchase the Nintendo Switch with grey Joy-Cons or Neon Blue and Red Joy-Cons from eBay today.
View details
More guides on Finder
Get more from Finder