Finder makes money from featured partners, but editorial opinions are our own.
Greek island hopping 2023
No trip to Greece is complete without exploring the islands where whitewashed buildings meet crystal-clear waters. Here's how to do it.
No one knows the exact number of islands Greece has, but out of possibly 6,000 dots in the ocean, over 200 are hotspots for holidaymakers. Each has its own unique character and you shouldn't limit yourself to just one – so island hopping is a must.
While it's possible to DIY your trip via the network of ferries, booking an island-hopping cruise tour or holiday package is a stress-free way to cover it all, particular if you're pressed for time.
We're shortlisted some of the best companies offering island-hopping adventures by style, budget, islands and length to get you on the water (and to those beaches) faster.
Our top three picks of Greek Island-hopping tour companies:
Spend two to three weeks baking under the Mediterranean sun with the #noregrets specialist Contiki, and its wide variety of Greek Island-hopping tours.
Best for: Youth and backpackers
Cost: Mid-range
Number of Greek island hopping tours: Nine
Our favourite itinerary: While Contiki hosts a good mix of island hopping only and multiple-country tours, if you're seeking that fun in the sun the stock Greek Island Hopping Tour ticks all the boxes. It's 13 days in the Cyclades islands of Mykonos, Santorini and Ios.
Search for Contiki tours
---
Flexibility is at the heart of Busabout's tours, giving you the opportunity to stay for as long or as little as you like in each spot during your holiday.
Best for: Independent travellers and solo travellers
Number of Greek island hopping tours: Two
Cost: Low/budget
Our favourite itinerary: The Greek Island Flexi Hopper is the ultimate DIY tour where ferries and transfers are sorted but accommodation and tours are not, giving you freedom to stay and see what you want.
Search for Busabout tours
---
Loved by Aussies seeking to explore their way around Europe, Topdeck offers popular as well as off-the-beaten track itineraries for those seeking a more unique experience.
Best for: Youths aged 18-30 something, large groups
Number of Greek island hopping tours: 5
Cost: Low-mid range
Our favourite itinerary: Go where fewer go and join the Greek Island Chaser which pops by Aegina, Ermioni, Spetses, Hydra, Poros and Agistri from Athens.
Search for Topdeck tours
Other tour companies that offer Greek island hopping tours:
Does your company belong in this list?
Top tour companies by style:
Top Greek island-hopping tour companies for family vacations:
Trafalgar: These expertly organised tours include guides, accommodation, transport and most meals – because it's difficult to do it all when you've got a family in tow.
Insight Vacations: With low age limits (5+ years) and large tour group numbers the kids shall have little problem making friends on Insight tours.
Explore!: Choose from a handful of dedicated "family" cruises for all-age experiences and activities.
---
Top luxury Greek Island-hopping tour companies:
Insight Vacations: No comfort is left unaccounted for with Insight Vacations. They have luxury air-conditioned coach transportation, high-speed ferry transfers from island to island, local stays and daily buffet breakfast.
Trafalgar: Let local specialists guide you through the Greek island hotspots, alongside surprise extras, hand-picked hotels, breakfast daily and luxury coach, complete with free Wi-Fi.
---
Top Greek Island-hopping party tour companies:
Viator: Book a tour of party island Mykonos to solve all those niggling questions about where to go and what to see and do.
TravelTalk: Aimed at travellers 16+, TravelTalk is for the most part an "adults-only" affair, allowing party animals to let their hair down any time of the day.
Contiki: Say "yes" to feel-good times, larger trips across Europe and making new mates. Get the party started by booking in nightlife tours, particular of Mykonos.
---
Top Greek Island-hopping tour companies for backpackers and tight budgets:
Busabout: With DIY tours that cost as little as $70 a day, Busabout can keep costs as low as possible.
TravelTalk: Single hops cost as little as $534 while larger tours can feature three islands from $936.
Explore!: See more without overspending with week-long sailing tours from $1,431.
---
Top companies for Greek Island-hopping tours from Athens:
Contiki: With 10 itineraries that start in Athens, Contiki should be on your radar if this is where you want to start your island-hopping adventure.
Insight Vacations: All dedicated Greek Island-hopping tours start in Athens.
Topdeck: Most of Topdeck's tours start and end in Athens, so you can plan your flights accordingly.
Popular Greek island itineraries
The Greek Islands are broken into groups by location. Popular island clusters that many tour companies set their sails towards include the Saronic islands, the Cyclades and Crete and the Cretan islands. If you're considering organising your own itinerary, focusing on one of these clusters is the best way to see multiple islands without wasting sailing time.
Cyclades islands (multiple)
The Cyclades is the name for a large cluster of islands southeast of the mainland. This includes some of the most popular islands such as Mykonos, Santorini, Ios, Paros, Kythnos, Syros, Amorgos, Naxos, Deros, Poliegos, Folegandros, Antiparos, Sifnos and Tinos.
Cyclades – Santorini and Mykonos only
Arguably the most popular destinations in the Aegean Sea, if you want these Cyclades highlights you can cover Santorini and Mykonos with the following quick trips:
Crete and the Cretan islands
Crete is the largest of the Greek islands and is surrounded by a network of Cretan islands such as Spinalonga, Chrysi, Gavdos and Dionysos. Due to its size, it's highly recommended as an add-on to longer trips or that it be a trip in its own right.
Saronic Islands
The Saronic Islands include Aegina, Poros and Hydra. They're the closest islands to Athens which makes them ideal for visitors on strict time limits. We've included a longer trip below for anyone who has a little more time to spare.
How long do I need for island hopping in Greece?
With around 200 islands open to tourists you could spend your lifetime hopping from one to another and still never see them all. Tasters of two or three islands can be completed within seven days, but more thorough trips around island clusters should be given 7-14 days.
Top seven-day island-hopping tours: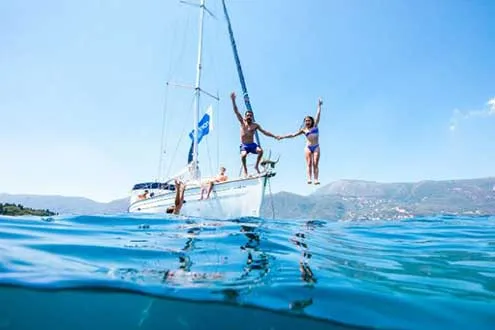 Greek Sailing
from Contiki
Max out your island time by hitting the closest cluster – the Saronic Islands.
Tour company: Contiki
Best for: Time-challenged travellers who want to see more
Places visited: Perdika, Hydra, Plaka, Nafplio, Spetses, Poros, Aegina and Athens.
View details
Top 10-day island-hopping tour: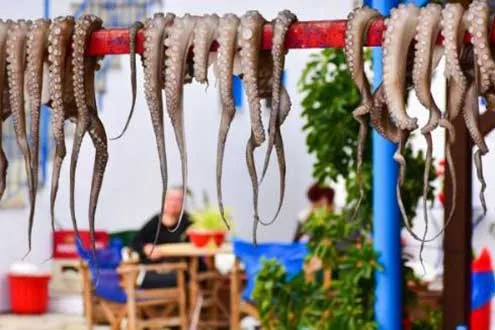 Hidden Cyclades Sailing Adventures
from TourRadar
Walk the road less travelled to see islands that are light on tourists but heavy on culture.
Tour company: Intrepid
Best for: Adventure seekers, families with teenage children
Places visited: Kythnos, Serifos, Vathi, Kimolos, Polyaigos, Platys Gialos, Koutalas Bay, Agios Ioannis, Kea and Athens.
View details
Top 14-day island-hopping tour: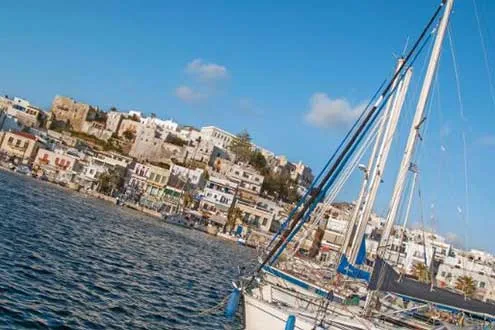 Sailing Greece - Athens to Santorini
from G Adventures
Instead of hopping on the ferry, make your way from Athens to the islands via small ship for an epic on-the-water adventure.
Tour company: G Adventures
Best for: Small ship adventures and water babies
Places visited:Mykonos and Santorini
View details
---
Where are the Greek party islands?
Most of the islands offer their own style of nightlife, but Mykonos, Corfu (Kavos), Ios, Rhodes, Kos and Paros are most renowned for their thriving party vibe. During summer, they're a hotbed for European students on holiday looking to unwind and have fun. In the resorts, they're met with foam and popcorn parties, beachside bars and clubs that play music all night long.
If this is not your scene, you're better off visiting quieter islands during summer or waiting until shoulder season to see these isles.
Many youthful tour companies such as Contiki, Intrepid, G Adventures and Travel Talk offer sailings through these islands and are a good option if you're looking to party with fellow travellers of a similar age.
---
When is the best time to visit Greece?
On the Greek Islands, the season starts as early as mid-April with the majority of resorts opening in full by mid-June. Things begin to slow down from mid-September and by the end of October the islands relax for the winter.
If you want to visit during the heart of the season, July and August are the best months to catch the summer sun. If you want to experience the islands without the crowds, September and October offer hot days, cooler nights and a much more relaxed vibe.
---
Latest deals for Greek tours, flights and more
---