Gravity Rush 2 review: Impossible to put down
A fly girl worth falling for.
We're reader-supported and may be paid when you visit links to partner sites. We don't compare all products in the market, but we're working on it!
Gravity Rush 2 turned our world upside down. In terms of visuals, narrative and sandbox size, it is superior to its PS Vita-based, cult-hit predecessor. The cherry on top: you also get an interactive photo mode that lets you catalogue this vibrant, cel-shaded world, or just inexplicably drop in prop objects – like toilets – for weird selfies.
If you can manage to drag yourself away from crapper snaps long enough, Gravity Rush 2 will weave you a quirky tale of gravity-cats and the pitfalls of social order. The heroine of the last game, Kat, is a castaway in an entirely new dimension which houses hovering cities and ragtag floating refugee communities. Take a quick whip around this vertical sandbox and it's not too hard to spot the problem; the haves live in their McMansions above the clouds, the everyday schlub are a few thousand feet down, and the down-trodden subsist in a pollution ville that makes Beijing look like the Swiss Alps.
Not that any of this is explorable right off the bat. You'll need to slog through a 2-hour tutorial before the blinkers come off. Worse, Gravity Rush 2 does that much-despised chestnut that is stripping the protagonist of all their previous powers. Tedious stuff for veterans to endure, but great if you have no prior knowledge of how Kat's gravity-cat works.
Thanks to a weird little cosmic kitten called Dusty, you can effectively break the surly bonds of gravity and punch the face of God (energy bar permitting). A quick tap of R1 will put you into a hover state which is perfect for surveying targets. Another tap will bodily fling you at whatever you were aiming at. If said target was a wall or a ceiling, this plane becomes your new ground by default. That may sound more vertigo-inducing than a night of PS VR plus vodka, but in reality it becomes second nature rather quickly.
The worst teething issues you'll have will come from zero-G combat. In a normal terrestrial setting, Kat can dodge, unleash satisfying kick-based combos and get her Darth Vader on by telekinetically hurling objects at anybody outside of boot range. Flying enemies soon become the norm, however, and so you'll need to take to the skies, learn how to get within a specific range (while avoiding incoming bullets) at which point you can nail the aggressor with a homing-flykick to their face. It's as satisfying as it sounds.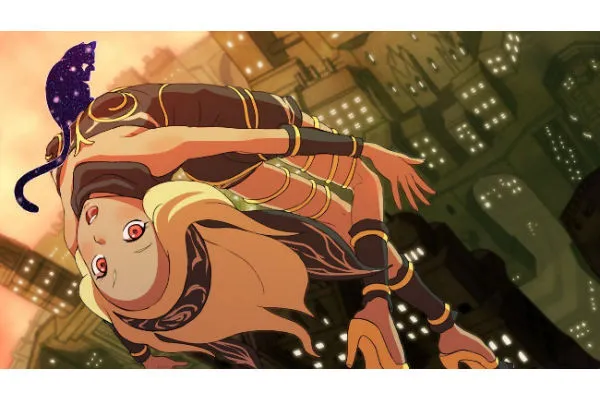 Click to order Gravity Rush 2
from ozgameshop.com
Experience the thrill of Gravity Rush 2 with Kat, Raven and the police officer Syd to investigate strange gravitational waves appearing over Hekseville. Order game from the ozgameshop now!
View details
Better yet, the developers have expanded Kat's repertoire with two additional combat modes that can be hot-swapped via the touchpad. Lunar mode is great for platforming as it turns you into a feather-weighted super jumper. In combat, it trades slow walking speeds for a brutal teleportation attack that thwarts faster enemies. Conversely, Jupiter turns you into a plodding boombah who can easily bash through walls. It's useful in scraps when you target some ground-dwelling mobs, charge up an epic dash, and then go meteor on their asses. These vulgar displays of power are perfect for larger foes and bosses, if you can target their weak spots.
Keyword: if. As combat ramps up to include armoured blobby demons, laser mechs and respawning squads rocket troopers, Gravity Rush 2 can get chaotic in a bad way. While we love the added complexity of Kat's new modes, we found ourselves regularly crossed up by iffy camera moments and a jittery targeting reticle. The game employs a soft-lock that paints a large pink circle over sensitive boss areas. Mis-targeting stuff when you're zipping about, avoiding bullet hell and wrangling the camera on the right stick, is common. It's an intermittent issue, but it will get you needlessly killed more than once.
That's the worst of the news out of the way. The fact is: Gravity Rush 2 does much more right than it does wrong. The runtime is surprisingly long for a game of this type, and you'll get your money's worth with a frankly overwhelming number of secondary missions and side shenanigans. The tonal shift of the third act will hit you like a sledgehammer, too, and the conclusion is way more fulfilling than the open-ended finale of the original.
We reviewed Gravity Rush 2 on PlayStation 4 with a copy provided by the publisher.
Gravity Rush 2 is available on PS4 from $72.99
GRAVITY RUSH 2 REVIEW
8 EXCEPTIONAL
What we liked...
Gorgeous cel-shaded visuals
Expanded combat / traversal options
Tons of main and side content that doesn't feel like filler
What we didn't like...
The odd right stick camera rodeo
Soft-lock targeting unreliable when chips are down
VERDICT
Most impressive of all is the refreshingly cheerful disposition of Kat, and the Ghibliesque charm of her world. There are small details in every corner you poke, and every NPC feels like an individual going about their day. Better yet, the local constabulary are totally OK with you plonking half a dozen dunnies in the local market for the lulz. They also look the other way if you take off for a mission and uproot a small town's square worth of shoppers (to ultimately drop them in the bottomless abyss outside of town). All carnage, free gravity cat and no consequences. How can you not love a game like that?
For more information on how finder scores games, check our review guidelines.
More guides on Finder
Handypay Green Loan

A Green Loan from Handypay could help you make your home more energy-efficient. Handypay green loans are available up to $75,000 on terms of up to 10 years.