Okay Google, play a game on the Google Home smart speaker
The Google Home smart speaker does more than just tell you the weather or control your lighting – it's also a gaming machine.
You're probably not going to rush out to the shops to buy the Google Home smart speaker just to play games, but in between controlling your lights and getting weather updates, why not have a little fun with the smart home hub?
There are plenty of little one-off easter eggs that are interesting the first time you do them, but unless it's the Olympics, you're never going to give the "Aussie! Aussie! Aussie!" prompt to Google Home more than once.
Gaming on Google Home is a different matter altogether. Whether it's trivia or a voice-controlled RPG, gaming with your voice is a largely untapped market and Google is at the forefront of making it much more popular. Around the world, developers have created a number of titles that use the Google Home voice recognition technology to create an enjoyable gaming experience.
There is a catch though. While there's a wide selection of titles on offer for American Google Home customers, Australians are severely restricted in the number of voice games they can play.
Attempting to play a Google Home game like 6 Swords or 21 BlackJack will be met with the response that the app isn't available for devices set up for Australian English. There's also little information about whether or not this will change in the future, or if it is indeed something that the developers or Google will solve.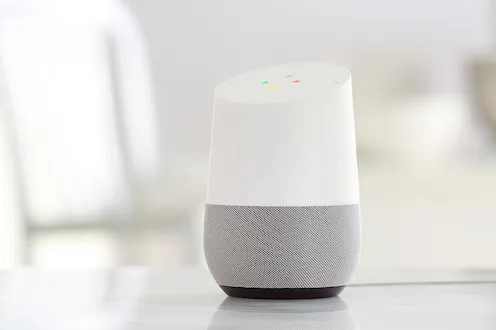 Buy Google Home
from The Good Guys
Control your home with your voice using the powerful Google Home speaker.
View details
Here's a full list of every game we've found on the smart speaker for Australia.
| Game | Synopsis | Okay Google command |
| --- | --- | --- |
| Lucky Trivia | A trivia game for multiple players where players are asked five questions on different topics and have to choose from multiple choice answers. | Okay Google, play Lucky Trivia |
| Crystal Ball | Like a Google Assistant magic 8 ball, you ask the speaker a question and get a vague response on the question's likelihood. | Okay Google, Crystal Ball |
| The Name Game | Listen as your friendly Google Assistant makes up random, crazy rhymes off any name you give it. | Okay Google, play the Name Game. |