Finder makes money from featured partners, but editorial opinions are our own.
How can Google Assistant control my smart home?
Whether you've got an iPhone, an Android phone or the recently-released Google Home, Google Assistant offers a hands-free solution for automating your smart home.

---
What is Google Assistant?
Google Assistant is a voice-activated virtual assistant developed by Google as part of its expansion into hands-free technology. Launched alongside the Google Home smart speaker, Google Assistant listens for the activation phrase "Okay Google" before responding to your questions and commands in a conversational manner.
Because it requires a constant Internet connection, Google Assistant is able to look up answers to your questions online, interface with your various Google accounts and control other smart devices located on the same Wi-Fi network. You can ask Google Assistant to read you traffic reports, manage your calendar appointments and even control your TV with the power of your voice alone.
While Google Assistant was originally exclusive to Google Home and the Pixel and Pixel XL smartphones, it is now available on a range of other devices including Android phones running the Android Marshmallow or Android Nougat operating systems, Android Wear 2.0 devices and iOS devices through the standalone Google Home app.
How can Google Assistant control my smart home?
Whether it's on your smartphone or your Google Home smart speaker, Google Assistant can be used to control a wide range of compatible smart home devices through simple voice commands. By opening up the Google Home app on your phone, navigating to the "Home control" settings page and tapping "Add" on the devices tab, you'll be able to see all compatible smart home devices currently installed on your home Wi-Fi network. Connecting them with Google Assistant is as straightforward as tapping the name of the device and completing the setup steps that follow.
Once you've connected your smart devices to the Google Home app, you can give them unique nicknames to simplify your voice commands. For example, you could rename the light in your living room to "main light", and a quick "Okay Google, turn off the main light" would ready your living room for your late-night movie marathon.
For even finer control of your smart home, Google Assistant supports "Rooms" for the grouping of multiple devices. By creating a "Room" for your kitchen and adding the different lights and lamps located there, you could turn them all on with a single command of "Okay Google, turn on the lights in the kitchen".
If you're looking for more complexity in your home automation, Google Assistant is compatible with custom voice commands created through the IFTTT (If this, then that) automation platform. IFTTT lets you create Applets, which are essentially groups of instructions triggered by a single command. You could, for instance, create an Applet that starts your coffee maker, cranks up your thermostat and turns on your TV when you tell Google Assistant "It's time for breakfast". To access Applets through Google Assistant, you'll need to connect IFTTT to your Google Account either through the IFTTT website or the IFTTT mobile app.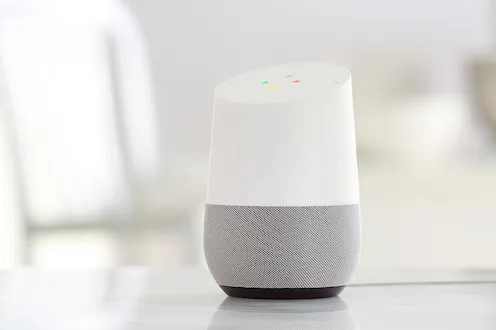 Buy Google Home
from The Good Guys
Control your home with your voice using the powerful Google Home speaker.
View details
What smart devices does Google Assistant work with?
Google Assistant can control a variety of smart lights, power outlets, thermostats, entertainment systems and other Wi-Fi-enabled home electronics products. Some of the most popular product lines include:
Lights
---
Power outlets
---
Security
Belkin WeMo motion sensor
---
Thermostats
Honeywell Total Connect Comfort thermostats
---
Smart hubs
---
Entertainment
---
Picture: Shutterstock