God Of War nearly used Egyptian and Mayan mythologies
Santa Monica Studios' Cory Barlog and Rob Davies discuss sending the angry Spartan to Scandinavia.
After single-handedly tearing down the Greek pantheon in God Of War III, it was time for Kratos to get out of dodge. While we were never sure we'd even see his perpetually furrowed brow again, our grizzled hero made a surprise appearance at E3 2016. The moment the trailer opened we found out he'd gone full Dexter and escaped to a cabin in the woods to live out the rest of his days ruminating his violent past. A cold and mysterious land we now know is somewhere in Scandinavia. Home of Norse Mythology; a lore full of petty and vindictive gods and more family drama than an episode of Big Love. An outstanding destination for Kratos' first big adventure abroad.
For the first year, I was reading up on every mythology, trying to find the spark
I honestly think there's no better choice for the new God of War. There have been few games that have explored Norse mythology without gleaning over the grittier details (it's not all Hemsworths and Hiddlestones, ya know) but the new God of War really gets its hands dirty exploring the sordid past of Odin and Thor.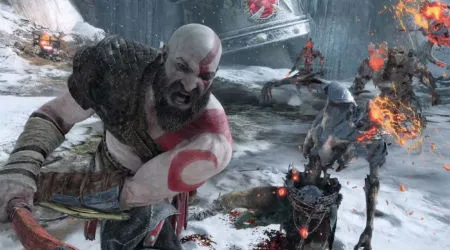 Buy God of War for PS4
from Amazon
Take an axe to the heart of Norse mythology in Kratos' biggest adventure yet by snapping up a copy of God of War from Amazon Australia.
View details
I recently sat down with game director Cory Barlog and lead level designer Rob Davis to chat about the Ghost of Sparta's Winter vacation and couldn't help but ask, where else did they consider sending Kratos for his new adventure?
The Aztec/Mayan mythology would be fantastic
"I looked at everything," said Barlog. "For the first year, I was reading up on every mythology, trying to find the spark. There were a lot of great mythologies that would be fantastic, but I had to say 'not yet'."
If you ever wanted to see Kratos clip the wings of the flying serpent deity Quetzalcoatl or knock the scales off a crocodilian Cipactli, Barlog said it was on the cards. "For example, the Aztec/Mayan mythology would be fantastic. It's so interesting but I don't think we're there yet."
Further down the funnel, Barlog said it ended up being a toss-up between Egyptian and Norse mythology. "The Egyptian and Norse [mythologies] ended up being the top two and we had this back and forth trying to figure out which had the best story to tell."
While I'd argue the team at Santa Monica Studios dodged a bullet by not releasing an Egypt-set God Of War so soon after Assassin's Creed: Origins, Barlog said the final decision was really a matter of geographical distance, "He [Kratos] has a pretty bad history in Greece, he's going to want to put a lot of distance between himself and his past. Scandinavia allowed for that distance and really put him as a stranger in a strange land. That fish out of water idea."
I think that sense of being lost is a fantastic power switch
The final say was also somewhat inspired by Barlog's own adventures in Scandinavia. "When I went to Scandinavia and I was surrounded by people that spoke Swedish, I was so lost. I think that sense of being lost is a fantastic power switch. To take this character that's been so well-known for being a power fantasy and putting him in a situation where power can't solve the problem but intellect can, was fascinating. Intellect is what this nine-year-old kid has."
So after a year of researching different mythologies, Cory was sold on the idea of Norse but the clinching moment came when Cory presented the team at Santa Monica Studios with a vision bible. As lead level designer Rob Davis explains, "You know, the game started almost five years ago at this point. And when Cory came back to the studio (after his departure from Santa Monica Studios, he presented the team with this big leather-bound book. It was a vision bible for the game. Everyone was flicking through, saying 'Oh, we've got to do Norse". Cory even had a blacksmith create an emblem for the book".
Shuhei [Yoshida] would most definitely open the box
The vision bible itself was an idea influenced by his short stint at Crystal Dynamics. The folks at Crystal Dynamics would print art books so that international visitors to the studio would have something to flick through on the long haul home, preserving interest and excitement after the initial pitch had come and gone. So Barlog took that idea and the natural curiosity of the team at Sony PlayStation to craft a unique pitch strategy.
"I had this idea I was going to pitch this new thing, I would put together this fantastic book, build this leather-bound box, and then set it in the middle of the table when we pitched but not talk about the box. And they're naturally curious people, and Shuhei [Yoshida] would most definitely open the box so, knowing what he would do, I would use that to point out that discovery, exploration and rewarding curiosity is what this game is about. You just discovered the book. I didn't talk about it, but you opened it up. And when you opened it up, it had this beautiful book with an emblem that looked like it was from the Neverending Story and a comic in the back, which was the hunt scene from the start of the game."
Some five years later, Cory's pitch (and Shu's cat-like curiosity) paid off. The God Of War we have today is an ace in the hole. A phenomenal experience in a new and exciting (if a little chilly) world. While it's fun to imagine Kratos unravelling a mummified corpse in a comical fashion, or lopping off the nose of a Sphinx to lob at Anubis, the world of trolls, draugr and dark elves is the perfect playground for our stroppy Spartan.
---
---
Latest streaming headlines