Sony confirms God of War 5 will also be set in Norse mythology
As we gear up for the PS4 release of the new God of War on April 20, Sony has confirmed to finder that we can expect more snow-filled action from Kratos in the future.
For thirteen years now, we've been very happily ripping apart the heads off mythological beasts as the muscular God-hater Kratos. However, until this year, the setting has been that of Greek mythology. Come April 20, fans will begin a new journey on the PlayStation 4 with the bearded one – one that's set in the frigid cold of Europe's north. Greek mythology has been traded out in favour of Norse lore, bringing with it all new threats and gameplay experiences.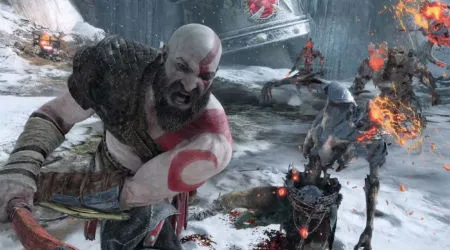 Buy God of War for PS4
from Amazon
Take an axe to the heart of Norse mythology in Kratos' biggest adventure yet by snapping up a copy of God of War from Amazon Australia.
View details
This new era has encouraged Sony to re-start the series nomenclature, ducking away from the God of War IV that would have made life easier for everyone, and opting for just a God of War. Despite this, the game is very much a sequel to God of War III and takes into account the narrative compiled across all seven previous games in the series (after you include prequels and gap-fillers).
When the game starts, Kratos has hidden himself away from his past in a snow-covered hut, trying to learn how to love a son and grieve for his mother. Of course, there is no peace to be found for Kratos, and it quickly turns out that the locals don't want the God of War fishing in their creeks. Epic, mega-scale biffs ensue.
Just In: Playing God of War "will make you a better dad" claims Sony
I've played through the first few hours of the game and I'm happy to confirm it's bloody brilliant. It's also gorgeously detailed. At times I just found myself walking up to trees just so I could stare lovingly at the bark; it's that good. A lot of effort has gone into creating this northern world and thankfully, it's not going to go to waste. Guess where God of War 5 will unfold?
While touring the game out to Australia, I was lucky enough to sit down and chat to Sony Santa Monica's senior online community strategist Aaron Kaufman. It's a role he has filled for six years, all the way through the making of the game, and it follows over two decades of experience with the likes of THQ and EA. During the chat, we spoke of the name choice and the potential for future God of War games, and he confirmed what many had predicted would be the case.
The God of War series will be hanging out in Norse mythology for quite a while yet. Here's what he said.
Find the cheapest place to buy God of War
I'm intrigued by the choice to call this game just God of War and not God of War IV. Why did you do this? Doesn't it present an unnecessary marketing challenge?
AK: Okay, so there is a couple of reasons why we're calling it God of War. For one, it signifies that this is a new era. Like, the Greek era was Chapter 1, and the Norse era, we believe, is Chapter 2. As in, it's the next chapter of Kratos. Chapter 1 is what we are calling Kratos' college years and the angry, vengeful years. Now this is a Kratos who thinks, "I have a son. I'm learning how to be human. I'm not forgetting Chapter 1, but I'm moving forward and pressing the forward button." So that in and of itself is becomes a problem the moment you put a number on it or even a subtitle. I think even for a lapsed fan or a new fan, there's just a human instinct to think, "I have to play God of War I, II, III so I understand this, right?" You know, there's some movies out there that go with a number in their title and I'm a little worried to watch them at all because I think I will not be up to speed. Even though, when I watch it, I actually feel like, "oh, this was great. It was standalone."
But from a marketing perspective, you're right. You know, if we'd just called it God of War IV: Kratos Goes to Norse Land, I think that would've solved a marketing challenge because one of our really important facets in marketing this game is separation from the Greek universe, right? Like, it's really important to us to put Kratos and Atreus on the front and centre of everything and everything you see about this game. It's not that we've forgotten our Greek past, but we want people to feel like this is a new experience. It's a new beginning. You don't have to have played a previous God of War game to start in this game and move forward on it.
Even if you're a hardcore God of War fan, we take for granted that you can theorise about what happened between God of War III and this game. There's a lot of stories to be told there, but we don't need to tell them to you right now.
But they will be told eventually I hope? Have you thought about that road map for the rest of this chapter in Kratos' life?
AK: Yeah, for sure. Not me personally, but I will say that Cory Barlog, who's our creative director, has. When he came back to Santa Monica Studio a number of years ago, he didn't come with an idea that was, "this will be the first and the only Kratos and Atreus adventure." And while we're not here today discussing what's next for them or where we go or what that even looks like, I think any smart person or anyone with common sense would say, "I doubt Santa Monica Studio would put this much time and investment into introducing a new character and a new universe without thinking about the greater road map." So we absolutely have ideas and thoughts on that.
Looking for an unholy deal on God Of War? We've compared prices from every Australian retailer.
---