Go Vacation review: Disneyland this ain't
Paying full price for this vacation comes with Griswold levels of regret.
We're reader-supported and may be paid when you visit links to partner sites. We don't compare all products in the market, but we're working on it!
Though the system has some unique exclusives that justify a purchase, it has to be said that as time goes on, the sense of deja vu on Nintendo Switch increases. Case in point: the return of Go Vacation, a Wii title that didn't blow my hair back in 2011 and does little to ruffle my fewer, greyer follicles today.
All that said, this waggle-heavy mini-game compilation has found itself a gap in the market. For some unknown reason, Nintendo itself hasn't capitalised on the love that exists for Wii Sports, the original pack-in title that was bundled with the Wii console in 2006. Neither has this company opted to port the superior 2009 follow up, Wii Sports Resort, nor the Wii Sports Club version that found its way to the Wii U in 2013. Wii sportsmen and women have been neglected. This is an incredibly fortuitous situation for what essentially is an after-market knockoff called Go Vacation.
That's exactly what we've got here, so don't @ Mii. Bandai Namco is asking players to explore four paradise resorts hosted on Wuhu....sorry, Kawawii Island, in the theme of Marine, City, Mountain and Snow. Over 50 activities are available, but you should know that some activities are better designed and fun than others – more on this in a second.
---
---
If you're after less structured fun, you can also go walkabout in a low-detail open world that can be traversed via transportation tailored to your current resort. You can even get your snoop on in split-screen with a pal, searching every nook and cranny of these resorts for loot and other hidden collectibles. Honestly, wandering about in a "wonderland" of Wii-era graphics isn't my idea of a swell afternoon, but my more easily impressed sons (aged 6 and 8) happily spent days doing this. Go figure.
We all had a decent amount of fun in the actual activities, though it seems to me that a few of the old events have been hastily shoehorned into the Switch's controls. For the record: the original game was designed to take advantage of accessories like the Wii Balance Board (a glorified bathroom scale that let you control things by shifting your weight) and the Wii Zapper (think: an awkward-looking light gun that nobody would ever mistake for an actual firearm). Other annoying control problems arise in a handful of events due to the developers not accounting for the fact that players might be playing in handheld mode.
However, these are minor irritants rather than deal-breakers as most of the resorts deliver decent faux-sports fun. On the Marine Resort, you can expect the usual seaside tropes of beach volleyball, scuba diving/swimming, water gun deathmatches, ATV races, marine bike tricks, windsurfing, skydiving and possibly the most gratifying surfing experience since ye olde California Games. In explore mode, you can bang around in a speedboat and a seaplane, which is pretty nifty.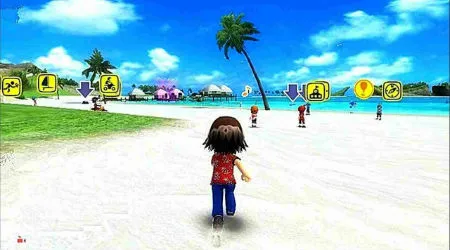 The next resort you unlock will be a City-themed area that's all about leisure sports and you can get about on rollerblades or a skateboard. (Tony Hawk's Pro Skater this is very much not, however.) The activities on offer include aggressive in-line skating, freestyle skating, hang-gliding, sword fighting, pitching, dancing, table hockey and throwing pies at people... for some reason.
Get your urban on for long enough and you can take things to the next level – as in several hundred feet above sea level at the Mountain Resort. This place focuses on the cheap showiness of nature and events like horseback riding, hiking, rafting, kayaking and getting your redneck on in off-road races. When you've smashed those out, you can explore at your leisure in a boat or you can completely ruin the concept of go-anywhere-expedition by plonking yourself on a train.
Wait until a lack of sales bring this down to a more reasonable asking price
Last, but not least, the Snow Resort holds many of the more fully-formed activities in this production. Stuff like snowball fights, snowmobiling, ice fishing, snowboarding, inner-tubing and the always ill-advised ski jumping. The sandbox here offers you all of the transportation you'd get in a real life winter wonderland – plus chairlifts and choppers.
There's little doubt that Go Vacation is packed to the gills with content – especially when you consider the Wii Sports series at the height of its powers only offer a dozen events. But this is a case of quantity versus quality. The simple fact is that a sizeable chunk of these sports were poorly-designed and/or mediocre when we first saw them years ago. Next to nothing has been done to fix or spice them up for a 2018 audience.
The sad fact is that there's way too much miss versus hit in this compilation. You're only getting 40% decent, 50% short-burst-fun and/or forgettable, and the remaining 10% of events are just one-and-done. Bandai Namco wins some points for delivering what Nintendo always hinted at but never provided – fully explorable resorts – but it's a My First Sandbox that'll amuse ankle-biters at best.
We reviewed Go Vacation on Nintendo Switch with a copy provided by the publisher.
Go Vacation
5.5 AVERAGE
What we liked...
You're let off the leash to go explore
Some genuinely fun sports
Kids will dig the collectible hunts and split-screen
What we didn't like...
A percentage of events are meh or outright boring
Hastily ported controls in some areas
Very little visual enhancement
Hardly any new content (just more fishing, photography)
VERDICT
Call me unsportsmanlike, but purchasers ought to wait until a lack of sales brings this down to a more reasonable asking price. Otherwise, this vacation will come with Griswold levels of regret.
For more information on how finder.com.au scores games, check our review guidelines.
---