Free gift policy templates (Australia)
Protect your company and employees with a well-defined gift policy.
We're reader-supported and may be paid when you visit links to partner sites. We don't compare all products in the market, but we're working on it!
If you have employees dealing with customers or suppliers, a gift policy can protect your company from suggestions of a conflict of interest or unethical behaviour. We've put together a guide to writing a gift policy and where you can find free templates online to help you get started.
What is a gift policy?
A gift can be either a physical item such as an electronic device, or an intangible benefit like a ticket for an entertainment event.
A gift policy, also known as a gift and hospitality policy, sets out a company's stance on whether it allows employees to receive or give gifts. If employees are permitted to receive gifts, it details the type of gift, maximum value and circumstances that are acceptable. It explains an employee's responsibilities and forms part of a broader employee code of conduct. A gift policy does not have to be an individual document but can be included in a staff handbook.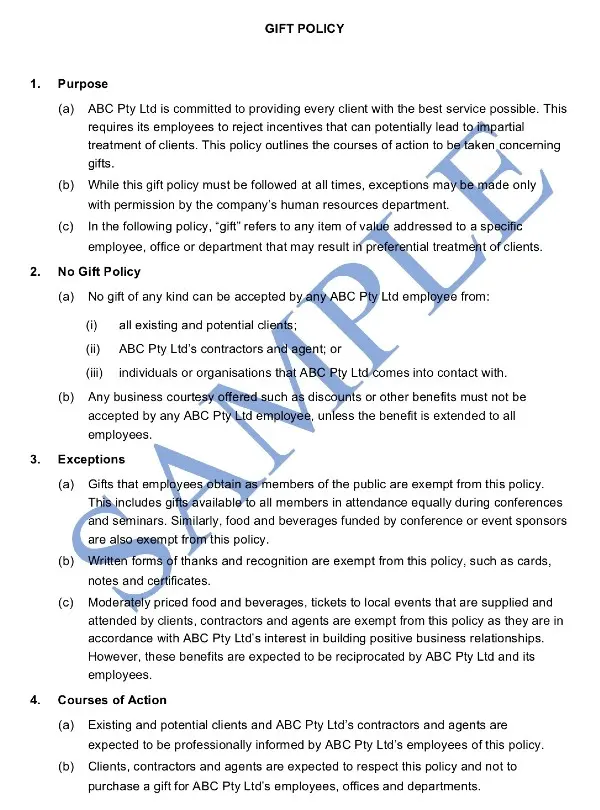 Download this template at Lawpath
When should I use a gift policy?
A stated gift policy is appropriate if employees interact with individuals or organisations outside the company and there is a possibility that a gift could be used to influence them to provide preferential treatment. It covers actual, potential or perceived behaviour.
Employees should be made aware of the policy when they join the company. The gift policy can be included in compliance training.
Gift policy vs conflict of interest policy
A gift policy is an aspect of a conflict of interest policy, in that an employee might be offered a financial gift such as cash or stocks as a personal incentive. But a conflict of interest policy is broader and covers any situation in which personal interests come up against a company's interests, including relationships. The handling of gifts is also included in an anti-bribery policy.
What does a gift policy include and not include?
A gift policy includes the terms of what is and is not acceptable as a gift, the circumstances in which an employee would need approval from a supervisor, and the type of gifts that should be registered in company records.
Some companies specify that employees cannot accept gifts with a value of more than $100 or $50. The amount varies depending on the business but should be a sum that is low enough that any gift will not influence a business decision.
What is included in a gift policy?
A gift policy should be a written document that includes detailed guidance that is easy for employees to understand and is not open to misinterpretation:
Definition of a gift or benefit
Purpose of the policy
Gifts that employees are permitted to accept or give
Considerations when accepting a gift
Maximum value threshold for an acceptable gift
Gifts that employees must not accept
Gifts to be recorded in the company register and the details that should be included
Exceptions in which gifts that would not usually be permitted can be accepted
What is not included in a gift policy?
Avoid using legal jargon or complex language that is difficult to understand. It should not include arbitrary rules or inconsistent standards for different employees.
How effective is a gift policy?
Having a clearly defined policy avoids confusion and the risk that receiving a gift would influence an employee's behaviour or give the appearance of partiality. It sets boundaries for employees so that they know how to respond when they are offered a gift. Some companies choose to have a strict no gifts policy.
Do I need a lawyer for a gift policy?
You do not need a lawyer to write a gift policy. There are samples and templates available online to help you craft a policy relevant to your company. However, depending on the industry your company operates in, having a lawyer review the policy can provide protection from legal challenges based on conflict of interest, bribery or corruption.
Get access to customisable Gift Policy templates online
Does your company belong in this list?
How do I write a gift policy?
A clear understanding of the terms of the gift policy and the procedures employees must follow will help you to write an effective document. The wording should be straightforward and make the distinction between required behaviour and optional actions. Headings, bullet points and text boxes will make it easy for employees to read the policy and find specific sections for reference as needed. Using templates and examples of gift policies can help you to structure the policy.
Where to get free legal documents and templates like a gift policy.
Lawpath. Lawpath is an online legal resource with a document library for small businesses and entrepreneurs. You can view free samples but must sign up for an account to access and customise documents including a gift policy.
The Balance Careers. The Balance offers careers and human resources information, including a free template for a no-gift policy.
More guides on Finder