How to get the most out of your smart TV
The ten best uses for a smart TV that every owner should know about.
We're reader-supported and may be paid when you visit links to partner sites. We don't compare all products in the market, but we're working on it!
The name might sound a little ominous, but a smart TV is simply a regular television that has the ability to connect to the Internet. In the same way that the advent of smartphones brought the world wide web into your pocket, smart TVs give you access to a wealth of online services from the comfort of your couch.
Between streaming movies from Netflix, keeping up with the latest news and playing Angry Birds, there are plenty of handy features available on modern smart TVs. To help you take advantage of the best of these, we've put together a list of our top ten smart TV features that you might not even know your TV supports.
Just bear in mind that of the many different smart TVs on the market, not all of them support the same features. Be sure to check what kind of functionality a particular set offers before dropping your hard-earned cash, or you'll be stuck squinting at your laptop screen to get your streaming fix.
1. Stream, stream, stream
You'll hardly call us original for telling you that you can watch TV on your TV, but thanks to on-demand streaming you can do so much more than that. Through your smart TV you'll have access to Netflix, Stan, Amazon Prime Video and potentially even Foxtel Now. This gets you access to a whole new world of popular movies and shows you can watch entirely on demand – that means no more checking the TV guide and setting alarms just to catch the latest episode of Orange Is The New Black.
Don't forget, though, that these services don't come free; for most of them you'll need to purchase a separate subscription. If you're unsure about which Internet TV provider is the best for you, then be sure to check out our full reviews, complete with library listings for each one by clicking the link below.
Click here for your guide to the best internet TV available in Australia.
2. Groove out with your favourite tunes
Though they're slimmer than ever, modern TVs often have surprisingly powerful speakers built into them. You might not notice this while watching the nightly news or binging the latest season of The Crown, but your new smart TV can serve as quite a decent substitute for a home stereo system. Don't worry about digging out your old CDs and hooking up a DVD player, though. With apps for Spotify, Apple Music, Google Play Music and many other streaming services, your smart TV can fill your house with everything from sick beats to soothing ballads.
And if you really want to get your groove on, it's cheaper and easier than ever to hook your smart TV up to a surround sound system or a soundbar for high-quality audio your neighbours are sure to love.
3. Get fit!
Okay, so TV and fitness don't typically go together, but that doesn't have to be the case with smart TVs. Thanks to apps like Fitness VOD and Daily Burn, along with the countless exercise routines available for free on YouTube and Spotify, your smart TV can become the centre of your home gym.
---
Looking to stream without spending a cent? Check out these free trials: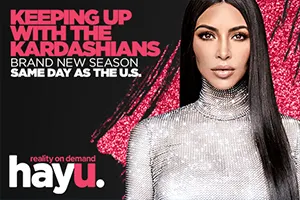 Watch the latest reality TV with a 30-day free trial
from hayu
Take advantage of hayu's limited 30-day month trial and access thousands of hours of Keeping Up With the Kardashians, Made in Chelsea and so much more.
View details
---
4. Keep up-to-date with the news
Why bother waiting for the evening news when you can peruse the latest headlines whenever you want, directly on your smart TV? All the big name news outlets have their own apps with up-to-the-minute coverage of events right around the world. Many provide audio and video streams along with traditional text articles to better suit TV viewing. Whether you're looking for business news from CNBC, sports updates from ESPN or a state-of-the-world report from BBC, it's easier than ever to get the information you want, when you want, where you want.
5. Browse the web
You can do it on your phone, your video game console and even your watch, so why shouldn't you be able to surf the web on your TV? Most modern smart TVs come with a web browser built in, and it functions much the same as the one on your smartphone. Sure, it's not the smoothest experience in the world – you probably won't want to conduct your online banking or browse any image-heavy websites on it – but it's capable enough for a quick Google when your phone's out of reach.
6. Learn!
What better way to justify the purchase of a flashy new smart TV than by using it to train your brain? There's no shortage of educational apps available on smart TVs, from language courses to online classrooms to lecture series like the popular TED Talks. Add to that the raft of educational video series available on YouTube, and you've got a veritable smorgasbord of cranial cuisine to feast upon while kicking back on your couch.
7. Stay on top of your social networks
Come on, you know you love scrolling through your favourite social media sites for hours on end. In fact, the only thing a lot of people love more than watching TV is tweeting all about it. Thankfully, all the major social networks have robust smart TV apps for posting status updates and sharing your favourite memes on the big screen. It's not just Facebook, Twitter, Instagram and the like, either. You can video call your mum over Skype, follow your favourite streamer on Twitch and sharpen your meme game by browsing Tumblr, too.
8. Watch your favourite live sports
If you enjoy kicking back and watching sports on the big screen, you're in luck. Smart TVs have plenty of options for lovers of all sports, including apps like Optus Sport, AFL Live, UFC.TV and NHL.TV. These apps don't just offer live coverage of sports from across the world, they typically feature a wealth of in-depth statistics, behind-the-scenes interviews and features and access to past matches you might have missed. Just bear in mind that most of these apps require separate subscriptions in order to enjoy all their features.
9. Get your game on
If you're a serious gamer, you'll probably be plugging your console into your TV as soon as possible, but what if you don't want to shell out another couple of hundred dollars for a new PS4 or Xbox One? That's where the smart TV comes in. Many popular mobile games like Crossy Road and Angry Birds have been redesigned to work with modern smart TVs. Because they were originally built for short and simple play sessions, they work well as quick breaks between binge-sessions of your favourite TV shows.
To start playing games on your smart TV, simply load up the TV's app store and navigate to the Games section. Download your game of choice and you'll be able to launch it the same way you would any other app on your TV.
10. Lose your weekend to YouTube
The website that popularised practically every viral video you've ever seen is even better in widescreen. Whether you're watching the latest check-ins from your favourite streamer, taking a free course in amateur robotics or just diving deep into the dangerous hole that is adorable cat videos, YouTube on your smart TV is a certified way to wipe out your entire weekend.
Back to top
See April 2021 Smart TV deals below
More guides on Finder