Gears of War 4 Review: "Gears of War is back"
Always bring a chainsaw to a Drone fight.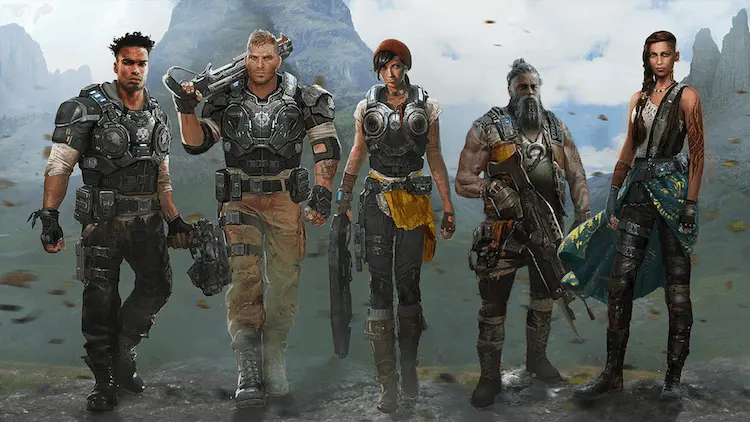 We're reader-supported and may be paid when you visit links to partner sites. We don't compare all products in the market, but we're working on it!
There are two things I'm grateful for when it comes to this sequel: One, Microsoft marketing didn't go with "Gears of W4r", and two, it's still an unabashedly beefcake shooter. It seems odd to say that last one, because not too long ago you couldn't throw a needle up in the air (possibly filled with a cocktail of horse steroids) without it landing on a video game protagonist whose thighs shared the same circumference as their neck.
Gears of War 4 is basically a third-person shooter time capsule. It's got lashings of the old ultra-violence, mixed in with the sort of absurdly over-the-top blockbuster moments one used to expect from all AAA games. If there was any doubt of this new developer, The Coalition, being dedicated to that old-school game design, it gets chainsawed to bits in the first level. You're slaughtering "indies" for god's sake. That subtext.
Diehard fans of the Gears universe will be quite familiar with said indies, and will relish the chance to rewind into the pre-emergence era to chainsaw through the troops of the Union of Independent Republics. They'll also geek out at cameo appearances of Anya Stroud, Lt Minh Young Kim, not to mention the chance to fight side-by-side with Dom Santiago and Colonel Hoffman. If you know the franchise, man, there's so much nostalgia to reap in the prologue flashback levels. It's a strong start. A wink from the new custodians that says, yeah, we got this; we know our stuff.
Unfortunately, when the timeline switches to 25 years after Gears of War 3, this fourth edition soon falls back into complacency. Sure, you have a new squad -- James "JD" Fenix, Delmont Walker, Kait Diaz, and old-timer Oscar -- but you're just running through the same old motions. You know the score: plod through linear story moments, snag the odd collectible, then hit a courtyard with a lot of boxes that sure would be useful if there was to be a firefi- oh, yep, there's a firefight here.
Don't get me wrong, there's still some extremely solid gunplay here. There are also a few interesting enemy types to push you out of your comfort zone, plus some intense, mini-horde moments where you'll need to shrewdly build and place defences (turrets, barbwire traps, etc). The innovations drip out molasses slow, however, and boredom sets in when your enemies are all robots. I don't know about you, but playing what feels like an extended tutorial for two acts, chainsawing Transformers rejects isn't what I signed up for.
That's the bad news out of the way. Slog your ex-COGs through a slow-burn start, and by the third act Gears 4 suddenly revs up like a bloodthirsty chainsaw lancer. Meat returns to the menu in the form of Locusts drones 2.0, and a range of new weapons appear which will subvert the usual cover tactics and eviscerate fools into Dolmio paste.
Expect a ton of windflare setpieces, too (think: actual gales that send thrown grenades haywire, and they also negatively affect your roadie run flank moves). The good news is, tethered objects positioned at the edge of windflare arenas can be shot free so as to reconfigure cover... or an unfortunate enemy's face. The bad side: windflares can come with a side-order of sentient lighting bolts. They feel like you're on the wrong end of six Hammer of Dawns.
As the gorgeous scenery shifts from boring rural to stunning medieval forts and spooky underground facilities, dynamic cover and the Gears of War love of viscera comes into play. Hive-like areas reveal fantastic risk-reward pods. Blasting these eggs off the ceiling is DIY cover placing. Repeatedly damaging them will either deny your enemy cover, or release the slumbering freaks housed within (who proceed to howl for more of their friends).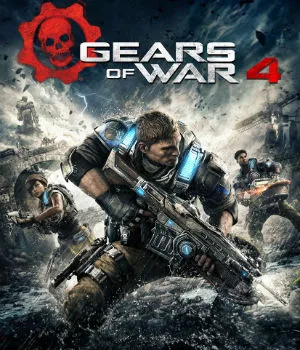 Click to buy Gears of War 4 for Xbox One
from ozgameshop.com
Become a part of the rescue mission with JD Fenix and discover the source of a monstrous new enemy.
View details
Pro tip: don't chance shooting away cover, just use the new vault mechanics to slide-kick that camper and setup an execution. Speaking of which, CQC murdering is very much in vogue again, thanks to a combat knife that makes Rambo's look like a nail-file. Expect a lot of grins with the new execution moves; especially the yank-and-shank trick for anybody trying to be neighbours across one bit of cover.
Master these skills and you may actually avoid getting your head turned into a canoe in Horde 3.0 and PvP multiplayer. For the uninitiated, the former is a wave-based co-op mode that's been rejigged to use the defence building shenanigans seen in the solo campaign, plus there are specialist player classes, plus a deep levelling and unlock system that lets you grind your Gears (sorry). So far, the mode is hilarious with mates, and the bump up to 60 fps is appreciated.
PvP multiplayer also enjoys the same frame rate and solves a lot of the disappointments I felt with Gears of War Judgment (grenades are rarer, and downing is back, as is the iconic active reload mechanic). Gears 4 multi is also quite noob-friendly, thanks to humans vs AI playlists which make getting up to speed a cinch. Veterans, meanwhile, will view the core deathmatch modes as a retcon to the glory days of Gears 3, and I love the novelty offerings like dodgeball (kill an enemy to revive a dead compatriot), Arms Race (a gun game where you need to kill with 13 specific boomsticks), and Escalation (objective capturing with a bit of pre-round weapon placing).
All in all, the three pillars of solo, co-op, and adversarial are more than structurally sound in Gears of War 4. Honestly, the series is still peerless in terms of third-person multiplayer, the game runs flawlessly in all modes, and it's frequently drop-dead gorgeous during the gargantuan moments in the campaigns fifth act.
Newcomers won't feel 10 years late to the party, just as legacy diehards will be appeased by a number of airpunch-worthy reunions. It's also worth noting that I did begrudgingly warm to the new crew over the course of this adventure. Aussie frontman Liam McIntyre is impossible to hate, especially when you consider he's basically a sound-a-like of Chris Pratt. His continuing portrayal of JD Fenix -- the roided-up, everyman leader of the "Necks Generation of Gears" -- is something I'm very much on-board with.
We reviewed Gears of War 4 on Xbox One with a copy provided by the publisher.
More guides on Finder