Garment steamer buying guide: How to find the best product for you
We'll help you compare garment steamers and find the best steamer for your clothes.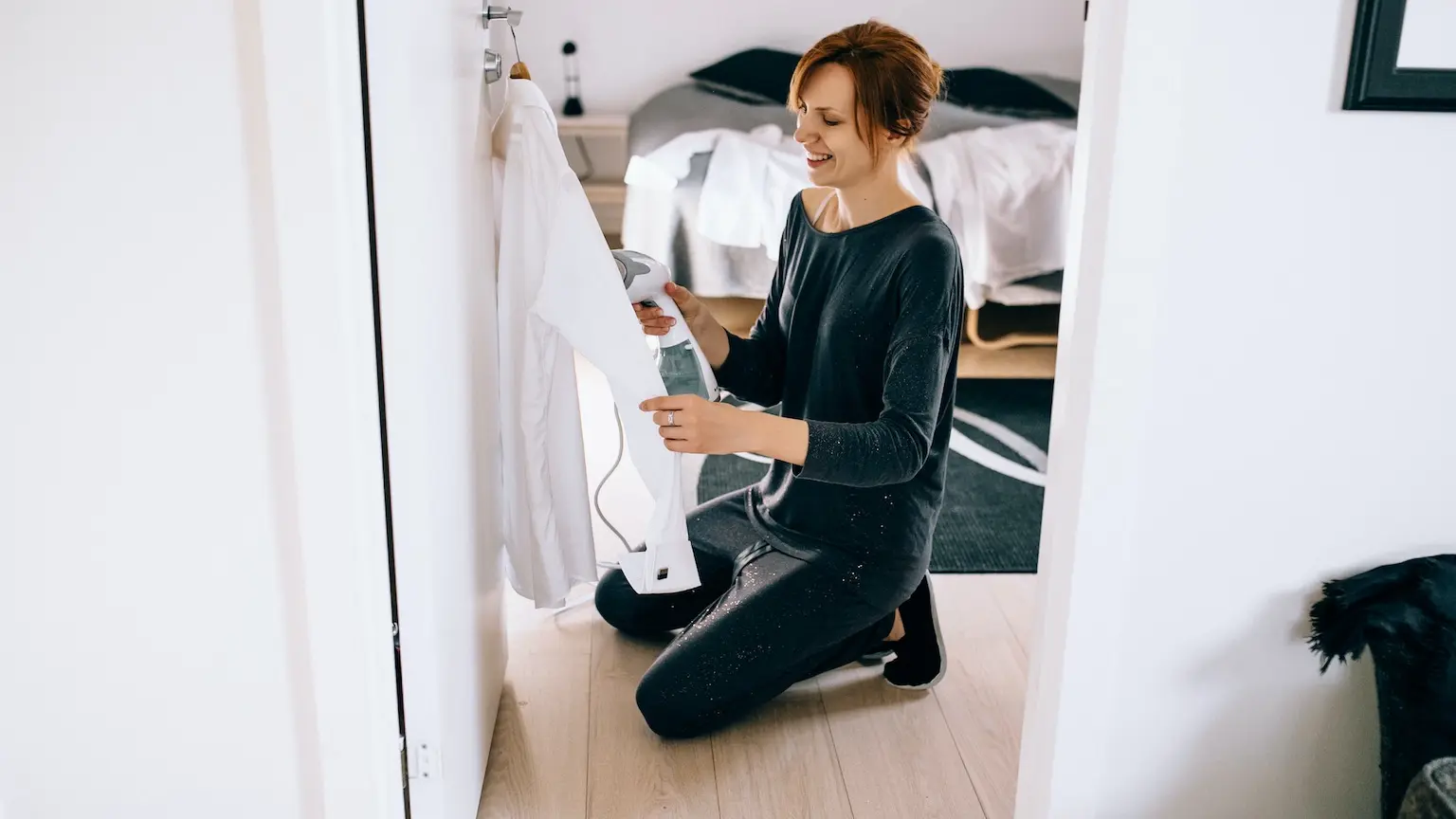 We're reader-supported and may be paid when you visit links to partner sites. We don't compare all products in the market, but we're working on it!
Key facts about garment steamer:
If you think ironing is a painful and time-consuming chore, you might want to consider buying a garment steamer.
Garment steamers are designed to easily and gently remove the wrinkles from clothes and delicate fabrics.
The cost of a garment steamer ranges from $30 to $400 with models made for use either at home or on the go.
What is a garment steamer?
A garment steamer is an appliance designed to remove the wrinkles from clothes, linen, soft furnishings and curtains. They work by heating water from a water tank to produce steam, then releasing that steam via a nozzle onto an item of clothing.
The heat from the steam removes the wrinkles and there's no need for you to apply any pressure to the item of clothing. All you have to do is hang the item up.
Why should I consider a garment steamer?
There are several key reasons why you might buy a steamer instead of an iron to rid your clothes of wrinkles:
If you're interested in the cleaning power of steam, you might like our steam mop buying guide
Why shouldn't I consider a garment steamer?
If you're looking for an appliance that can completely replace your iron, a garment steamer probably won't fit the bill. While they can be quite effective on dresses and suits, they often don't perform as well on fabrics like cotton, wool and denim. They also can't provide that crisp, pressed look that a thorough ironing can.
Additionally, handheld steamers usually max out at around 17 minutes of steam time, so anyone with a large pile of clothes in need of de-wrinkling will need to consider a more expensive standing steamer. Keep in mind, some steamers can leave material damp, so they may not be all that useful if you want to steam an outfit to wear straight away.
What types are available?
You have three main options available when buying a clothes steamer:
Standing (floor) steamers. Designed for home use and typically capable of taking on heavy-duty jobs, standing steamers are roughly similar to a vacuum cleaner in size and take up the most space. They have larger water tanks and offer longer steaming time (up to 90 minutes in some cases) than the other options, but they're the most expensive. Many models also have wheels, a built-in hanger and a number of other attachments.
Mid-size handheld steamers. More compact than standing steamers, these handheld devices are around the same size as a kettle or large hair dryer and are designed to be easy to use and manoeuvre. They still offer decent power but their smaller water tanks mean steam time is limited to a maximum of 15-17 minutes. You can travel with a mid-size steamer at a pinch, but they're not as portable as a dedicated travel steamer.
Travel steamers. Designed to be as compact and portable as possible, travel steamers can fit into your luggage when you're travelling for business or pleasure. While they're convenient, they don't have as much power as larger models and are typically limited to 10-12 minutes of steam time. This means they can steam only one or two items of clothing at a time.
Don't confuse garment steamers with steam station irons, which consist of a water tank and an iron that sits on top of it. Steam stations are bigger, bulkier and more effective than traditional steam irons, but they can cost anywhere from $250 up to more than $1,000.
How to compare garment steamers
Before buying a clothes steamer, take some time to think about how you plan to use your new appliance. What clothes and other items will you be steaming? Will you only be using it occasionally or every day? Do you want a steamer portable enough to take with you when you travel?
Answering these questions will give you a better idea of exactly what features you need. When comparing garment steamers, make sure to consider the following factors:
Size
Check the specifications to find out how big the steamer is and how much space it's going to take up in your wardrobe and/or suitcase. For example, many home-use steamers include a telescopic pole to ensure that they take up less storage space.
Heat-up time
How long does it take for the steamer to heat up and be ready to use? Many models take anywhere between 60 and 120 seconds, but some large floor units take longer.
Steam time
The size of the water tank on a steamer is a key factor in determining how much steam time it offers. For example, while a larger home unit might feature a 2-litre tank and 60 to 90 minutes of steam time, a handheld unit might only hold 250mL of water and offer 10 to 15 minutes of use per tank.
Power
The wattage of a garment steamer has a direct effect on the speed at which a steamer heats up and the amount of steam it produces, so check each model's power figures to see how they compare.
Water tank
As well as the capacity of the water tank, consider how easy it will be to fill. Also remember that a removable tank will be easier to clean whenever required.
Heat settings
Are there multiple heat settings available so you can adjust the device's steam output to suit different items of clothing?
Attachments
If the steamer comes with a hose, is it long and flexible to ensure easy use? Does it come with different nozzle and brush attachments for use on different fabrics or items of clothing?
Cord length
Check that any model you're considering has a long power cord for ease of manoeuvrability.
Automatic shut-off
Some higher-spec models will include an automatic shut-off feature if you accidentally leave your steamer on.
Weight
You may also want to consider the weight of a handheld steamer. You'll need to be able to comfortably hold and use it without your arm getting sore, while it can also have an impact on your luggage weight limit when flying.
Warranty
To get a better idea of how much confidence each manufacturer has in their own product, check the length of the warranty and what it covers. Garment steamer warranties usually range from one to five years.
Price
Prices for small, portable steamers start at around $30, while larger standing models usually range from $100 to $400.
More guides on Finder