Everything you need to know about the Nintendo Wii U
The legendary company behind Mario, Pokémon and Zelda has split opinion with its latest video games console.
We're reader-supported and may be paid when you visit links to partner sites. We don't compare all products in the market, but we're working on it!

What Is the Nintendo Wii U?
The Wii U is the sixth non-portable video games machine released by Nintendo and is the company's entry into the eighth generation of consoles. Work began on the console in 2008 with the intent to bring "core" gamers back to Nintendo, which the company felt it had lost after the "casual" playing experience of the Nintendo Wii. Its main pathways to achieving this goal were to bring in high-definition video and audio, revamping the online experience and providing more traditional control configurations.
The Wii U was officially announced in April 2011, and released in November 2012, a full year before its main competitors the Xbox One and the PlayStation 4. Compared to its predecessor, the incredibly popular Nintendo Wii, which sold 101.01 million units as of the time of writing, the Wii U has struggled. It has currently sold just 11.69 million units. In fact, the console lost its slender lead within a year of the Xbox One and PlayStation 4 being released.
Latest Nintendo articles
Many critics labelled the Wii U a bridging console, which was more powerful than the consoles of the seventh generation (Xbox 360, PS3 and Wii), but far less so than its competitors in the eight generation of consoles (Xbox One and PS4). The stark difference in power, combined with a relatively underdeveloped online ecosystem and a lack of entertainment options (such as no Blu-ray player and few content streaming apps), saw the Wii U struggle to engage with modern audiences. It also meant that many of the top-tier AAA third-party developers were unable to cross-develop across all three consoles. As such, they favoured the similar architecture and audiences of the Xbox One and PlayStation 4, and the Wii U games library suffered as a result.
That said, the console does benefit massively from Nintendo's own exclusive properties. Titles like Super Mario 3D World, Yoshi's Woolly World, Donkey Kong Country: Tropical Freeze and the Legend of Zelda series are simply brilliant and exclusive to the Wii U. And aside from a select few mature titles such as Zombi U, The Devil's Third and Xenoblade Chronicles, the Wii U is heavily tiered towards G and PG titles suitable for younger gamers and families. As such, the Nintendo Wii U has become a destination for that family demographic.
What is the Nintendo Wii U GamePad controller?
As it did with the Wii, the Wii U looked to innovative on player input options with its new GamePad controller. The light, yet bulky controller is dominated by a large 6.2" touchscreen in its middle. This is used in multiple ways specific to each game. Often it is used as a second screen displaying useful information like a map or inventory. However, many games have also taken to using it as a key part of gameplay, allowing to slide objects around a level, blow on it to affect on screen elements and more. In this respect it behaves a lot like the lower screen on Nintendo's portable 3DS system.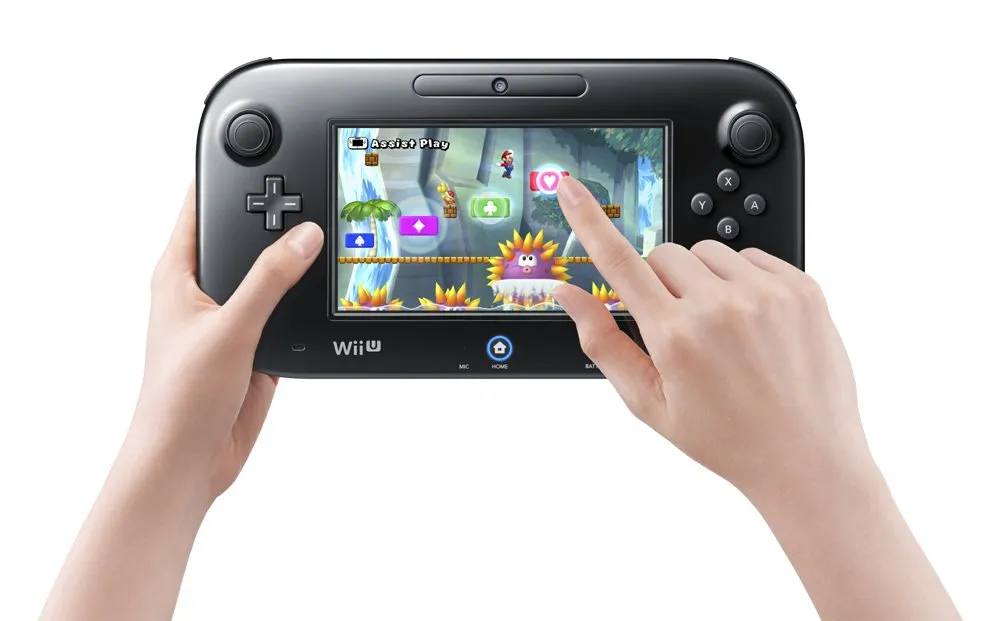 As the controller has its own screen, it can become an innovative tool in multiplayer modes by allowing one user to play from that screen, and one or more users to play from the main TV in the same game world. Often this can be used as a way to avoid split screen gaming, but it's best used when the player with the GamePad is placed in a role different from those on the TV. For example, the GamePad player could be a dragon, and those using the TV could be trying to escape his clutches. This kind of experience has been termed asymmetric multiplayer, as not all participants are interacting with the world in the same way.
The second screen also allows the player to continue using the Wii U without a TV. So if the TV is off, or a member of the household would like to watch something else, they can continue with their game experience unaffected. In this instance, however, all the information must be shown (or be accessible) on the one screen as there is no second-screen to help out. However, not all Wii U games support this kind of functionality.
A "TV" button on the controller allows you to use the GamePad as a remote control, as well.
Outside of the big screen, the button layout recalls a normal controller layout, but also includes an accelerometer and gyroscope to allow you to interact with the game world via movement. A classic example of this is using the GamePad like an iron-sight, literally moving it through space to target objects of interest in a game world. A stylus is also neatly tucked away into the back to allow for finer touchscreen control (such as writing messages or drawing pictures), and the GamePad has a rechargeable battery that plugs into an included power cable.
Two small speakers bookend the screen and are often used to provide a sensation of surround sound in certain games, while there is a microphone and a camera that can be used for video chats. The Gamepad's near-field communication feature has also become increasingly useful thanks to the arrival of the Amiibo figurines.
What does the U in Wii U mean?
The U is literal; as in, it refers to "you." The "We You" therefore refers to Nintendo's goal to bring core games back to the console by making the machine more personal to them. This was defined by Nintendo (the we) in making the Miiverse and online experience more robust, adding in features on the GamePad like the camera and touchscreen, and focusing on bringing back more classic game series, all of which would satisfy core gamers (the you).
What are the main benefits of owning a Wii U?
Nintendo makes brilliant games. While it has frequently worked to evolve gaming from a hardware perspective, the company has been a pioneer on the software front for over three decades. Classic genres such as the platformer (Super Mario), RPG (Pokémon), Adventure (The Legend of Zelda), FPS (GoldenEye 007, Splatoon!), Racing (Mario Kart), Fighting (Super Smash Bros.), Life Sim (Animal Crossing) and more were defined by Nintendo. One genre, Metroidvania, is named specifically for its Metroid series. Nintendo's exclusive titles for the Wii U are consistently brilliant.
The unique GamePad controller changes the way you play. It features a large touchscreen in the middle of the controller that ties into single player games in various ways, including inventory navigation and touch-sensitive inputs. It can also be used in asymmetric multiplayer. This is where a person using the GamePad screen plays from a different perspective to others using the main TV. The controller can also operate when the TV is off or on another channel, allowing a user to continue playing games.
The Wii U is currently the cheapest of the three eighth generation consoles. While we've seen price drops to the PS4 and Xbox One edge them close to the Wii U's current recommended retail price of $429, Nintendo has yet to make a significant move on its price and therefore has the room to do so and stay ahead of the competition.
The Wii U is fully backwards compatible with the Wii. This not only means that you can play any of the original Wii console's games on the new Wii U, but you can also use all the old controllers and peripherals (such as the Wii Balance Board). It works by allowing the Wii U to enter a "Wii Mode" whereby it effectively becomes and looks like a Wii running a Wii game. This is a huge plus for families who already owned a Wii, as plenty of money can be saved by making use of existing controllers and games. Old Wii saved game data can be transferred to the new console, too.
It's family friendly, with a big focus on G or PG-rated titles and what is called "same-couch" (which is offline) multiplayer, frequently for up to four-people and occasionally up to five. And while it does have online experiences as well, they tend not to be filled with angst driven male teens and "anonymous cowards" that plague the online communities of the PlayStation 4 and Xbox One.
The Miiverse is a community-driven hub world where you can save and share up to 100 screenshots from your games, and find specific communities for each title where you can converse with other players. You can use the "Home" button on the controller to head here anytime while you are playing a game, which makes it a handy place to ask for tips if you get stuck.
Unlike the PlayStation 4 and Xbox One services, the Nintendo Network and all its functionality is free and requires no subscription, although some apps and most games require a purchase to be owned.
Up to 12 users can create a Mii character in the MiiMaker and have a profile on the Wii U, allowing for plenty of friends and family to be involved.
How does the Wii U compare to other consoles?
The Nintendo Wii U does not compare well to its main competitors, the Xbox One and PlayStation 4, on nearly all fronts. Its hardware power is inferior, it has fewer entertainment options, fewer titles, poorer independent developer support and less online functionality in general. However, it is the cheapest of the three consoles and its catalogue of exclusive games made by Nintendo rate amongst some of the best games of this generation.
Compare the Wii U against the Xbox One and PlayStation 4 by clicking here

Does the Wii U Offer backwards compatibility?
One of the big selling points for the Nintendo Wii U is that it offers full backwards compatibility for the Nintendo Wii. In addition, all the existing Wii controllers and peripherals (including the Wii Balance Board) work with the Nintendo Wii U, and indeed the Wii-mote controllers are an essential part of any multiplayer experiences on the newer console as only a singular GamePad can be used at any one time. There is one exception to the rule, however. As of mid-2014, Nintendo discontinued its old Nintendo Wi-Fi Connection service – the online service that was in place before the Nintendo Network. As such, all online multiplayer modes on Wii games are now defunct.
How to upgrade hard drive storage on your Nintendo Wii U?
One of the big flaws of the Nintendo Wii U is its very small 32GB internal hard drive, which is less than most mobile phones. If you intend to buy just a couple of games from the eShop, some extra downloadable content and perhaps store a few screenshots, you will fill that up very quickly indeed. Thankfully, you can connect any USB 2.0 or higher external hard drive to a Nintendo Wii U via the rear-facing ports to increase your storage up to 4GB.
Nintendo recommends buying an external hard drive that has its own power supply, as the Wii U itself doesn't do a great job of powering the storage device while saving games to it at the same time. The higher the RPM of the hard drive, the faster it will save data and load games, so that is worth keeping in mind, too. Also note that your hard drive will be formatted by the Nintendo Wii U to get it ready to act as a storage extension, so any existing data on the new hard drive will be lost. If you plug in the hard drive when your Wii U is powered down (recommended) when you turn it back on you will be instantly prompted to set up it up for use with the Wii U.
What is the Nintendo Network like?
While perfectly functional, in comparison to the online ecosystems of its two main competitors the Xbox One and PlayStation 4, the Nintendo Network feels prehistoric. Its content is buried in a menu system that is confusing and slow to operate, the store is challenging to navigate and not updated nearly as frequently with new titles or DLC. There is minimal alternative entertainment options such as films, TV or music, and the puny 32GB of internal storage space can't hold much even if it did.
On the positive side, however, it's constantly improving as Nintendo works to correct these flaws. It also does allow a fun and relatively safe hub for young gamers to experience online life for the first time. They can create their own character, called a Mii, share drawings and notes with friends and other gamers, and take classic Nintendo titles like Mario Kart 8 online to battle against other players or to compare scores on leaderboards. Nintendo and its developers also use the Network to deliver system and game updates to add new features and to improve performance.
What Are the Best Nintendo Exclusive Game Series?
| | | | |
| --- | --- | --- | --- |
| Super Mario | Mario & Luigi | Pilotwings | Xenoblade Chronicles |
| Mario Kart | Paper Mario | Fire Emblem | |
| Luigi's Mansion | Metroid | Star Fox | |
| Super Smash Bros. | Pikmin | Earthbound | |
| Splatoon! | The Legend of Zelda | 1080 Snowboarding | |
| Captain Toad | Pokémon | Mario Party | |
| Kirby | Mario & Sonic at the Olympics | Chibi-Robo | |
| Donkey Kong Country | Kid Icarus | Art Academy | |
| Yoshi | F-Zero | Advance Wars | |
| Animal Crossing | WarioWare | Mario vs. Donkey Kong | |
What Are The Best Selling Wii U Games of All Time?
Updated: 6/1/16
| Top 25 Best Selling Wii U Games of All Time | Game | Release Year | Genre | Publisher | Total Sales |
| --- | --- | --- | --- | --- | --- |
| 1 | Mario Kart 8 | 2014 | Racing | Nintendo | 6.17 |
| 2 | New Super Mario Bros. U | 2012 | Platformer | Nintendo | 4.96 |
| 3 | Super Smash Bros. for Wii U and 3DS | 2014 | Fighting | Nintendo | 4.28 |
| 4 | Nintendo Land | 2012 | Party | Nintendo | 4.26 |
| 5 | Super Mario 3D World | 2013 | Platformer | Nintendo | 3.84 |
| 6 | Splatoon | 2015 | Shooter | Nintendo | 3.34 |
| 7 | New Super Luigi U | 2013 | Platformer | Nintendo | 2.18 |
| 8 | Super Mario Maker | 2015 | Platformer | Nintendo | 2.05 |
| 9 | Wii Party U | 2013 | Party | Nintendo | 1.66 |
| 10 | The Legend of Zelda: The Wind Waker | 2013 | Action | Nintendo | 1.51 |
| 11 | Donkey Kong Country: Tropical Freeze | 2014 | Platformer | Nintendo | 1.26 |
| 12 | Mario Party 10 | 2015 | Party | Nintendo | 1.2 |
| 13 | Hyrule Warriors | 2014 | Action | Nintendo | 1.1 |
| 14 | LEGO City Undercover | 2013 | Platformer | Nintendo | 0.98 |
| 15 | Pikmin 3 | 2013 | Strategy | Nintendo | 0.97 |
| 16 | Captain Toad: Treasure Tracker | 2014 | Puzzle | Nintendo | 0.97 |
| 17 | ZombiU | 2012 | Action | Ubisoft | 0.92 |
| 18 | Yoshi's Woolly World | 2015 | Platformer | Nintendo | 0.91 |
| 19 | Bayonetta 2 | 2014 | Action | Nintendo | 0.9 |
| 20 | Wii Fit U | 2013 | Sports | Nintendo | 0.72 |
| 21 | Mario & Sonic at the Sochi 2014 Olympic Winter Games | 2013 | Sports | Nintendo | 0.68 |
| 22 | Monster Hunter Tri | 2012 | RPG | Nintendo | 0.65 |
| 23 | LEGO Marvel Super Heroes | 2013 | Action | Warner Bros. | 0.62 |
| 24 | Just Dance 2015 | 2014 | Music | Ubisoft | 0.62 |
| 25 | Skylanders: Trap Team | 2014 | Adventure | Activision | 0.6 |
Tips When Buying a Wii U Console.
While the recommended retail price of the 32GB Nintendo Wii U is $429, make sure you compare retailers (see side menu) before purchase as they will often create their own unique console bundles to secure a sale. This can come in the form of a cheaper price, or the addition of extra games or peripherals such as extra controllers to sweeten the deal. There are a number of official bundles which theme the package to a specific game, such as Splatoon or Super Mario Maker.
While doing your research, you may stumble on two versions of the Wii U, entitled Basic and Premium. Early in the Wii U's lifecycle, it was possible to buy a "basic" 8GB Wii U or the "premium" 32GB Wii U. The former has since been unofficially discontinued, but can still be found in some retail outlets. Our advice is to go with the 32GB if you can afford the slightly higher price, as even that is a woefully small amount of storage space and 8GB is barely enough to hold one game.
Also note that the Wii U only works, at the time of writing at least, with only one GamePad controller, so there is no need to worry about buying a second. For multiplayer games, other players can use Wii-remotes or the Pro Controller (which is a Wii controller mimicked off the Xbox One controller).
What Are the Amiibo Figurines?
Following the success of the toys-to-life genre, popularised by Skylanders and later built on by Disney Infinity and Lego Dimensions, Nintendo entered the space with the Amiibo. As with its peers, Amiibo are toy character figurines, which can be collected and played with in the real world, but can also be placed on the New 3DS or Nintendo Wii U GamePad screen to provide in-game benefits. Unlike its peers, however, Amiibo are not bound to a single product and can actually be used across multiple titles and even across formats (Wii U, 3DS and presumably the upcoming NX console). Amiibo figurines have been extremely popular, to the level at which some characters have been out of stock in many regions for months.
How Long Before Nintendo Releases Its Next Console?
Nintendo has already got on the front foot by announcing that its next machine is in development and it's referred to by the codename NX. This inside word is that the first public showing of the console will be at the 2016 Electronic Entertainment Expo (E3) held in Los Angeles in June, with plenty of conjecture over whether it may even go on sale in late 2016, although 2017 seems more likely in this writer's opinion. However, Nintendo has also on numerous occasions indicated that the NX is something new and "unique" and not necessarily a replacement for the Wii U. Therefore, it would be premature to say that the NX is indeed Nintendo's entry into the ninth generation of consoles.
More guides on Finder