What is Nintendo Switch Online?
Here's everything you need to know about Nintendo Switch, from pricing to release date to the suite of NES games available on-demand.
We're reader-supported and may be paid when you visit links to partner sites. We don't compare all products in the market, but we're working on it!
---
Nintendo has always been slow to embrace the world of online gaming. Through the birth and death of the Wii and Wii U, it mostly shied away from online multiplayer, dabbling here and there with games like Mario Kart Wii and Splatoon. The online infrastructure supporting these games was never anything more than functional, though. Even finding and playing games with your friends was a major hassle, involving impossible-to-remember friend codes and a total lack of voice chat. The only consolation was its price tag: unlike PlayStation Plus and Xbox Live, Nintendo's online service had always let you play against your friends over the Internet for free.
With Nintendo's latest console, the Nintendo Switch, all that is set to change. This time around, Nintendo is planning its own premium online service called Nintendo Switch Online which, like Sony and Microsoft's offerings, will require you to pay to play games online. It's not all bad news, though, as Nintendo is following in its competitors' footsteps and throwing in free games and discounts on its digital store for all subscribers. And while the service is unlikely to be as robust as PlayStation Plus or Xbox Live, its cheaper price makes it a considerably more accessible alternative.
What features does Nintendo Switch Online include?
Online play
The main reason to purchase Nintendo Switch Online is to play Switch games online against your friends. Admittedly, there aren't a whole lot of games that will require a Nintendo Switch Online subscription for online multiplayer at launch, with the lineup limited to Mario Kart 8 Deluxe, ARMS, Splatoon 2, Mario Tennis Aces and Sushi Striker: The Way of the Sushido for now. Granted, many have been playing three of those games at no extra cost for quite some time now.
Pokkén Tournament DX, Payday 2, FIFA 18 and NBA 2K18 will require the same admission fee.
Free games
Free games have proven an effective salve for the sting of paying for online play. Both Microsoft's Games With Gold initiative and Sony's PlayStation Plus free games program have become immensely popular, to the point where they provide enough value on their own to justify the monthly subscription.
Nintendo is taking a similar approach with Nintendo Switch Online. While it originally planned on a more Netflix-style model where subscribers would receive a few games every month but only be able to play them for that month, the company has since backpedalled and redesigned its free-game offer to work the same way as Sony's and Microsoft's. Each month, Nintendo Switch Online subscribers will be able to download a compilation of classic Nintendo games modified to include online play. While functionality will differ between titles, some games will offer competitive play, co-op multiplayer or the ability to hand the controller over to an online friend while you spectate. All classic games also support voice chat via the Nintendo Switch Online app.
To begin with, Nintendo will only be offering NES games as part of the free games line-up, with SNES titles "under consideration". On the plus side, subscribers can play these classic games as much as they want for as long as they maintain an active Nintendo Switch Online subscription.
There are 20 games coming at launch, but only 10 we know of so far:
Balloon Fight
Dr. Mario
Super Mario Bros. 3
Donkey Kong
Ice Climber
The Legend of Zelda,
Mario Bros.
Soccer
Super Mario Bros.
Tennis
eShop discounts
Again taking cues from Sony and Microsoft, Nintendo will be offering exclusive discounts on the Nintendo eShop for Nintendo Switch Online subscribers. No specifics have been announced, but if Nintendo plans on competing with the deals offered through PlayStation Store and Microsoft Store, it's likely we'll see subscriber-only sales and pre-order discounts on a semi-regular basis.
Dedicated mobile app
For as much inspiration as Nintendo is taking from PlayStation Plus and Xbox Live, there are still a few areas where the company is doing things its own way. Case in point: the Nintendo Switch Online mobile app. Where features like voice chat, messaging and friend invites are built into the basic operating system of the PS4 and Xbox One, the Nintendo Switch offloads them onto your mobile phone. To chat with your teammates while you're playing Splatoon 2, you'll need to plug a headset into your phone, boot up the Nintendo Switch Online app and leave your phone sitting next to you while you play. Similarly, you'll need to use the app to send game invites to players on your Nintendo Switch friends list, as well as join games you have been invited to.
There's no denying this solution is a lot more fiddly than the built-in functionality on PS4 and Xbox One. That said, the portability of a mobile app allows for some handy features those two consoles lack. In Splatoon 2, for example, the Nintendo Switch Online app can be used to track the results of your previous battles, check the gear and weapons other players have been using, and view what stages are coming up in the game's rotation.
It remains to be seen how many games will take advantage of the mobile app's unique functionality, but if enough do, it could be the edge Nintendo Switch Online needs over PlayStation Plus and Xbox Live.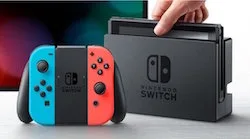 Purchase Nintendo Switch
from eBay
Purchase the Nintendo Switch with grey Joy-Cons or Neon Blue and Red Joy-Cons from eBay today.
View details
Is Nintendo Switch Online available yet?
The full Nintendo Switch Online service isn't launching until September 2018, but you can still play Nintendo Switch games online right now – and for free, to boot.
All Switch owners have access to online multiplayer, voice chat and mobile app functionality from now until the launch of Nintendo Switch Online, all without paying a cent. The free games and eShop discounts won't be available until the full service goes into operation in September 2018, at which point it will require a monthly subscription.
How much will Nintendo Switch Online cost?
If there's one thing Nintendo Switch Online has going for it, it's the price. At $29.95 for a 12-month membership, it's less than half the cost of Xbox Live and PlayStation Plus. This makes it far easier to look past its basic functionality and slimmer online games library.
If you're not ready to commit to a full 12 months, you'll also be able to buy one-month and three-month subscriptions when Nintendo Switch Online launches in 2018. A one-month subscription will set you back $5.95 while a three-month subscription will cost $11.95. Once you've decided you want to stick with it, though, you'll want to spring for the full 12-month subscription since it'll work out cheaper in the long run.
There will also be a family membership available which covers you for 12 months, costs $54.95 and allows up to 8 Nintendo Switches to connect online.
Here are those prices again:
One month (30 days): $5.95
Three months (90 days): $11.95
12 months (365 days): $29.95
Family membership (12 months/365 days): $54.95
---
More guides on Finder