GAMDIAS ACHILLES M1-L gaming chair review
Work and play in comfort with GAMDIAS's slick and surprisingly affordable gaming chair.
Quick Verdict
After sitting in the GAMDIAS ACHILLES M1-L, using a regular desk chair will feel like going back to the Stone Age.
The Good
Comfortable and ergonomic
Can be adjusted in numerous ways to accommodate different body types and postures
Easy to set up
Surprising affordable
The Bad
The RGB lighting feels like a bit of a gimmick
No means of attaching head pillow lower down for shorter users
---
Considering most of us spend a good chunk of our lives sitting at a desk, you'd think a comfortable, supportive chair would be high on the priority list. Yet walk into most offices, classrooms or home studies and you'll likely find a surplus of stiff-backed plastic buckets, wonky wheelie chairs and spine-racking monstrosities built by people who had no idea how the human body operates.
Funnily enough, the strongest opposition to this unnecessary self-flagellation comes from the video games industry. Both professional and recreational gamers tend to spend hours upon hours tensed up in front of a screen, and now that esports has become a viable career path, we're realising how critical it is to maintain good posture while grinding creeps and fragging fools.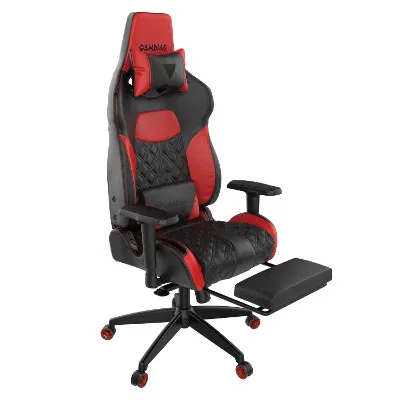 Browse GAMDIAS's ACHILLES gaming chair range
from Amazon US site
GAMDIAS' ACHILLES line of gaming chairs pack plenty of customisation options to ensure comfort for all body shapes and sizes.
View details
Taiwanese tech company GAMDIAS is one of the latest players to join the growing industry of premium gaming chairs. Its ACHILLES line of chairs promises to not only provide comfort over long gaming or work sessions, but also promote a healthy posture to ensure you can keep at it long into the future.
After spending the last week with my rear end planted on the ACHILLES M1-L, I can safely say that both work and play have never felt this comfortable.
Design
Like most high-end gaming accessories, the M1-L is as much about form as it is about function. It cuts quite an imposing figure, with its wrap-around back rising up to 136cm even at the lowest setting of its gas lift. The faux-leather vinyl that covers the base and back feels appropriately plush, too, delivering on GAMDIAS's promise of premium quality. More importantly, the cushioning beneath the vinyl is comfortable enough for hours-long gaming sessions while providing firm support to keep you from developing unwanted back problems years down the track.
Gamers come in all shapes and sizes, and the M1-L provides for this by offering plenty of configuration options designed to maximise comfort. The back of the seat, for instance, can recline to a lazy 150 degrees, perfect for those times you're too tired to trek back to bed after grinding out high-level gear in World of Warcraft or raiding it up in Destiny 2.
On the more ergonomic front, the M1-L comes with a detachable head pillow and lumbar support cushion to take stress off your back and neck when spending long stretches in the same position. They're made out of the same high-quality material the rest of the chair is, balancing comfort with firm resistance that I'm sure 60-year-old me will be incredibly grateful for.
Features
Outside of cup holders and vibrating butt cushions, the features list for most chairs tends to be rather short. The M1-L doesn't necessarily buck this trend, but it does boast one particularly nifty trick worth mentioning: 3D armrests.
While it might sound like something taken from an episode of Star Trek, the fancy term simply means that you can adjust the M1-L's armrests in three dimensions. You can slide each armrest forward and back, rotate them clockwise and counter-clockwise and lift them up and down.
This might not sound particularly exciting, but from a comfort perspective, being able to rest your arms in a wide range of configurations means no more pins and needles or strained wrists from awkwardly contorting yourself into a fixed-rest seat. Because you can angle the M1-L's armrests inwards, you don't have to strain your hands holding a controller aloft for hours on end or dropping them into your lap, either – a pose that often leads to unhealthy slumping.
Lighting
Of course, no self-respecting gaming chair would be complete without RGB lighting. The M1-L gets its chroma on with an LED strip framing two apertures on the back of the seat, roughly at head height when sitting down. Lit up, the pattern resembles a pair of angry eyes boring into the skull of anyone daring to intrude on the occupant of the imposing seat – or maybe that's just me projecting my frustrations from being interrupted in the middle of a tense Counter-Strike match one too many times when I was younger.
Regardless, the illuminated eyes on the back of the M1-L support an impressive amount of customisation for something that only your audience will see. By plugging the chair's USB cable into your computer and installing GAMDIAS's Hera customisation software, you can choose from a number of different lighting patterns including a breathing pulse, a circling trail, a steady blink and, of course, a basic static light. The usual 16.8 million colours of the RGB spectrum are yours to play with, and you can also adjust the brightness and speed of each pattern for added personalisation.
---
Once you've settled on the perfect lighting pattern to strike fear into the hearts of your foes, you can free up one of your PC's USB ports by plugging the M1-L into a power adaptor or USB battery pack instead, since the chair remembers the last lighting pattern you set in the Hera app. Heck, you could even take the M1-L for a spin around the streets if you really wanted to scare the bejesus out of your neighbours.
Setup
Part of GAMDIAS's pitch with its entire range of ACHILLES gaming chairs is how easy they are to assemble. I have to admit, I was sceptical of this claim given how many obtuse instructions, wonky brackets and uncooperative screws I've dealt with assembling furniture over the years, but the M1-L surprised me. The entire setup process consisted of just four steps, requiring nothing more complicated than slotting one component into another and screwing in a few massive bolts with the included allen key.
All told, putting the chair together only took about 15 minutes, and I didn't have to spend another 15 minutes taking slow breaths to keep from throwing the whole thing out the window. I consider that a big tick in the simplicity column.
---
Verdict
If you're serious about work, play or any other activity that has you sitting down for hours on end, it pays to be equally serious about the seat saving you from the painful pull of Earth's gravity. The GAMDIAS ACHILLES M1-L fits the bill here well. With comfortable cushioning, sturdy support and enough configuration options to suit a wide variety of body shapes, sizes and postures, it makes the simple act of sitting down a pleasure in itself.
Pricing and availability
The GAMDIAS ACHILLES M1-L gaming chair sells for $249 from MSY.
GAMDIAS ACHILLES M1-L Specs
Height

136cm - 146cm
Width

55cm
Depth

47cm
Max load

200kg
Available colours

Red, Yellow, Blue, White, Black
Maximum backrest adjustment

150 degrees
Price

$249.00
---
Latest technology headlines