Furi Review: "Bullet-hell battles in a psychedelic dreamland"
A relentless, oneiric adventure that has the potential to infuriate players.
We're reader-supported and may be paid when you visit links to partner sites. We don't compare all products in the market, but we're working on it!
The Game Baker's Furi and its sole focus on boss battles is an interesting angle for a cartoony 3D action fighter, which helped this indie attract plenty of pre-release hype. But I wasn't sold on that premise alone. It's only now that I've finished this insane/maddening/addictive hack-and-slash-athon, that I'm happy to lay down the praise. The Game Bakers have gone above and beyond with the initial premise.
10 minutes of Furi
http://finder.wistia.com/medias/i60kotkgqk?embedType=async&videoFoam=true&videoWidth=300 Furi's story is simple at first: escape the prison and the kill the gaoler that put you there. However, after your initial torture chamber escape, subtle clues reveal themselves and as you learn more about our mute hero's history, it begins to throw your motivation into question. It works as a compelling pull into the game's depths thanks to the narrator and guide - an odd fellow with a rabbit mask that wouldn't be out of place in a Danganronpa game.
The nameless figure pushes the character forward with sinister speeches in-between battles that explain the character's connection to the next boss, and the reason he should be (for lack of a better word) furious with them. These cinematic moments between battles are a slow meander in contrast to the strenuous twitch-fuelled boss fights, which is a nice change of pace. They provide not only a picturesque backdrop to the action and some context, but also a much needed breather. Unless you're playing on the game's walk-in-the-park Promenade mode, the game is much better for these moments.
These moments don't carry the brooding atmosphere on their own. A huge credit has to be given to composers Carpenter Brut, Danger and The Toxic Avenger for the moody, synth-heavy soundtrack. The soundtrack both fires up the intensity in battles and creates a sombre sense of dread in-between. It amps you up for what's around the corner and signals some underlying horror in the unfolding story.
Okazaki's talent is really on show here
There are weird and wonderful landscapes that are pure eye-candy too, and there's plenty to love in the artistic mastery of Takashi Okazaki's (Afro Samurai) character designs. If you've ever read (or watched) Afro Samurai, you will be familiar with Okazaki's style. In Furi, it's instantly recognisable in our main character and many of the diverse boss characters present. Exaggerated features, dramatic shadowing and that hair. Okazaki's talent is really on show here, and it transitions from page to play wonderfully. Some characters outshine others in both dialogue and design by a mile, but I never grew tired of them - even when they crushed me over and over again. As you will be, undoubtedly.
Death is a big part of Furi. For many characters your victory (and their death) means sweet release from the twisted prison that holds them. You also can't shake the feeling that the prison is, in fact, Hell. Furi's world is a fragmented one, and the character traverses between each of the eight different layers, slaying everything in his path.
There are eight bosses in total and each deals wrath in a unique and punishing way. Including the main character, who might just be the most devastating harbinger of death, that's nine combatants in total. Nine soldiers, nine circles of Hell. Just saying. Though, none seem to embody any one sin (at least in any obvious way), so that's where the Dante's Inferno allegory ends. That said, the devilishly difficult gameplay could be comparable to some kind of eternal torture.
The gameplay is both Furi's most commendable feat and the one area it lets itself down from time to time. It's pretty bareboned. You can shoot, slash, dodge, run and parry. All actions can be charged by holding its respective button down for a stronger dose of pain. It's the way each boss forces you to mix up these commands that makes it more than a button-mashing hack-and-slash. In traditional boss monster form, each character has multiple lives and a series of transitions that brings new challenges for the player to adapt to.
Enemy lives/rounds are also split into sections. The first half of any round plays like a top-down twin-stick shooter. You dart around the stash pumping the enemy with a continuous stream of bullets, occasionally firing off a charged shot when the opportunity arises. The aim is to avoid an enemy's torrent of ranged attacks while slowly depleting their shields. Taking damage in this phase can screw you over down the line when you're down to your last bar of health, so it's important to stay on your toes from the very beginning.
Bullets scatter like cockroaches, creating an unpredictable sea of projectiles
There are ways to replenish health, like blasting an enemy's green bullet or parrying a melee attack, but both come at a risk. Some bullets scatter like cockroaches, creating an unpredictable sea of projectiles, and countering a melee attack can be frustrating and sometimes a little unfair.
As much as I loved these hectic bouts, some deaths felts unavoidable. Bosses are constantly mixing it up. Attacks used by previous bosses usually return the next time around with an added, often unpredictable, layer of difficulty. Enemies also signpost their melee attacks with a glint from their weapon, but I found this to be an unreliable indicator at times because the timing would often change from boss to boss (and sometimes between rounds). Success in Furi lives and dies on the lessons you learn from failing again and again, which I'm fine with, but I can see some people getting frustrated at poorly signalled attacks.
Once you've whittled down their shield, the boss at hand will fall into a stunned and vulnerable state, allowing you to get all up in their grill. This leads to second half of any given match, dashing in for a twitch reflex dual.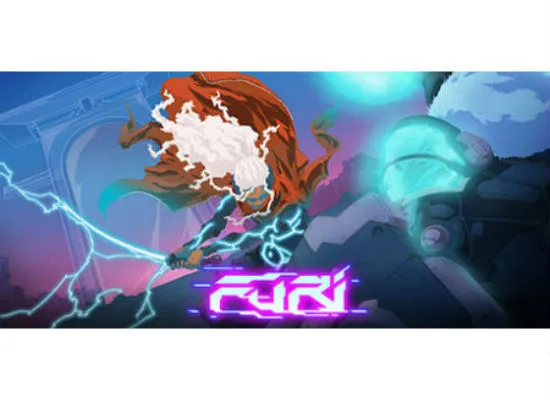 Click to buy Furi
from Humble Bundle
Order and receive your game now from Humble bundle!
View details
These sections are the most nail-biting encounters in Furi. Not only because winning means regaining your health and potentially an extra life, but because you can take some serious damage if your timing is a fraction off. Again, a boss spices up its routine in each section, pushing you to rely heavily on dodging and parrying.
The dodging section offers some of the more refreshingly predictable encounters. A boss will cover a large portion of the ring with a field of attack the player must avoid, which usually leaves you right behind the vulnerable enemy. Though, these sections are not without their annoyances. On multiple occasions when I was playing a little too close to the edge, the "safe zone" would land off the map, leaving me with no choice but to take a walloping.
An aesthetically pleasing and rewarding game
The small bugs and poor signposting are small smudges on an otherwise aesthetically pleasing and rewarding game. Furi promised pure, unadulterated boss fights and boy does it deliver. Not only are the bullet-hell battles extremely rewarding to conquer, but they are backed up with a stellar neon soundtrack and a psychedelic dreamland peppered with oddball characters that would not be out of place in a whacky anime.
We reviewed Furi on PlayStation 4 with a copy provided by the publisher.