A step-by-step guide to freight invoice factoring
In an industry that relies on moving forward, don't let your cash flow fall behind.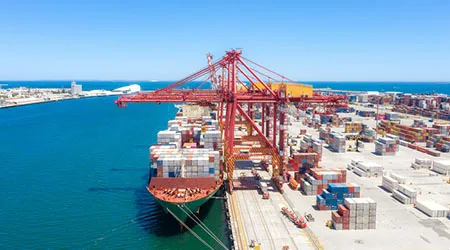 We're reader-supported and may be paid when you visit links to partner sites. We don't compare all products in the market, but we're working on it!
Freight factoring allows freight companies to unlock capital tied up in their unpaid invoices to keep cash flow moving. It's important in the freight industry to keep on top of overhead payments such as truck maintenance and employee wages, in order to keep ahead in the business.
What is freight factoring?
Freight factoring, or freight invoice factoring, is a form of invoice finance that allows freight companies to access funds from pending invoices/bills ahead of payment. In the freight industry, some customers can be slow-paying and this can hinder cash flow and stunt business growth. With freight factoring, companies can access needed capital quickly while still waiting on their clients to pay.
There are two notable types of freight invoice finance. These are generally known as freight factoring and freight invoice discounting.
Freight invoice factoring
This type of invoice finance arrangement puts the role of debt collection onto the factoring company. It also usually means that the freight business is insured in the event of the customer failing to pay, and the factoring company will take legal action where necessary. Customers will always be informed if you are using a factoring service.
Pros
Cons

Time-saving
Less risk
Coverage

Higher fees
Less control over client relationships
Less upfront cash available (70-80% of pending invoices upfront)
Invoice discounting
In a recourse factoring arrangement, the freight company is still responsible for collecting payment on its issued invoices. If the customer defaults on payment, the freight company will be responsible for repaying the loan. In some instances of invoice discounting, there is no need to inform your customers that you are using a third-party provider.
Pros
Cons

Lower fees
Greater control over sales ledger/customer relationships
More upfront cash available (80-90% of pending invoices upfront)

More risk
No coverage
Debt collection obligations reside with the company
Some invoice financing companies will offer both of these services, others will only offer one.
Compare invoice financing options
How does freight invoice finance work?
A step-by-step guide to how invoice financing works for freight companies:
You invoice your customer(s) for goods received. Invoice your customers as usual. You must have outstanding invoices to qualify for invoice finance.
Forward your invoices to the factoring company. Once you have been approved for invoice finance and have agreed on terms, you can send your pending invoice(s) to your chosen lender.
The lender pays a percentage of your invoice upfront. Invoice finance providers usually pay an upfront percentage of between 70-80% on approved invoices. Payment can be instant, but is usually within 24 hours or 1 working day.
Your customer pays the freight invoice provider directly. Some invoice factoring companies will issue a bank account in your business name, which you will send to your customer either on the invoice or prior to payment. Other companies may have a different process.
Lender pays you the remaining balance. The lender will forward the remaining percentage (10-30%) to your business account, minus its fees.
Which freight factoring company is the best?
Which freight invoice factoring company works best for your business will depend on a number of factors, such as your annual turnover, financial history, how long your company has been in business and what your preferences are.
There are a number of invoice financing companies that specialise in freight factoring. However, it is worth comparing all of your options carefully before submitting an application.
How much does freight factoring cost?
The cost of freight invoice factoring varies from lender to lender. Advances generally range between 70-90% of unpaid invoices, and fees and/or interest payments are taken from the withheld percentage, the remainder of which is forwarded to your company upon payment.
How your rate is determined will usually depend on the size of your business, your annual turnover, your business credentials and your client viability. Some freight factoring companies will run credit checks on both you and your clients, others may choose not to.
Because they are shorter-term lending platforms, freight factoring companies usually don't use p.a. interest rates to charge for their loans. Charges are usually either a percentage of the invoice or a daily interest rate. Some companies will also charge fees.
How do I get approved for freight invoice factoring?
To find out if you can be approved for freight invoice factoring, simply click "Go to Site" on a chosen lender and submit your business data via their website. You will usually get a response within 24-48 hours, depending on the lender.
Usually, freight companies that have a monthly turnover of $50,000+ and are Australian businesses with no large outstanding debts could qualify for freight factoring. However, eligibility criteria will differ from lender to lender.
More guides on Finder