Want a free trip for two to the Rio 2016 Olympic Games?
NAB Tap & Pay has partnered with Visa to give you a chance to win the ultimate prize package.
Tap & Pay with your NAB personal Visa debit, credit card or Android phone through April for a chance to win a Rio 2016 Olympic games package.
To enter, register your details before 17 April 2016. Every domestic Tap & Pay purchase made during April is automatically entered into the draw. So the more you tap, the more chances you have of winning.
Winners will receive one of two prize packages:
Four nights "deluxe" hotel accommodation
Two return economy flights to Rio de Janeiro from your nearest capital city
Prepaid Visa cards deposited with USD $400
Preselected Olympic Games event tickets
Tickets to the Olympic Games Opening Ceremony
Ground transportation in Rio – all scheduled
Visa Olympic-themed merch
A tour of an iconic Rio landmarks
I'm not an existing NAB customer – can I still enter?
The draw is only available those who register and hold either a NAB Visa debit card or credit card. However, if you open a new NAB Classic Banking account you can receive the debit card within two weeks. That still leaves two weeks of quality tapping to enter the competition. A NAB Classic Banking account doesn't charge any monthly fees, so what do you have to lose?
NAB Pay using your Android phone
You can Tap & Pay securely with your eligible Android phone using NAB Pay. To get started, you'll need to download the NAB app from Google Play, then select NAB Pay. It's important to note that you'll need the latest version of the app.
NAB Pay is available for NAB Visa debit cards, Qantas credit cards or Velocity credit cards.
Whenever you want to use NAB Pay, just click on the NAB Pay button at the bottom of the app.
Is NAB Pay safe?
It's just as safe as using your regular card and it's protected by NAB Defence. NAB Defence regularly checks your accounts and monitors any high risk transactions you may make.
It also notifies you if there is suspected fraud and will investigate it for you.
NAB will reimburse you for any errant withdrawals from your account if you're a victim of fraud.
Back to top
Is my Android phone compatible?
Your device will need to be running Android 4.4 (KitKat) with built-in Near Field Communication (NFC). Unfortunately, NAB Pay is not available for iPhones.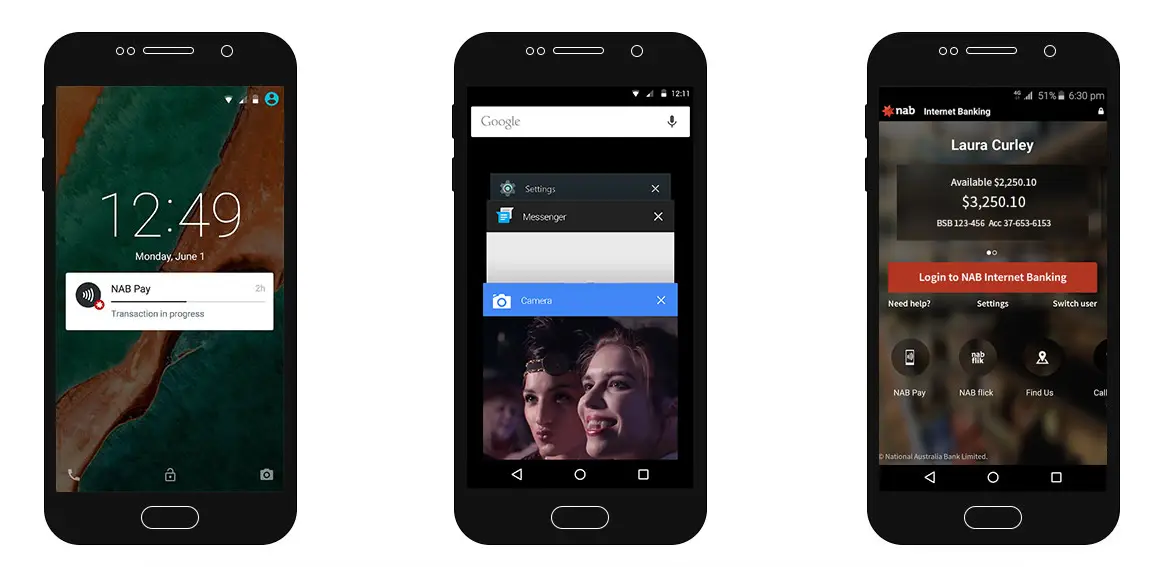 *Image source: NAB website
Back to top
What details do I need to register?
You need your NAB ID number, email address and phone number. You'll also need to confirm that you can travel on NAB's specified dates.
Winners of Prize A will need to be able to depart from Australia on Wednesday 3 August and depart Brazil on Sunday 7 August. Winner of Prize B are required to depart from Australia Thursday 11 August and depart Brazil on Monday 15 August.
Back to top
The terms and conditions of the competition explained
Entrants must be an Australian resident, aged at least 18 years old and hold either a NAB Visa debit card or credit card. You'll also need to hold a valid passport with at least six months validity from August 2016.
Unfortunately NAB employees, NAB contractors or immediate family members of NAB employees are not eligible to enter.