Free scholarship resume template (Australia)
How to create a resume that will win scholarship funding for your studies.
We're reader-supported and may be paid when you visit links to partner sites. We don't compare all products in the market, but we're working on it!
Competition for most scholarships is intense and receiving the funding can be life changing. Not all scholarship committees require applicants to submit a resume, but they do allow you to include additional materials.
Attaching an academic resume is a way to increase your chances of winning that scholarship; here's how to go about writing one that stands out from the crowd.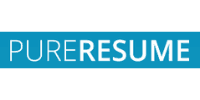 Pure Resume Offer
Get a professionally designed resume starting from $24.99.
What is a scholarship resume?
A scholarship resume is written in a different format to the type of resume used to apply for a job. It specifically focuses on a student's academic achievements and awards to help their application stand out as deserving of receiving the scholarship.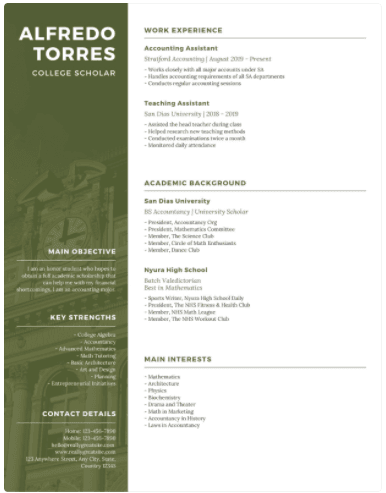 Download this scholarship resume template at Canva
What are the features of a scholarship resume?
Scholarship application forms are limited in what information they allow you to share, so including a resume gives you the opportunity to provide the committee with extra information about who you are and what you have accomplished.
The committee will have access to your academic records, so the objective of the resume is to give them context by demonstrating your enthusiasm, motivation and leadership.
What should I include in a scholarship resume?
It can be tempting to include too much information, but a scholarship resume should be concise and fit on 1-2 pages. Structure the resume into six main sections, listing items in reverse chronological order:
Contact details. Provide your name, address, phone number, and email address so that the scholarship committee can contact you.
Personal objective. Start with a paragraph that summarises your academic achievements, goals and the reason you are seeking the funding. Use specific examples to show the committee why you should win.
Education. List the name of your educational institution, course major and minor, graduation date and GPA
Awards and honours. List your relevant accomplishments such as placement in competitions, subject-related awards, certifications and previous scholarships.
Extracurricular activities. Include memberships of clubs and societies, volunteer work or noteworthy hobbies to show you are a well-rounded student. Be sure to include skills like languages.
Work experience. Holding a job while studying shows your ability to schedule and manage your time. If you have experience relevant to your area of study, you can place this section higher up to draw attention to it.
While the emphasis should be on your academic experience, you do not need to write out every educational institution and course you've attended. As you move through your academic career you should remove the older courses, awards and jobs. For example, if you are applying for a freshman scholarship you should include your high-school education, but once you are a graduate you should remove it and focus on your college education.
Using a scholarship resume template will show you the best way to structure it.
How much does a scholarship resume cost?
If you opt to use a professional resume-writing service to compile your scholarship application, you can expect to pay into the hundreds of dollars. Prices depend on the service you choose and whether you have them review the resume or write it from scratch for you.
Alternatively, there are many high-quality free scholarship resume templates available online for free you can customise. Some allow you to enter your information or answer a host of questions and they will generate the resume for you, while others you can download and edit for yourself.
Read several examples of scholarship resumes to see how they tailor each section to the scholarship.
Even if you choose not to pay for a resume service, you should have someone else read over your resume to make sure it is written clearly with no grammatical mistakes or typos.
Get a scholarship resume template to meet your needs
Pros and cons of a scholarship resume.
Pros
Including a resume can help you stand out from the other applicants.
Compiling a winning scholarship resume will help you craft an impressive career resume to apply for jobs.
Cons
The resume format could draw attention to gaps in your experience
Time-consuming to compile and not essential for all scholarships
FAQs
Can I use the same resume to apply for multiple scholarships?
As with a career resume, you should tailor your scholarship resume to each application. The personal objective should show why you are the right pick for that specific scholarship and the awards and extracurricular sections should highlight relevant activities.
How should I write my resume?
The writing style for a strong resume is specific, concise and accurate. You should maintain the active voice throughout and avoid using passive language. Start sentences with active verbs and quantifiable statements. Write in the first person, but do not use personal pronouns. A scholarship resume template can help you with how to write it.
What format should I use for my resume?
Your resume should be written in a standard font that appears professional and is supported on all operating systems. Saving the file in PDF format rather than as a Word or Google document ensures that the layout and formatting is standardised across devices.
More guides on Finder