Sales assistant resume templates (Australia)
Improving your resume will only boost your chances of landing more (promising) interviews.
We're reader-supported and may be paid when you visit links to partner sites. We don't compare all products in the market, but we're working on it!
Working as a sales assistant can be a very rewarding role. Whether you've worked in the field before or this is your first time applying for a job, ensuring that your resume is in tip-top shape is a must. To help you out, we have a few tips and templates.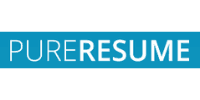 Pure Resume Offer
Get a professionally designed resume starting from $24.99.
What is a sales assistant resume?
A sales assistant resume is a document that lists your education, professional experience and any other information that might help you land a job in sales. It should highlight relevant skills, showcases your personality and convinces the hiring manager that you are the best possible fit for the opening.
A resume is typically one page long. Think of it as a marketing tool. Its main purpose is to make you look appealing in the eye of a potential employer.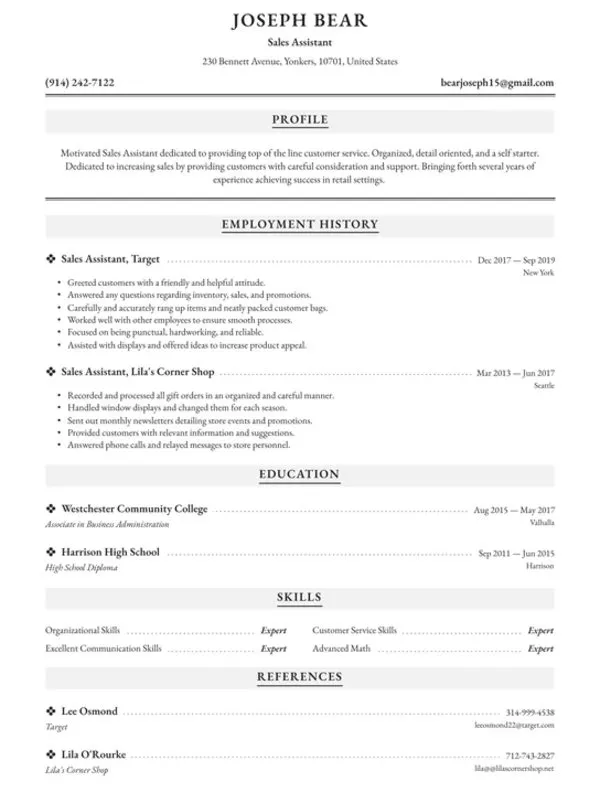 Download this template at Resume.io
What are the features of a sales assistant resume?
Every resume is different based on your particular skills and work history. That being said, all great sales assistant resumes have several features in common.
Your resume should be:
Eye-grabbing – think modern design, appealing fonts and an easy to scan format
Comprehensive, yet concise – read the job description carefully and include all necessary information, but keep out details that aren't relevant to the job at hand
Memorable – hiring managers go through multiple resumes in a short time span so take your time to craft one that makes a long-lasting impression
Persuasive – use resume keywords, action verbs, highlight achievements instead of responsibilities.
What should I include in a sales assistant resume?
A sales assistant resume should include the following sections:
Contact information – name, email, phone number, location
Profile/objective – this section is optional, but a well-worded objective will make a stronger case for yourself
Experience - list previous positions in reverse chronological order and mention how you positively contributed to each role
Education – all degrees and certifications, including any honors, awards or distinctions
Skills – include both hard skills (like retail systems you are familiar with) and soft skills (good communication, organised, problem-solving and so on)
Other – foreign languages, interests, anything else you feel is relevant.
Get a sales assistant resume template to meet your needs
Does your company belong in this list?
How much does a sales assistant resume cost?
Here's the good news: it's possible to create a compelling sales assistant resume from scratch without spending a cent. You don't even need to be a particularly skilled writer, as there are plenty of free sales assistant resume templates available online.
You can download the template as a Word document or PDF and replace the placeholder information with your own. Or, use templates as a starting point when designing your own resume.
You can also purchase a paid sales assistant resume template. They usually cost between $5 and $15 and are more dazzling, with fancy design elements and interesting layouts. Often, paid templates come bundled with a cover letter template, which saves you time and extra hassle.
Willing to take it one step further? You can hire a professional to craft your resume, but that gets pricey. Resume writing services cost anywhere from $30 to hundreds of dollars.
Pros and Cons of using a sales assistant resume
Pros
Highlights your specific achievements, experience and abilities
Helps you make a good first impression with the reader
Learning how to write a targeted resume is a life-long skill.
Cons
Can be time-consuming to put together.
Bottom line
Crafting an exceptional sales assistant resume doesn't have to be overwhelming. Start by writing down your key information and then revisit your phrasing and formatting. If you're having trouble, then a resume template can be a big help for you.
Frequently asked questions
Should I include a cover letter when I send in my application?
It's a good idea to do so since it enables you to clarify things from the resume like gaps in employment, as well as reinforce your enthusiasm for the position. However, always pay attention to the job description and follow the application process to the letter (pun intended!).
What if I have no work experience to include in the resume?
If you're applying for your first job, think back on any projects you took on or school activities that may recommend you for the position. Examples include volunteer activities, clubs, part-time gigs, freelancing and so on. The employer is likely to be interested in your ability to connect with others and be helpful.
What kind of skills should I mention?
Only include skills that are pertinent for the job. Like proactive, organized, detail-oriented, adept in multitasking, advanced math skills, outgoing, well-spoken. You get the idea.
More guides on Finder