Graphic designer resume templates (Australia)
Get set up for success with a CV that matches high-quality visuals with the right words.
We're reader-supported and may be paid when you visit links to partner sites. We don't compare all products in the market, but we're working on it!
When you're looking for a job as a graphic designer, having a solid portfolio is a must. And you won't want to lose sight of your resume. A professional, well-crafted document lets you showcase your other skills – like being a good communicator, a results-driven individual or a team player. What else should your resume include? Read on to learn a few key tips.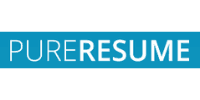 Pure Resume Offer
Get a professionally designed resume starting from $24.99.
What is a graphic designer resume?
A graphic designer resume is a document that lists your work experience, education and skills in the field of graphic design. Its purpose is to help you land a role as a graphic designer, so it should highlight accomplishments and abilities that make you come across as the perfect candidate for the job.
Given that this is a creative industry, you may choose to forgo the traditional resume format and lump for a creative resume that truly showcases your personality. If you're applying for a position within an established or traditional corporation, a more standard reverse chronological resume is often a safe choice.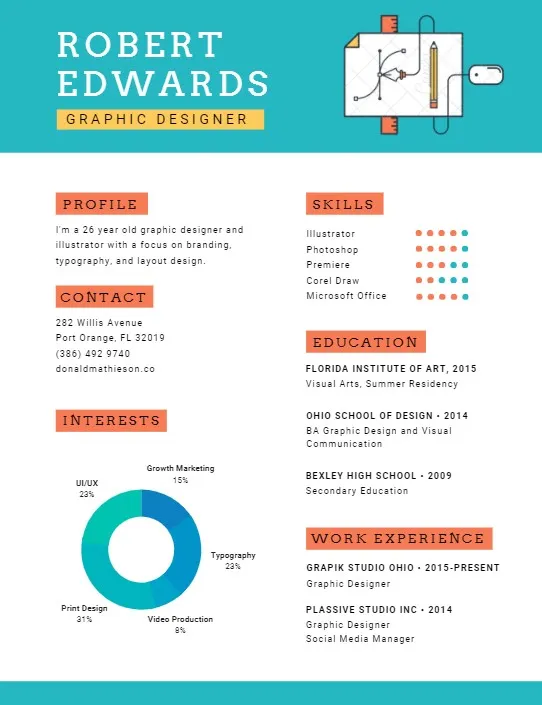 Download this template at Canva
What are the features of a graphic designer resume?
First of all, a graphic designer resume needs to be eye-grabbing from a design standpoint. Think clean design elements, appealing fonts and easy-to-scan sections.
Beyond that, your resume ought to be:
Concise. Don't include irrelevant information or your prospective employer will feel you're wasting their time
Tailored for the job at hand. Go the extra mile to convey your enthusiasm for the position
Honest. Don't embellish in order to look more appealing in the eyes of the employer; it will hurt you in the long run
Up-to-date. Spend a little time making sure all the information is current and correct.
What should I include in a graphic designer resume?
A graphic designer resume should focus on what makes you a good candidate for the job you're applying for. In other words, it should incorporate keywords from the job description and respect the format the employer wants.
Additionally, include the following sections:
Contact information. Include your name, location, phone, email, social media profiles if relevant and a link to your online website or portfolio.
Summary/objective. A short section that highlights your most impressive accomplishments and professional goals (optional, but can help you make a more memorable first impression).
Work experience. List your employment history starting with your current position in reverse chronological order and include key achievements. If you're applying for an internship or your first job, include any volunteering experience, freelancing projects and part-time gigs.
Education. Include degree type and major, the university's name and years studied, along with relevant courses, honours or anything else you want to add.
Skills. Make a list of both hard skills (Illustrator, Photoshop, UX / UI Design, Product Packaging Design etc.) and soft skills (good communication, organised, problem solver and so on).
Other. If applicable, include additional sections like languages, awards and certifications or interests/hobbies.
Find a graphic designer resume template online
Does your company belong in this list?
How much does a graphic designer resume cost?
You don't have to spend money to create a beautiful and persuasive resume. As a graphic designer, you'll already have the skills to craft a resume that pops from scratch.
However, if you find it difficult to put your skills and experience into words, a graphic designer resume template can give you a head start. You usually download it as a Word or PDF document and then edit it, replacing the filler information with your own. Templates can also be a life-saver when you're short on time and need to send in a job application quickly.
There are plenty of free resume templates to choose from, though you might have to browse to find out that perfectly suits your style. Paid graphic designer resume templates cost from $5 to $15 and are generally more professional-looking. They usually come bundled with a matching cover letter template.
Alternatively, you can hire resume writing services, but they can be expensive. A resume writer may charge hundreds of dollars to create a personalised resume.
Pros and Cons of a graphic designer resume
Pros
Enables you to showcase your specific design skills and enthusiasm
Highlights your accomplishments and experience
You can go with a creative resume in order to stand out.
Cons
Can be time-consuming to create.
Bottom line
As a graphic designer, you're probably more focused on building a portfolio than on writing a resume that stands out from the crowd. But your resume is often the first thing a potential employer sees. So, it's important to take the time to get it right.
Frequently asked questions
Should I include a separate resume section for my portfolio?
While including the link to your website or online portfolio is typically enough, you might dedicate a section of the resume to showcasing your work. Use it to list the designs you've worked on (e.g. e-book cover, infographic design, brochure design).
How can I get work experience as a graphic designer?
You can build your portfolio by picking up freelance gigs on websites like UpWork or joining online contests on sites like 99 Designs. Alternatively, challenge yourself to create mock-ups of websites, flyers, magazines or whatever it is you're specifically keen on.
Do I need a cover letter?
Usually, yes. Read the job description carefully to figure out the application process, but most employers do ask for a cover letter. Ideally, it would match the design of your resume.
More guides on Finder