Free cover letter templates (Australia)
A great cover letter can help you stand out from other applicants and land you that dream job.
We're committed to our readers and editorial independence. We don't compare all products in the market and may receive compensation when we refer you to our partners, but this does not influence our opinions or reviews. Learn more about Finder.
Cover letters are essential parts of a great job application and help you stand out from the crowd and land the job you are looking for. A well written cover letter can help your application stand out and help to secure you an interview.
What's a cover letter?
A cover letter is used to explain to a potential employer why you are interested in working for their company or organisation specifically. It is your chance to shine in the eyes of the company that you are looking for a job with. A cover letter will complement and highlight your resume.
It generally addresses details like the skills and experience which you have which make you the best candidate for the role, why you are interested in working for the company and if you have any referees that can vouch for your credentials.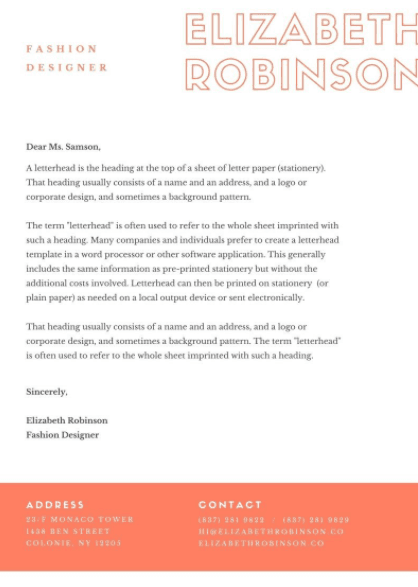 Download this cover letter template at Canva
When should I use a cover letter?
It's a good idea to include a cover letter with all job applications, as it'll increase the chances of your application being read in the first place. It's always a good idea to have a cover letter template ready to go so you can supply one with every job application.
Cover letter vs Curriculum Vitae
You might be tempted to think that you only need to include a Curriculum Vitae ("CV") in your job application because it's basically the same thing as your cover letter. These two documents are different in important ways. You need to include both in any job application.
A cover letter is addressed specifically to the company that you are hoping to land a job with and speaks directly to the reader about why their company should be hiring you.
A CV is a more general statement of your background, qualifications, skills and experience which is used as reference by the human resources departments in large companies and by hiring managers in smaller organisations.
What's included in a cover letter?
The basic rule of thumb for a covering letter is to stick to the information that is most relevant to the position you are applying for.
A cover letter will usually include an introduction followed by a statement of information relevant to your professional profile like your skills, experience and qualifications relevant to the position that you are applying for. It may cover items such as transferable skills from previous positions, interpersonal skills and technical skills and experience. It should also feature your reasons for applying for the job at this company.
What not to include in a cover letter
It's best to avoid overly personal or irrelevant information in a cover letter. A cover letter is a chance to convey an image of professionalism. Information which isn't relevant to the position that you are applying just wastes space and distracts your reader from what they should be focussing on - why you are the best candidate for the job.
How effective is a cover letter?
All effective job applications require a cover letter. The chances of a job application succeeding and being noticed increases when a cover letter is included. The effectiveness of your particular cover letter will depend on many factors including its content and length.
How do I write a cover letter?
There are a number of free samples available online for writing your own cover letters. The general structure of a cover letter is that it begins with an introductory sentence which addresses the job you are applying for and who you are. Then it highlights your relevant skills, experience and background including both professional and technical skills as well as interpersonal skills. It usually ends with an explanation of why you want to work for the company and how you can be contacted for an interview.
Where to get free cover letter templates
There are number of free online templates available for cover letters from government and human resource organisations.
Seek. Creating a profile on Seek gives you access to cover letter templates provided by Seek for free as part of their services to jobseekers.
Indeed. Indeed is a jobsearch website which provides access to templates for cover letters and other useful jobsearch template documents.
MyFuture. MyFuture is an Australian government website which provides help and career guidance resources including template cover letters.
Guardian Careers. Guardian Careers provides template cover letters as part of the jobseeker information services on its website.
More guides on Finder