Free colourful resume template (Australia)
Use a colourful resume to your advantage to demonstrate your creativity.
We're reader-supported and may be paid when you visit links to partner sites. We don't compare all products in the market, but we're working on it!
For most professions, a simple black and white resume is the most appropriate. But in creative industries, a colourful resume can grab the attention of the hiring manager and show your suitability for the role.
Here's our guide to how you can use a colourful resume to land your next job.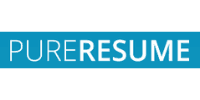 Pure Resume Offer
Get a professionally designed resume starting from $24.99.
What is a colourful resume?
A colourful resume uses a colour scheme to demonstrate your design skills or draw attention to certain sections of the page. The use of colour can range from a pastel background hue to a brightly coloured box to bold font that emphasises certain words.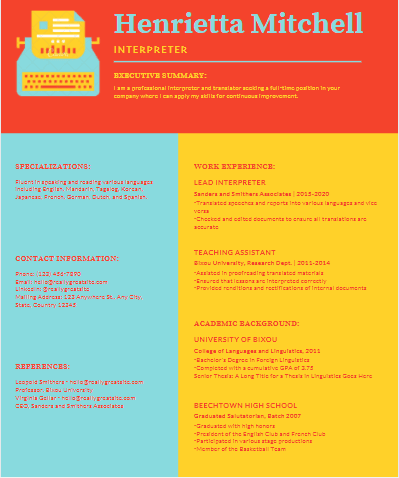 Download this colourful resume template at Canva
What are the features of a colourful resume?
A colourful resume uses blocks of background colour, borders, boxes, coloured headings, graphics, icons or fonts to make an eye-catching page that will stand out among a pile of applications.
Colours convey certain ideas and meanings. For example, blue is considered a corporate colour, green is used for environmentally conscious campaigns, orange suggests productivity and grey denotes professionalism. You can use these to create a certain impression beyond the words written in your resume.
What should I include in a colourful resume?
There are several ways you can use colour to your advantage in designing the layout of your resume:
Depending on the role you're applying for, you can include anything from a small hint of colour to a bright background with a light font.
To draw attention to certain areas or sections, you can use a complementary colour for your contact information, headings and subheadings.
If you are applying for a job as a designer, including graphics and icons can show off your skills.
If the role will require the use of certain software, you can use it to create the layout of your resume to demonstrate your ability to use it.
Incorporating the corporate colour palette of the company you're applying to can appeal to the hiring manager and show you have done your research.
Regardless of the colours you use, you need to strike the right balance between creating a page that stands out and one that distracts the recruiter from the content.
How much does a colourful resume cost?
You don't have to create a resume from scratch; there are many websites that offer colourful resume template designs for a one-time fee or as part of a subscription package. You can download pre-designed files to customise in Word, Google Docs or Adobe suite applications. You can change the colour scheme, layout and any graphics, or you can simply fill in your information. Prices range up to the hundreds of dollars for the more intricate designs.
If you don't want to buy an expensive template, you can also find free colourful resume templates online that you can download and customise.
Pros and cons of a colourful resume.
Pros
Helps your application stand out from the pile
Gives you an opportunity to demonstrate your design skills
Cons
Not always considered professional or appropriate by hiring managers
Colours may not be read by a machine that screens resumes for shortlisting
Can appear you're trying to hide shortcomings in your resume
FAQs
Which professions are best suited to a colourful resume?
Creative roles such as graphic designer, illustrator, web developer, creative director, branding manager, hair or makeup artist, and so on, are more appropriate for using a colourful resume. Resumes for professions like accountant or lawyer should stick to black and white.
What is a safe colour scheme for a resume?
If you want to use just a hint of colour on your resume, stick to pale blue, grey or beige as third colour alongside black and white to highlight headings or divide sections.
What should be avoided on a colourful resume?
If you are going to design a colourful resume, avoid using clashing colours, too many boxes or graphics, incompatible fonts, inconsistent colouring, and blocks of text. Make sure there is plenty of blank space to break up the page, so each section is easy to read.
What format should I use for a colourful resume?
If you are going to design a colourful resume or use a template, make sure you save it in PDF format so that the colours and layout you use are not lost when the document is viewed on other devices or operating systems.
More guides on Finder