Foxtel's Project Ares app: Price, release date, details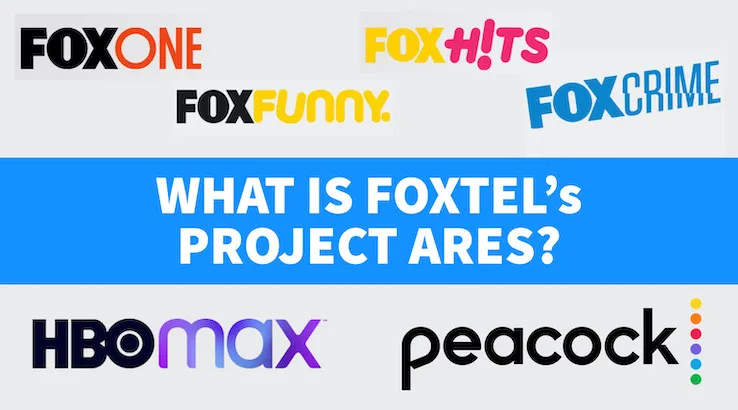 Australian streaming TV giant Foxtel is working on Project Ares, an app that places Universal and HBO crime and drama into its own service.
Foxtel has been a rock in the Internet TV space for decades. However, its reign as Australia's leading subscription service has come under considerable threat in recent years. It's been death by a thousand cuts as a host of new, cheaper and prolific streaming TV apps have slowly appeared. Each offering alternative and compelling entertainment options.
Aiding this slow burn has been the crawl of NBN's fast broadband rollout. It's been creeping across the country for ten years, bringing with it the means for many to cut the cord and consider streaming. It means the audience for this new market has been steadily growing and with it, the number of services.
There's been none bigger than Netflix, but the likes of Stan, Amazon Prime and YouTube Premium have also found their feet.
Everything has pointed to a future where traditional, expensive, all-encompassing cable TV just isn't great value anymore. And Foxtel has seen that day coming for a few years now. The arrival of Apple TV+ and Disney+ in late 2019 will be swelled by the arrival of HBO Max and Peacock (in the US at least) in 2020.
Foxtel's plan to battle the rise in subscription TV services
Rather than cross its fingers and hope for the best, Foxtel has been busying away over the last two years establishing its counter-offensive. The plan involves three key components.
Continued support of its existing, fully-featured Foxtel IQ cable TV service and its Foxtel Now streaming TV service. But to then surround that core business with standalone satellite apps that focus on niche content packages. So far, those apps include Kayo Sports and Project Ares.
Foxtel has then gone about locking in long-term licensing agreements with large overseas entertainment providers that don't have the plans or infrastructure to launch on their own into Australia. Notably, this includes BBC, NBCUniversal (makers of the Peacock service), and HBO(makers of the HBO Max service).
Finally, it's taken an "if you can't beat them join them" approach to competing local services by integrating them into the Foxtel UI in an attempt to become the go-to entertainment HUB. This includes ABC iView, SBS On Demand, a highly unlikely Netflix partnership and ongoing discussions with Disney+.
Store
Discount

Kayo Sports

Stream Kayo Sports for 14 days FREE and no lock-in contract

Take Kayo Sports' Basic or Premium plan for a spin and stream over 50 sports live completely free for 14 days.

Last verified
Project Ares is like Kayo Sports, but for Drama
In November 2018, Foxtel surprised many with the release of the Kayo Sports app. Contrary to popular belief, Kayo Sports isn't a Foxtel product. It's a sister product, owned by the same umbrella company, News Corp.
However, the link between Kayo Sports and Foxtel cannot be ignored. Kayo Sports takes all the best content from Foxtel's premium Sports Package and showcases it through its own standalone app. As all the broadcast licensing agreements between the sporting bodies and Foxtel are in fact actually deals with News Corp, the latter is free to provide that content to Kayo Sports, too.
Plus, because Kayo showcases just sport and none of the entertainment channels you must pay for in the broader Foxtel subscriptions, it's a lot cheaper at $25 a month. In addition, as it's focused on one kind of experience and one kind of audience – sports and sports fans – it's been able to innovate with its user-interface and features. If you're unfamiliar with what Kayo Sports offers, it's well-worth reading up on.
The bottom line is that the Kayo Sports experiment has been a huge success for News Corp and perhaps more importantly, a boon for Australian sports fans. It's no wonder than within a year the service was nudging half-a-million subscribers!
So, what does Kayo Sports have to do with Project Ares? Well, development on Project Ares – which was originally called Project Jupiter – began at around the same time as Kayo Sports. It's even been referred to as "Kayo's sister" by Foxtel CEO Patrick Delaney. While not officially confirmed, it's our understanding Project Ares will do exactly what Kayo Sports did to the premium Foxtel Sports Pack, but with the premium Drama Pack.
At least, Foxtel's old Drama Pack. In preparation for the arrival of Project Ares, Foxtel restructured all its plans' tiers in late 2019, which included rolling the Drama and Lifestyle packs into a more expensive core Plus pack.
"We have doubled down on streaming by creating Kayo, a unique sports streaming service for the streaming generation – something that's very different to Foxtel. We are now examining how we use our content and technology to build Kayo's sister." – Foxtel CEO Patrick Delaney.
What content will Project Ares feature?
While there is no official announcement from News Corp as yet, it's our understanding that, initially at least, Project Ares will focus on providing Foxtel's Drama content.
In particular, it looks like Project Ares will hope to fill the void left in Australia by the absence of the Peacock and HBO Max services launching in the US in April 2020. We can expect that Project Areas will become a more considered and cost-effective option for fans of HBO and Universal content than Foxtel IQ or Foxtel Now.
Our gut feeling is that Project Ares will stick to TV and TV miniseries and not include movies. If correct, this means Project Ares content would include shows like Game of Thrones, Watchman, Chernobyl, Westworld, His Dark Materials, Veep, Big Little Lies, Succession, Law & Order, Chicago Fire, 30 Rock, Brooklyn Nine-Nine, Parks and Recreation and The Office (US).
Plus, it would be home to all the exciting originals coming to both HBO Max and Peacock into the future. Including Game of Thrones: House of the Dragon, the Battlestar Galactica reboot, three new TV series from Family Guy creator Seth MacFarlane, a stack of DC Universe content and plenty more.
What's unclear at this point is if Foxtel's Lifestyle content (Love it or List It, Grand Designs, Selling Houses Australia, Australia's Next Top Model) or content from the BBC will also appear in the Project Ares app.
How much will Project Ares cost?
The success of Kayo Sports at $25 a month has drawn a line in the sand for News Corp that we expect it to not exceed with Project Ares. However, the reality is that Kayo Sports really only has one competing service in Australia in Optus Sport, and that competitor has a very limited offering.
Project Ares is focusing on drama and general entertainment programming, so it's in a direct battle with the likes of Netflix HD ($14 a month), Disney+ ($9 a month) and Apple TV+ ($8 a month). While it will be the exclusive Australian destination for a ton of very popular TV shows, it also needs to ward off the country's pirating culture and consumers' willingness to access overseas services via VPN.
With all that in mind, sticking with the $25 a month precedent set by Kayo Sports would be dangerous. At that price, Project Ares would likely only churn existing Foxtel users looked to downsize, rather than bring on new customers already balking at the price.
We expect a price around the $14 a month figure for Australia to be much more viable. Please note though that is Finder's speculation and we've been given no indication from Foxtel or News Corp on price at the time of writing.
"It will obviously be based on the Kayo distribution platform. So much of the engineering there has already been done. And I think when you speak of streaming, the salient point to note about Foxtel is the rapid growth of Kayo from nothing a year ago to 402,000 paying customers now and another 443,000 in total." - News Corp chief executive Robert Thomson
When will Project Ares come out in Australia?
It is Finder's understanding that Project Ares is eyeing an April 2020 release in Australia. From an infrastructure and development standpoint, hitting that target should not be a problem. The app has been in development since 2018 and is built upon the same infrastructure that is already working a treat for Kayo Sports.
April 2020 would also allow Project Ares to launch alongside Peacock and HBO Max in the USA. These two services will launch with much fanfare and also new, original content. It would be in News Corp's best interests to have Project Ares there for Australians when they go searching for this exciting new content.
It's marketing and awareness that could prove the main barrier to the April 2020 launch. As yet unnamed and still more-or-less existing in a space of speculation and rumour, consumers are still in the dark about Project Ares. It's in Foxtel's interest to keep that information under wraps for as long as possible, too, so it can sign up customers to its legacy products before the disruption. But how tight can they cut it?
What will Project Ares be like?
No details of the Project Ares user interface have yet to surface. It's fair to say the nature of drama content negates a lot of the cool features we see in Kayo Sports. However, we fully expect Project Ares to adopt the new UI recently rolled out on Foxtel's IQ4 set-top boxes. This highlights cast members and a film's makers, and offers a far more nuanced experience allowing users to better surface content.