Forza Horizon 3 review: Get this up ya
Well worth your dollarydoos.
We're reader-supported and may be paid when you visit links to partner sites. We don't compare all products in the market, but we're working on it!
Mondo Rock is blaring on the radio, suggesting I "go down to the sand". In compliance, I go kick up a wall of ochre the height of Uluru by doing doughies in a paddock. Then I bash through a farmer's neatly positioned sulo bins to plough off into some bush in a Viper that's custom painted to look like a great rainbow serpent. It's the most Australian (and possibly Freudian) thing I've ever done in a video game. Forza Horizon 3 may have been built by a pack of Poms, but I'll be damned if they haven't captured the wonder of down under.
---
Everything in this game is as gorgeous as it is geographically absurd. The Forza series is well known for its mechaphile-level of car detail, but it's still a surprise to see such OCD lavished upon some of our most obscure Aussie automobiles. I can't help but feel weird barreling through the Yarra Valley in you beaut oldies like a 1974 Holden Sandman HQ Panel Van, or a 1951 Holden 50-2106 FX Ute. Likewise, it's a trip to settle bogan rivalries by making a Byron to Surfer's run in a 2015 Ford Falcon XR8 versus a 2014 HSV Limited Edition GEN-F GTS Maloo. This is wish fulfilment that I'd never dared to hope might come to pass.
---
---
Mind you, that feeling of odd disbelief also stems from the built-for-gameplay landscape. In a matter of minutes you can transition from Forza's version of the Yarra, to a lush rainforest, then a parched Outback area. Likewise, somebody decided to make Byron Bay and Surfer's Paradise neighbouring suburbs separated by The Twelve Apostles (quick note to our non-Australian readers: the latter is about a 20 hour drive south of Surfer's, adjust your holiday budget accordingly).
The only thing more insane than the topographical map in Forza Horizon 3 is how well it still manages to capture the vibe of this great sunburnt land. The mesmerising sky is 100% legit, thanks to an on-site capture over the course of 24-hours with a 12K camera setup. Turn 10 has also spent a ridiculous amount of time nailing down the look of our local fibro and/or asbestos-based dwellings, not to mention taking the time to properly animate kangaroos (which must have been a very tough gig, given their unique physiology). Sadly, you can't accidentally run down Skippy; his AI lacks the suicidal nature of the real deal. Otherwise, this is by leaps and bounds the most accurate depiction of "Straya" in gaming.
---
---
And what glorious gaming it is. Avid petrolheads are put in charge of a car festival this time, rather than just being a low-tier hoon set loose in a cop-less open-world. That may sound like a bunch of paperwork, but the reality is you're more of a Richard Branson type who makes just as many event expansion decisions as you do muck in on increasingly extreme PR stunts. You know, racing helicopters, leaping freight trains. It's basically Top Gear eat your heart out stuff. These shenanigans, along with car-specific "bucket list" challenges, circuit championships, street race point-to-points, and drift challenges, all provide a means to build up more fans and unlock opportunities for more car-nage. In short order, your map screen will look like a slice of Aussie fairy bread, absurdly wall-to-wall with colourful things to consume.
Progress in the career (by doing basically anything you want to) and you'll be overwhelmed with free credits and cars. There are 350 vehicles awaiting you on the disc, all of them suited to specific terrain. Forza will graciously scale you against AI opponents that fit within your BHP bracket (we never once had a Zhonda v Mini Cooper moment). Shifting between cars always requires a period of adjustment, but the handling model you'll get will always feels like an approachable middle ground between realistic sim and arcade fun.
You'd have to be a sausage sanga short of a full lunch not give this a burl
Better yet, newbies won't need to slaves to the tuning menus in order to win, because hey, the sting of any non-podium finish can be mitigated if you still drove stylishly anyway. Forza constantly heaps high-praise on whatever you're doing, and it's a cinch to link combo after combo, providing you don't crash and lose it all in one fell swoop.
Unfortunately, the latter often happened to us thanks to the ever-presence of "drivatars". What's that, when it's at home? Forza's definition: they're virtual clones of people on your friends list; a meshing of human behaviour and AI. If that is indeed the case, 90 percent of the people on my friends list are jerks who either hog the road in a circuit race scenario, or do their damnedest to be where they shouldn't as I'm trying to break the sound barrier for a stunt jump attempt. They do have upsides, however, as recruited drivatars for quick cross-country convoys will earn you better rewards. And it's always going to be more satisfying beating a car named after your buddy as opposed to some driverless BMW.
---
---
If you want less artificial completion, Forza Horizon 3 lets you go for a freeroam "mainies" with mates, as well as a load of events to attempt. The former offers a fantastic co-op campaign where you and three pals can progress as a pack. Wins made in multi are reflected in your solo campaign which is an added bonus. The latter is a smattering of standard races, and arena modes with CoD-esque objectives like capture the flag and running from 'infected'. To each their own, but we much preferred the insanity of like-minded idiots on an open road.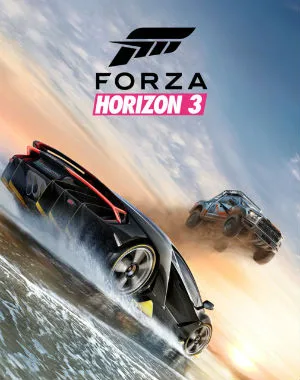 Click to buy Forza Horizon 3 for Xbox One
from ozgameshop.com
The coast of Australia is your playground. Smash through red post boxes, tin sheds and narrowly avoid roos with Forza Horizon 3.
View details
Forza Horizon 3 is, in all ways, an improvement upon the last edition. Visually, it's mind-boggling pretty and over the course of many hours presented no perceivable flaws. The audio fares a little worse thanks to annoying DJs and nattering offsiders (mercifully, your mechanic is a bonafide Aussie who isn't a painful caricature). But they feel like very minor irritants when you've got this much gorgeous country to tear up in a frankly overwhelming amount of on and offline events. Even if you have only a passing interest in cars and Australian culture, you'd have to be a sausage sanga short of a full lunch not give this a burl.
We reviewed Forza Horizon 3 on Xbox One with a copy provided by the publisher.
---
More guides on Finder