Compare foreign exchange rates
If you're looking for the best foreign exchange rate, it's important to shop around.
We're committed to our readers and editorial independence. We don't compare all products in the market and may receive compensation when we refer you to our partners, but this does not influence our opinions or reviews. Learn more about Finder.
Our exchange rate comparison tools can help. Use our table below to compare exchange rates for over 30 different currencies. You can view real-time foreign exchange rates from a host of money transfer companies - from traditional banks to online money transfer specialists.
Send money overseas with XE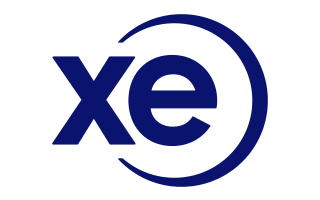 XE International Money Transfers
No fees
Next-day delivery to most countries
24/7 secure online transactions
Send money overseas with XE
Get fast transfers with no fees and a range of foreign currency tools.
Minimum transfer amount: $1
Maximum transfer amount: $500,000
Online transfer fee: $0
Compare foreign exchange rates
Compare foreign exchange rates for your desired currency in three simple steps using our table below:
Enter the amount you wish to transfer.
Nominate the currency you're transferring from (e.g. AUD) and to (e.g. USD).
See how much of the foreign currency from different money transfer companies on the market. The transfer fees and exchange rates of the different companies are all factored in.
The "Rate" and "Amount Received" displayed are indicative rates that have been supplied by each brand or gathered by Finder.

Exchange rates are volatile and change often. As a result, the exchange rate listed on Finder may vary to the actual exchange rate quoted for the brand. Please confirm the actual exchange rate and mention "Finder" before you commit to a brand.
Definition: Best currency exchange rate
There is no single best exchange rate, and the best exchange rate for you may not be the best for someone else. This is because there are other factors to consider when sending an international money transfer in addition to the exchange rate, including the transfer fees, the payment method, the speed of delivery and the level of customer service. One person may need to transfer money within 24 hours, while others may have no time frame, which may affect the exchange rate.
Exchange rates are also affected by wider economic factors. Previous performance isn't an indication of future performance. You should consider a range of products when deciding which provider is most suited to your personal money transfer needs.
What are foreign exchange rates?
In simple terms, an exchange rate refers to the amount of one currency that has to be given up in order to acquire another currency. For example, an exchange rate of AUD$1.03265 = USD$1, means you have to give up 1.03265 Australian dollars to get just 1 US dollar. Foreign exchange is the largest asset class in the world, with some estimates placing the daily turnover at $5.3 trillion.
How are exchange rates calculated?
Exchange rates are calculated based on the currency values of the two currencies being exchanged. Basically, you are selling one currency and buying another.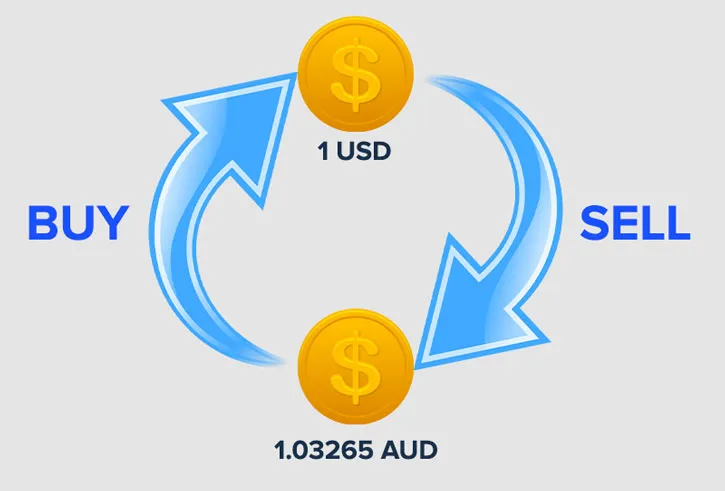 The same will apply if you want to know how many US dollars you can purchase with 1 Australian dollar. With an exchange of USD$1 = AUD$1.06598, it can also be exchanged as AUD$1 = USD$0.9381. This means that you can buy 0.9381 US dollars in exchange for one Australian dollar.
Elizabeth sends money to America
Elizabeth owns an online store which she operates from her home in Australia. She needs to pay a freelancer in New York for helping her out with some of the website design and layout. The freelancer gives Elizabeth an invoice for USD$2,000. Elizabeth uses the first money transfer service she finds online, with a foreign exchange rate of AUD$1 = USD$0.74540. This means that to pay her freelancer USD$2,000, Elizabeth needs to pay AUD$2,683.13 plus the transfer fee.
After she makes the transfer, she finds another money transfer service online which has a slightly different exchange rate of AUD$1 = USD$0.75000. This doesn't seem like much of a difference, but when Elizabeth does the calculations she realises that with this exchange rate she would have only had to pay $2,666,67 plus the transfer fee – a saving of $16.46.
Do exchange rates change?
It is crucial to note that exchange rates can rise and fall. If a currency increases in value then it is said to have strengthened. It means that the currency will be exchanged for more against another currency. For example, if AUD$1 was being exchanged for USD$0.92021 in July and it changes to USD$0.9381 in October, then the Australian dollar is said to have strengthened against the US dollar.
If a currency falls in value then it said to have weakened, meaning that it will be exchanged for less against another currency. For example, if AUD$1 was being exchanged for USD$0.9381 in October and changes to USD$0.92021 in November, then the Australian dollar is said to have weakened against the US dollar.
Know your values
Knowing the value of your currency in relation to foreign currencies will help you analyse investments priced in foreign currencies. For instance, for an Australian investor, knowing the AUD to USD relation is important if you were looking to buy a property in the USA. They're also useful to know for other reasons:
Travel
If you're planning on travel, knowing the exchange rate shows you your purchasing power, so that you can know in advance what you can purchase with a certain amount of money when you travel to a foreign country. This will help you to budget for your trip.
Buying local versus imported products
Foreign exchange rates will help you decide whether to go for local products or imports from other countries. If the exchange rates from your trading partner countries are favourable then you may consider importing products if the overall cost will be lower than when you buy locally produced products. On the other hand, they will also assist you in deciding which countries to export to.
International money transfers
If you regularly send money overseas, for example to your family, you'll want to know what the exchange rates are so you know how much money is actually reaching your destination. This is especially important if you're paying a mortgage overseas which has minimum repayments.
Why is the exchange rate I get lower than what I see on the news?
The rate you receive is lower because the rates you see on the evening news or on a business news website is the "interbank rate". This is a rate used between banks when they buy and sell currency among themselves. The rate you receive will have a margin on it or other fees which makes it less competitive than the interbank rate.
As a consumer, the rate you get will also depend on where you exchange your money. Providers like banks, currency exchange kiosks and PayPal are traditionally worse than dedicated international foreign exchange services like OFX and TorFx. Ensure you compare rates thoroughly before carrying out an exchange.
Even among different branches of the same currency exchange provider you may find rates fluctuate.
How can I find the best exchange rates?
The following are some of the ways you can get the best exchange rates possible.
Avoid using your credit or debit card overseas.Using your existing cards will result in your receiving whatever exchange rate is applicable at the time of your transaction, which may not be favourable. Also, as explained by money transfer comparison site WhichFX, you stand to get charged a fee on every transaction you make. You may also be charged a fee on every ATM withdrawal. Before using your debit card overseas, check whether it's a card with low foreign transaction fees. You could also consider switching your credit card to one which charges $0 for foreign ATM withdrawals.
Avoid small currency exchange kiosks you see at airports or train stations: Although these may be convenient, they charge very high fees. They take advantage of people's needs to exchange their currencies and charge highly for their convenience.
Use non-bank exchange services: Money transfer services like that of OFX and TorFX offer competitive exchange rates and low margins, therefore giving you better value. If you're sending money overseas these companies charge typically lower fees and better foreign exchange rates than regular banks and also provide 24/7 support teams.
Convert cash when rates are favourable: If you know you'll be travelling overseas in the near future and have your spending money ready, monitor rates and exchange your cash when rates are favourable to you. Carry out your conversion at an exchange provider which charges low fees and has a competitive rate and you'll benefit much more than on the spot conversions when you're overseas.
Use a travel money card: These allow you to load money onto your card and lock in an exchange rate at the time of loading. This means you're protected if rates drop and won't pay any foreign transaction fees when spending in a currency you've loaded onto the card. Compare cards to see what exchange rates you'll be able to receive before deciding on any one card.
How do exchange rates work?
Exchange rates can be either flexible or fixed. Flexible exchange rates are determined by the foreign exchange market, commonly known as the forex market. Flexible exchange rates keep on changing depending on what traders think the currency is worth and the factors. Flexible exchange rates are said to be 'floating' and can fluctuate regularly and affect a range of stakeholders. These include:
Travellers - When you travel overseas you may have less or more to spend depending on the strengths or weaknesses of the currencies you're trading.
Locals - If your country has a strong foreign currency you may see some imported items become cheaper while other items become more expensive.
Importers - If you import goods into your country you may pay more or less (depending on how the rates have fluctuated) for the same goods.
Exporters - If you sell goods to other countries you may pay more or less for the same goods.
Investors - Many trade in foreign currencies, so a drop in the value of a currency they're trading will mean losses, while a gain will see profits.
The opposite to these are fixed or pegged rates. This is where a currency's value is maintained against another by its government. In this case a government will set a price against a major currency like the Euro, Japanese Yen or US dollar and then to maintain this rate they'll need to reserve an amount of this foreign currency. Then, if demand for this currency drives the exchange rate up they'll need to release more of this foreign currency into the market to meet it and if demand is low they'll have to do the opposite and buy this currency.
As many will quickly point out, the majority of exchange rates aren't purely floating or purely pegged. Most pegged rate systems will rely on a floated currency as mentioned above, so are really using a 'floating peg' system and most floating currencies are influenced by their government economic policies such as tax cuts.
What influences foreign exchange rates?
Exchange rates are some of the major determinants of a country's economic performance. This is because no country is an island and each depends on foreign trade with other countries across the world to sustain its economy. For example, Australia's economy cannot be stable without trading with the US, Africa, China and UK, among others.
There are a number of underlying factors, both geopolitical and economic that affect the exchange rate and some of the most common include:
Interest rates
Interest rates charged by the central bank in a particular country will affect the currency value of that country. A country whose central bank has higher interest rates will give lenders higher returns and this tends to attract foreign investors. As a result of this, the exchange rate will increase. Consequently, higher interest rates will increase the exchange rate of a country, mainly when other factors of the economy remain stable and the interest rate is the major factor to influence the economy.
For example, if Australian central bank is offering high interest rates, then investors from foreign countries such as the US and UK are likely to be attracted to invest in Australia. As a result of this, the exchange rates for the Australian dollar will rise due to the increased demand.
Terms of trade
The terms of trade of a country are determined by the balance between exports and imports. If the prices of exports of a country rises more than those of its imports, the terms of trade of that particular country will be greatly be improved. This basically means that the country's exports are in high demand. The final results will be that the country will receive more revenue from its exports and its currency will also be on high demand leading to an increase in the currency's value.
The reverse will happen if the country's export prices rises by a smaller rate than that of its imports. The demand for exports will be low and the country will be importing more than its exports. This will decrease its currency's demand and value. So if Australia is exporting more goods to foreign countries, then its currency is likely to be in high demand and exchange rates will be higher.
Inflation
A country with lower inflation rates will have a high currency value because its purchasing power increases in comparison with other countries. Consequently when a country is affected by the ongoing worldwide economic crises, its inflation will definitely increase. This will reduce the country's purchasing power, depreciate its currency exchange rates and its trading partners will perform better than it.
Countries with relatively low inflation rates such as the US, Canada, Germany, Japan, Switzerland and Australia normally have high purchasing power and their currency values do not depreciate much.
Political climate
No investor will take the risk of investing in a country that is politically unstable. All investors will always look for countries with stable political climate so that their capital is safely invested. Generally, countries with a stable political climate will have strong economic performance and will attract more investors even to draw their investments from politically unstable countries to invest in these other ones.
For example, it would be rare for an Australian investor to go and invest his/her capital in Egypt today due to the political instability that Egypt is experiencing. Instead, they might look to invest in South Africa where the political climate is more friendly for investors. Consequently, unstable political climate will cause loss of confidence in a country's currency and this will lower its exchange rates.
Public debt
As much as many countries take loans and grants from foreign countries to fund most of their local projects, this does not go well with foreign investors. A country with high public debts is likely to welcome inflation and this may mean that the country will have to do everything possible to pay off the debts, even if it means printing money for that purpose. When this happens, the currency value of that particular country will be reduced and this will lower its exchange rates.
Consequently a country with high public debts will lower its currency exchange rates and this will not attract foreigners because their investments will be at risk.
Check out some of the best exchange rates below
| | USD | EUR | GBP |
| --- | --- | --- | --- |
| TorFX | 0.749 | 0.637 | 0.556 |
| WorldFirst | 0.749 | 0.637 | 0.556 |
| Global Reach | 0.751 | 0.638 | 0.557 |
| OFX | 0.748 | 0.636 | 0.550 |
Rates accurate 07 December 2017
More guides on Finder