Fitbit Ionic review: Smart on fitness, but not on apps
The Ionic showcases Fitbit's strength as a fitness brand, but also highlights how far it has to go as a smartwatch ecosystem.
The good
Best in class fitness app
Up to 5-day battery life
Accurate and simple GPS tracking
Automatic sports tracking
The bad
Limited apps
Notifications are hit and miss
Loading music requires PC connection
We're reader-supported and may be paid when you visit links to partner sites. We don't compare all products in the market, but we're working on it!
Fitbit has claimed that the Ionic is its first smartwatch, and in a literal fashion it's true. The Surge may have looked a lot like a watch, but its functionality was 100% geared towards fitness tracking, with limited "smart" functionality.
The Blaze, meanwhile, seemed to straddle the two categories, with a watch-like design and some limited app functionality, but a definite focus on the fitness tracking elements that made Fitbit a household name.
So the Ionic has landed as the first official Fitbit smartwatch. But while it is full of promise for a competitive future taking on the behemoth that is the Apple Watch, right now the Ionic is still best regarded as a solid fitness tracker with some smartwatch benefits.
Design
Sleek design that sits comfortably around the wrist
Large bezel is a little intrusive
---
Performance
Plenty of well-implemented fitness tracking features
Smartwatch features are somewhat lacklustre
Updating the firmware is a painful experience
---
Battery
Four-day battery life is decent
2-hour charge time can be bothersome
---
Verdict
There's a lot of potential for the Fitbit Ionic, but so far it sings much more to Fitbit's strengths as a fitness tracking company than a smartwatch company.
The Ionic is a natural step up for Fitbit users wanting a bit more from their device. The inclusion of GPS, Fitbit Coach and Fitbit Pay all make the Ionic a well-rounded fitness device.
But as a smartwatch - and more specifically, as an Apple Watch Series 3 alternative - the Ionic still has a way to go. The app selection is basically non-existent, the notifications support is minimal and the lack of digital assistant support like Siri leaves the Fitbit way behind other smartwatches in terms of features.
It's early days for the ecosystem, so there's a good chance that the supported software will improve dramatically once developers begin making apps for the platform.
---
Other reviews
| Site | Comment | Score |
| --- | --- | --- |
| TechRadar | "The Fitbit Ionic is a good wearable, but it's not the great smartwatch some had expected it to be." | 3.5/5 |
| Gizmodo | "If Fitbit can iron out the software kinks, that strong battery life and great fitness capabilities will make the Ionic a healthy rival for the Apple Watch." | N/A |
| Sydney Morning Herald | "Using the Ionic for a week reminded me that Fitbit's app is still the best in terms of overall health and fitness insights, and the easiest way to challenge friends." | N/A |
| Australian Financial Review | "The five to seven-day battery life (depending on how active you are) is by far the Ionic's best feature right now, at least compared to all the other smartwatches I've reviewed." | N/A |
| CNET | "The Fitbit Ionic has all the features we've been wanting in a Fitbit for years, but it ultimately feels less than the sum of its parts." | 3.5/5 |
| Engadget | "I'm most impressed by how simple it is to create apps for FitbitOS, which bodes well for the company to get the massive library of offerings it needs to take on Android Wear devices and the Apple Watch." | N/A |
| TechCrunch | "The Ionic feels like an admirable but imperfect first step into smartwatches." | N/A |
| The Verge | "The best feature of the Fitbit Ionic smartwatch is its battery life" | 7/10 |
| MacWorld | "Fitbit's new Ionic smartwatch is a smart fitness tracker but lacks intelligence as a smartwatch." | 3.5/5 |
---
Pricing and availability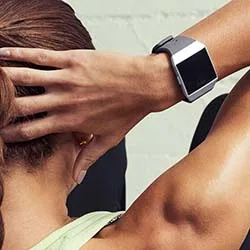 Track your fitness with the Fitbit Ionic from Rebel Sport
from rebel
Pick up the Fitbit Ionic from Rebel Sport and start tracking all aspects of your health with the first real Fitbit smartwatch.
View details
---
Specifications
---
---
---