Fitbit Blaze vs Apple Watch 3 vs Samsung Gear S3 vs Garmin Fenix 3 HR
Fitbit's latest activity tracker looks more like a smartwatch than anything else. How does it compare?
The Fitbit Blaze, announced this week at CES in Las Vegas, is the company's latest activity tracker, and only its second watch-style tracker after the Fitbit Surge. The Blaze rather looks like a smartwatch such as Apple's Watch or Samsung's Gear S2, but activity tracking still sits at the heart of the Blaze's proposition. Smartwatch functions are something of a secondary aspect, primarily focused around simple notifications.
The Fitbit Blaze handle music playback and basic email and text notifications, but against a "full" smartwatch it's not going to be as capable. Maybe that's the point, however, as full smartwatch platforms have yet to really hit that killer app position where they present a compelling proposition beyond their style offering.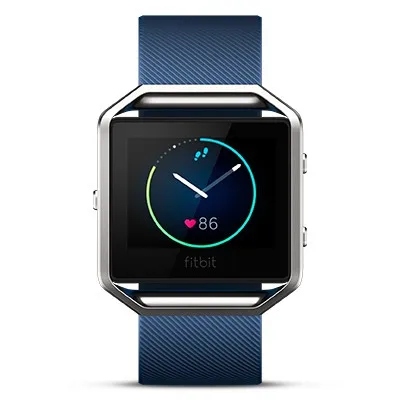 Buy Fitbit Blaze for $329
from rebel
The Fitbit Blaze automatically detects and tracks your exercise, and can even monitor your sleep patterns for deeper insight into your health.
View details
Fitbit instead is positioning the Blaze as a fitness device that can automatically detect your exercise type as well as offering exchangeable bands and frames. These won't come cheap, with the standard elastomer bands costing $49.95 each, the leather bands costing $169.95 each and at the top of the range, a stainless steel band option which will cost $219.95. That's on top of the outright asking price of the Fitbit Blaze itself, which will come with a single elastomer band.
The Fitbit Blaze will be available in Australia in March and is available to pre-order from Fitbit's web site for $329.95.
That puts it in an interesting position against the wider fitness tracking and smartwatch markets. In the pure fitness tracking space, there are plenty of cheaper options if all you want is basic tracking, including plenty of models from Fitbit itself.
Against the wider smartwatch category, there are cheaper options such as any of Pebble's offerings and some of the older Android wear watches, although not quite all. The Fitbit Blaze more fairly fits in the sports watch tracking category, where it's cheaper than some rival devices, but somewhat more limited in scope.Here is how it compares against the Apple Watch 3, Samsung Gear S3 and Garmin Fenix 3, to give it a position against both sports tracking watches and pure smartwatch options.
| Model | Fitbit Blaze | Apple Watch 3 | Samsung Gear S3 | Garmin Fenix 3 HR |
| --- | --- | --- | --- | --- |
| Screen size | 31.75mm | 38mm/42mm | 33mm | 30.4mm |
| Band options | Rubber, leather, metal | Rubber, leather, metal | Rubber, leather | Rubber, leather, metal |
| Battery | 5 days | 18 hours | 3-4 days | 3 weeks (watch mode), 40 hours fitness tracking |
| GPS | via connected phone | Yes | Yes | Yes |
| Heart rate sensor | Yes | Yes | Yes | Yes |
| Apps? | No | Yes | Yes | No |
| Calling ability | No | Yes | Yes | No |
| Price | $329.95 | $499-$24,000 | $499-$598.99 | $949-$1249 |
---