Fishing equipment buying guide
Gone fishin'? Here's how to choose all the essential fishing equipment you need for your next fishing trip.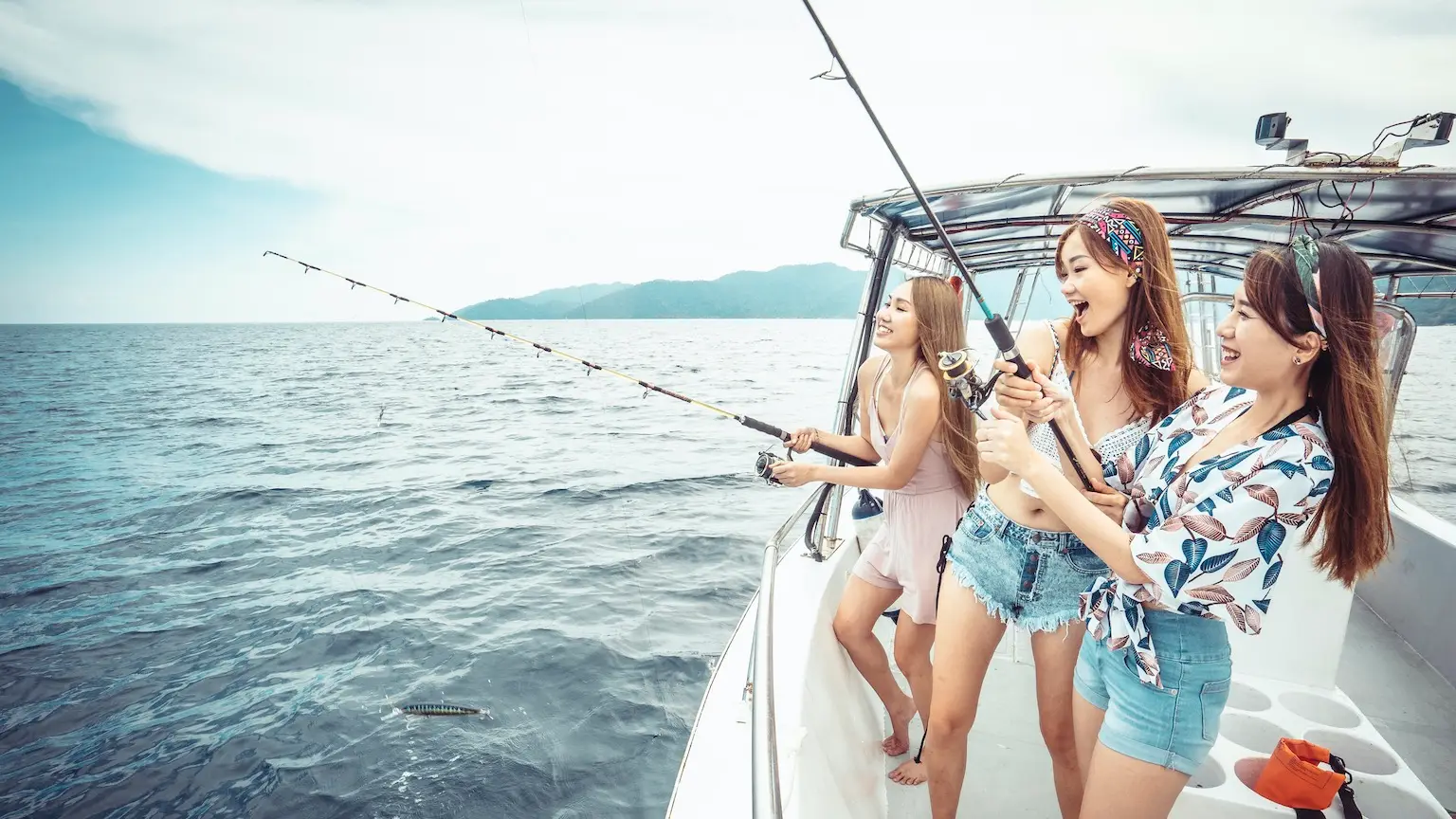 We're reader-supported and may be paid when you visit links to partner sites. We don't compare all products in the market, but we're working on it!
Quick facts about fishing equipment
Essential fishing equipment includes a fishing rod and reel, fishing line, hooks, sinkers, floats and lures or bait.
When choosing a fishing rod and reel, the most important factor to consider is the type of fishing you will be doing.
Most fishing rod and reel combos range from $20 up to $400, but more expensive options are available.
Types of fishing rods and reels
If you're new to the world of fishing, working out what essential gear you need to catch a big one can be a confusing task. The first pieces of equipment you'll have to buy are a new fishing rod and reel.
However, there are several different types of rods to choose from, each of which is designed for a specific style of fishing. The main options include:
Spinning rods. These are the most common types of fishing rods and they're suitable for everyone from beginners right through to experienced anglers. Known for their versatility, spinning rod and reel combos allow you to fish from the shore, from a jetty or from a boat, and they can be used to catch a wide range of fish species.
Baitcasting rods. Baitcasting rods and reels offer similar versatility to spinning combos but can be used to land bigger fish. They also allow for more accurate casting. However, they're a lot more difficult to use and also come with a higher price tag, so they're not recommended for beginners.
Surf fishing rods. These rods are designed for fishing from the beach or from rocks. Designed to allow you to cast out past the breaking waves and into deeper water, these rods can be up to five metres long. Surf rods and the reels they're paired with are engineered to tackle the heavy loads of larger fish and rough surf conditions.
Telescopic and travel rods. If you're looking for a portable and compact rod that's easy to take with you when you travel, a collapsible or multi-piece rod will use up minimal space.
Overhead rods. Designed for deep sea fishing, overhead rods work with an overhead reel. They're used for battling large fish from a boat, so they're not really suitable for beginner anglers.
Fly fishing rods. Designed for use with a fly reel, fly fishing rods allow you to use a lightweight lure (which often looks like a fly). However, fly fishing is quite a different beast to ordinary fishing, requiring unique casting skills and plenty of patience, so most beginners won't need this type of set-up.
You can mix and match rods and reels to suit your needs, but if you're a beginner angler, the best way to get started is to choose a rod and reel combo designed to suit the type of fishing you plan on doing.
How to compare fishing rods
The type of rod and reel you need varies on the style of fishing you're doing. If you're casting a line from the shore or from a tinny, a spinning rod and reel will be perfect. If you're targeting trout in a secluded mountain stream, a fly fishing rig should meet your needs. And if you're heading far into the ocean to catch massive sportfish, a rod and reel designed for deep sea fishing will probably be your best bet.
Once you've chosen the type of fishing rod you need, consider the following factors:
Ease of use
Consider how easy the rod will be to use on a regular basis. Questions you'll need to consider include:
Is it easy to set up and make adjustments to your rig when needed?
Is casting simple and straightforward?
How easy will the rod be to transport and store?
Length
The best rod length for you depends on the type of fishing you do. For example, if you're fishing from a boat and will just be dropping your bait straight to the bottom, a short rod of 5-6 feet may suffice. But if you're looking to cast your line as far as possible, such as if you're surf fishing, a longer rod is needed.
As a general guide, a rod in the 6-7 foot range will suit most beginners.
Price
You can pick up an entry-level spinning rod for as little as $15, while top-of-the line rods can fetch several hundreds or even more than $1,000.
The majority of rod and reel combos fall in the $20 to $400 range, but there are also more expensive high-end options available. Spinning rods and reels, which are the best choice for beginners, tend to be more affordable than more specialised fishing gear.
Material
Fibreglass rods are affordable and durable, so they're a great starting point for beginners. If you're looking for something a little more advanced (but also more expensive), you might want to consider a graphite or graphite composite rod – the main advantages are that they're lighter, more sensitive and easier to cast.
What other fishing equipment do I need to get started?
Once you've got the right rod and reel, you'll also need to stock up on several other essential tackle box items. These include:
Line. Rod and reel combos typically come with line already spooled onto the reel. There are two main types available – braid and monofilament (mono) – with mono being an affordable and versatile choice for beginners. Make sure the line you choose is suitable for your rod's line weight rating as well as the type of fish you want to catch.
Hooks. There are many different hooks available, so make sure you use hooks that are the right size and type for the species of fish you're targeting.
Sinkers. A sinker ensures that your bait sinks to the bottom (or near the bottom). However, there are several different types of sinkers for different fishing styles – for example, some dig into the sand or mud while others are designed to move easily over rocks and debris.
Swivels. A swivel helps prevent line tangles and stops your sinker moving around.
Floats. A float provides a clear visual indication when you get a bite, but can also be used to position your bait exactly where you want it.
Lures/bait. Whether you're using artificial lures, frozen bait or live bait, you'll need something to get the fish to bite.
Tackle box. You'll need a box to carry all your fishing gear and keep all your bits and pieces organised. Look for one with plenty of separate compartments and one that's easy to take with you for whatever style of fishing you do.
Knife. From cleaning and gutting the day's catch to cutting a tangled line, a good fishing knife (or maybe even a knife set) is an important inclusion.
Three things to consider
Before you buy a trolley full of fishing equipment, make sure you consider the following important factors:
Fishing rod ratings. Make sure you check the rod's line weight rating before you buy. For many beginners, a line rating of somewhere between 2kg and 5kg will suit, but those looking to target larger fish will need a heavier rating. The lure weight/casting weight rating can be used to match your rod with a suitable lure or sinker.
Fishing licences. Depending on your age and where you live, you might need to get a recreational fishing licence before you can wet a line. Licences are quite cheap and can be purchased online, so do your research to find out about the licensing requirements at your chosen fishing spot.
Ask for advice. The sheer range of fishing rods, reels and equipment available can be intimidating and downright confusing. If you're in any doubt about the best set-up for your angling needs, head into your local tackle shop for some help. The staff there will be able to ask detailed questions about where you'll be fishing and the type of fish you hope to catch, and then pair you with the perfect gear.
Need an esky to store drinks, snacks or the day's catch? Check out our esky buying guide.
Where to buy fishing equipment online
More guides on Finder