Free first time job resume template (Australia)
Writing a good resume is the first move in launching a stellar career.
We're reader-supported and may be paid when you visit links to partner sites. We don't compare all products in the market, but we're working on it!
It's easy to get discouraged when writing your first resume. A lot of jobs require at least some degree of experience, but to get experience you need to first get a job. It can be a frustrating catch-22 situation.
However, crafting a solid resume involves showing that you have relevant skills and that you can bring value to the company. Use this guide to learn how to do just that.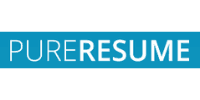 Pure Resume Offer
Get a professionally designed resume starting from $24.99.
What is a first time job resume?
A first time resume is a formal record of your education, experience, skills and interests. It's a document you use to sell yourself and your expertise, so that a potential employer can determine whether you might be a good fit for an opening.
The problem? When you're applying for your first job, you probably don't have a lot of work experience. Consequently, you need to highlight other attributes that can make you appealing to hiring managers – mainly your skills and education.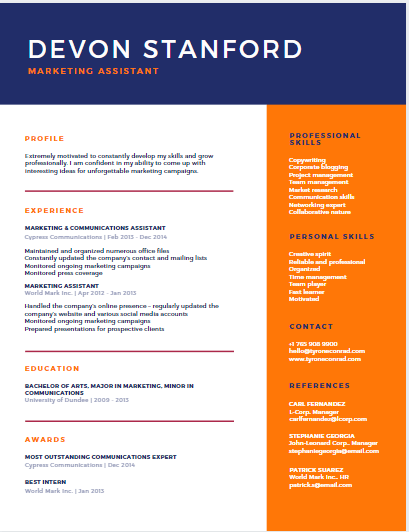 Download this cover letter template at Canva
What are the features of a first time job resume?
Especially when you're starting out, your resume needs to be:
Honest – it's easy to be tempted to lie to cover up your lack of experience, but this will work against you in the long run.
Persuasive – focus on your core strengths.
Customised – compensate for lack of experience by efficiently tailoring the resume to fit the job description as well as you can.
Pertinent – cut out any irrelevant details that might make your resume come across as bloated.
What should I include in a first time job resume?
Every resume is unique, but they do share a similar structure. Even if you go with a creative resume – like a video resume or an infographic – you still need to make sure that you include all the information required by a hiring manager or recruiter.
On this note, your first time resume should incorporate:
Contact details – mainly your name, email, phone number, social media profiles.
Summary statement – a section in which you emphasise all the ways in which you can bring value to the potential employer.
Education – include any coursework relevant to the job, academic achievements, overall GPA (average grades) if they'll impress.
Skills – list transferable skills like being organised, a good communicator, leadership abilities and so on.
Experience – include any clubs or extracurricular activities, part-time jobs like babysitting, freelancing or volunteering experience.
Once you're done with the basics, think about including any other relevant sections. For instance, you can list the languages you're fluent in, any certificates or courses, hobbies and interests.
That being said, you need to make sure that these add value to your resume and help you stand out from the crowd. Read the job description carefully and incorporate pertinent keywords all throughout your resume that proves you pay attention and are actually interested in the position at hand.
Get a resume template to meet your needs
How much does a first time job resume cost?
The good news is that you can build your resume completely free – which is a good thing, especially since you're just starting your career and probably don't have a lot of exposable income to invest in hiring a professional resume writer. If you're having trouble, you can use a resume builder or a free first time resume template to help you get started.
On the other hand, if your budget is more generous, hiring a professional resume writer to do all the heavy lifting for you will help you put your best professional foot forward. Professional resume writers can charge anywhere from around $100 to many hundreds of dollars. Prices tend to vary depending on how complex you want the resume to be and how fast you need it.
Pros and Cons of a first time job resume
Everyone has to write a first resume at one point or the other. But while having little work experience to back up your claims isn't ideal, you can still do a great job if you're dedicated to constantly improving your resume writing abilities along the way.
Pros
Creating a concise and to-the-point CV can be a great way of selling yourself
Versatile – you can experiment with different formats to see which brings in the best results
You can go down the creative route to stand out from the crowd
Cons
You may find it tough to fill up the work experience section
It can take some time (and trial-and-error) to get your template right
Bottom line
Writing a first time resume doesn't come without challenges. However, if you're willing to put in the time to get it right it can help you immensely in the long run. Make it a point to research the industry carefully and look up plenty of resume examples. Before you know it, you'll find yourself one step closer to landing your dream job.
Frequently asked questions
Do I need a different resume for every job I apply to?
Yes. Tailoring your resume to the job description proves that you're willing to go the extra mile to get the gig. Your main objective is to build a resume that is a very tight fit to the wording used in each job description.
How can I improve the formatting of my resume?
If you're just starting out, you can rely on a first job resume template to help you highlight all the important sections. They generally feature modern design elements, complementary colors and bullet points to make your resume easy to scan.
What advice can you offer to make my resume stand out?
If you apply for a job in a creative industry, you might want to embrace a less traditional format, like a video resume. Otherwise, make sure you showcase your accomplishments (with quantifiable metrics where possible) and write a bold summary.
Back to top
More guides on Finder