Fire Emblem Echoes: Shadows of Valentia Review: An echo of a retro RPG
The latest Fire Emblem title to hit the 3DS isn't technically a new game, but it's a fun retro tactical romp nonetheless.
We're reader-supported and may be paid when you visit links to partner sites. We don't compare all products in the market, but we're working on it!
Nintendo often gets accused of resting on its laurels, releasing minor iterations of what are basically the same games, over and over again. Often, this kind of iteration can lead to some immensely playable games, as any Switch owner with Mario Kart 8 Deluxe would be able to attest.
At the same time, though, it's sometimes hard not to think that Nintendo is fleecing its most loyal console owners by selling them remixes of the same concept over and over again. Personally, I've lost track of the number of formats I've now purchased The Legend of Zelda: A Link To The Past for. I'm certain that in the future I'll be buying yet more versions of that game, too.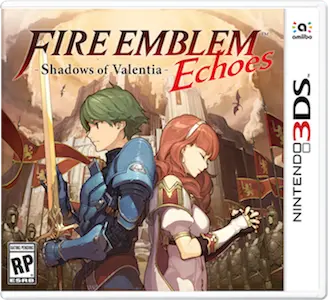 Fire Emblem Echoes: Shadows of Valentia (Nintendo 3DS)
from base.com
Get yourself a copy today.
View details
Fire Emblem Echoes: Shadows of Valentia presents an interesting deviation from the Nintendo norm, then. Strictly speaking, it's a remake of a 1992 era Famicom game, Fire Emblem Gaiden, updated with fancy new 3D-esque visuals and full voice audio to boot, so it should qualify for the Nintendo-recycling pile.
The challenge here is that, unless you're fluent in Japanese, you almost certainly never played the original, which was never exported outside of Japan officially. For the vast majority of English language speakers, then, it's your first look at how Nintendo used to do its RPG titles some 25 years ago. So it's a retro title in a new dress that you almost certainly won't be nostalgic for, which makes it an odd little game indeed.
That tension between the old and the new underpins whether or not you'll enjoy your Fire Emblem Echoes experience, because this is a game with new school visuals laid over some distinctly old school strategic choices.
You play Fire Emblem Echoes switching between hero Alm and heroine Celica, who set out to reunite two broken kingdoms and their diametrically opposed gods from the (drum roll...) forces of evil. Yes, there's more plot than that to speak of, and indeed a lot of it, but boiled down to its essence, there are bad guys, you're the good guys and it's your time to go sort them out.
In strict plot terms it's all rather clichéd stuff, but little of it is particularly badly managed, and the voiceovers do give the text a certain amount of gravitas. You've got to be able to get past the distinctly American accents of the cast, but it's well enough voiced to be enjoyable, or skipped entirely if you want to get to the real meat of the game.
That's found in the top-down strategic battles that you encounter along the way, both on the in-game map and then in specifically built dungeon areas where you'll be suddenly confronted with an enemy rushing at you, only to drop down into an old-school 2D pixel-based scenario to fight through. Cutscenes for each attack switch the action to a 3D world, but after only a few fights you're likely to switch these off simply to save time.
One other old school aspect to Fire Emblem Echoes is that it doesn't give you an easy "rock scissors paper" style balancing element for foes, which makes battles a little harder to manage. There's still some solid strategy in, for example, blocking a bridge crossing with illusory invoked phantom fighters so that your mages and archers can pepper the enemy with attacks, or using your heavy combat fighters to take down mages before they can retaliate with crushing spells.
Still, it does mean that there's a solid advantage in attacking first, and where available, using the turnwheel ability to spin time back a turn when things go wrong. Because the results can be a little random, more than once I spun back a character who had failed in a charge, charged again and won.
The only major downside here is that Fire Emblem Echoes is resolute that your primary hero in battle, Alm or Celica, must survive at all times. If they drop, even once, it's game over straight away with no chance to retake a move. Sometimes this is fine, and even challenging, but equally you can end up in scenarios where the enemy specifically targets your hero to the exclusion of all others, quickly ending the game. If it's at the end of a particularly epic battle, it's intensely frustrating.
There isn't a great deal of absolute side questing in Fire Emblem Echoes, because while some objectives are technically optional, if you fail to deal with them you'll be facing so many foes at once it'll become overwhelming, and you do need to do a certain amount of levelling up before you attack the very final sequence.
Equally, the role playing aspect of Fire Emblem Echoes is more on the visual novel side of the scale, especially as your characters can stop to converse mid-battle if the mood suits you. It's a great way to get a feel for the archetypes that each character is meant to represent, as well as reveal a little more about where Fire Emblem Echoes sits in the overall Fire Emblem chronology, but it's pretty much optional. You're rarely given real character choices to speak of, just lots of lines to either read or listen to.
As such, you can't particularly rush through Fire Emblem, and you'll get somewhere between 30-40 hours of playtime out of it, depending on how well you handle certain battle scenarios.
There are more technically complex Fire Emblem games, and indeed other RPG style games on the 3DS that handle the role playing aspect with more aplomb, because while Fire Emblem wears the RPG badge, the real reason to invest your time into it is if the prospect of some properly retro top down battles appeals to you.
We reviewed Fire Emblem Echoes: Shadows Of Valentia on Nintendo 3DS with a copy provided by the publisher.
Fire Emblem Echoes: Shadows Of Valentia
8.0 EXCEPTIONAL
What we liked...
Nicely updated visuals
Good voice acting
Strong levelling up
Battle variety
What we didn't like...
Not much role playing choice
Losing your hero loses battles instantly
Battle AI is very old school
VERDICT
Fire Emblem Echoes: Shadows Of Valentia won't appeal to every mobile RPG fan, simply because the storyline is more heavily tilted towards the visual novel style than in giving you real world choices or even much in the way of branching paths to explore.
However if you're after some fun and often quite tactically fraught strategy action, it's an easy recommendation with nicely rendered visuals and enough depth to keep you busy throughout.
Available for
For more information on how finder scores games, check our review guidelines.
More guides on Finder