Finder app updates
What's new in the Finder app?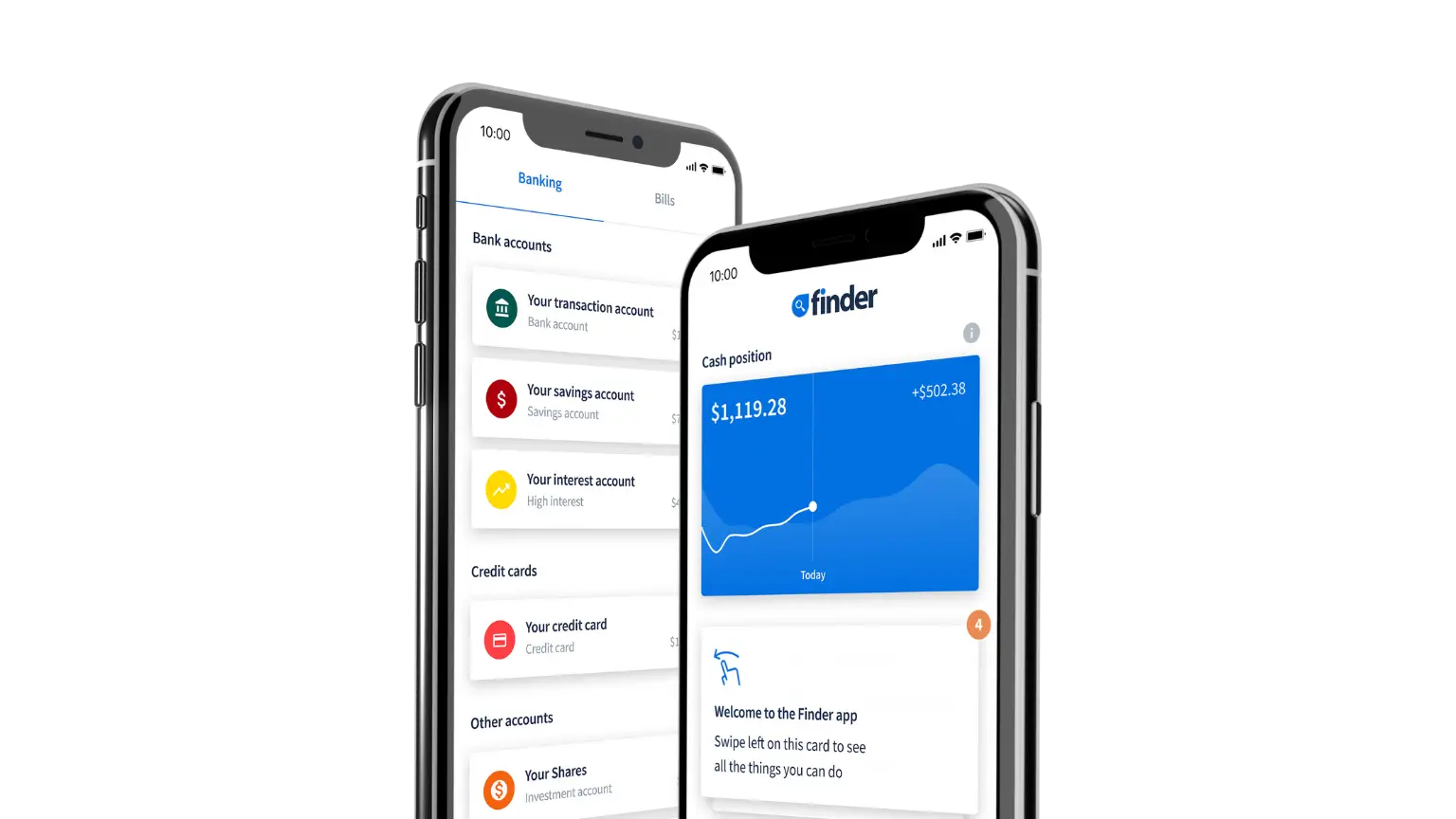 Find out all of the updates we've made to the Finder app since the day it launched.
This page is updated regularly to keep you across all of the Finder app's latest features and changes. Check which version of the app you are on in the Settings section to make sure you can enjoy all of these updates. Head over to the App Store (iPhone) or Play Store (Android) to update the app!
If you have feedback or spot something amiss, just swipe right to left using two fingers in-app or drop us a line via app@finder.com. Nothing makes us happier than hearing from our members. 🙃
---
v3.2.4
3 August 2020
To our members, you asked and we listened.
This release has a special new feature for one of our most requested bank integrations.
You can now connect your Up bank account to Finder. 🥳
Click here to learn how!
---
v3.2.3
30 July 2020
We're keeping it short and sweet for this release.
Most of the work in this release has happened behind the scenes. We've polished up our existing features and squashed some more pesky bugs. 🐝
---
v3.2.2
22 July 2020
This release is all about revamping the Dashboard and a shiny new savings insight! 😎
Now that you can connect your super and investments to the Finder app, we've built the investments graph to only display information from these connected accounts. Choose between the cash position and the investments graphs so you can keep an eye on all your finances. 👀 📈
We've also moved the search bar to the very top, so you can find the best deals even faster. Just another way to search and compare the thousands of products in Finder's database to find exactly what you need. 👌
We also have a brand new savings insight for mobile plans.📱 If you are currently on a SIM-only mobile plan, this one's for you. We'll search through our product database to see if we can find you a similar plan, only cheaper! ✨ Make sure you have a mobile plan bill under the Products and Bills tab. If it isn't there, you can manually add your bill by selecting the correct transaction from your account. 👌 All you need to do next is answer a few simple questions about your plan and we'll do the rest.
---
v3.2.1
26 June 2020
In this release, we've done a lot of behind-the-scenes work.
Our engineers have squashed some pesky bugs to make the app run a little smoother for you, especially in the Savings tab 🤑.
---
v3.2.0
10 June 2020
This release is dedicated to all the ways you can save on the Finder app. 💸
Our latest savings insight is for your broadband plan. 💻 Just like the other insights, head over to the Savings tab 🐷 and answer a few quick questions to see if you can find a better deal on your broadband plan. Same Internet plan, only cheaper? We rate it and we reckon you will too!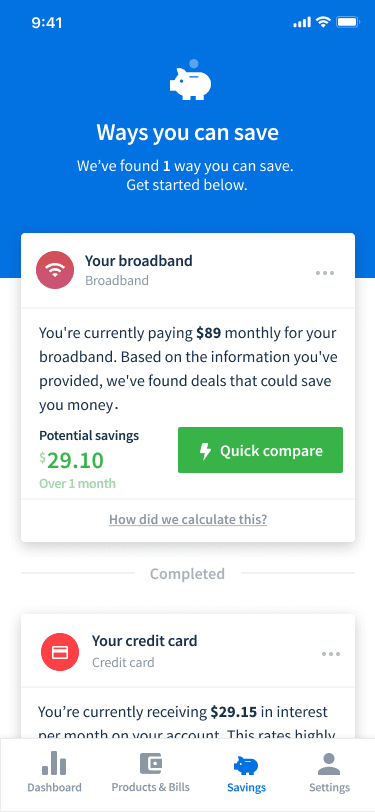 Our credit card savings have also gone through a revamp, with a completely new look and feel. ✨ Last time we released a nifty feature to choose which credit card you own. Now, we've taken that a step further – choose your card from our list, compare your options and see how much you save, all within the Finder app.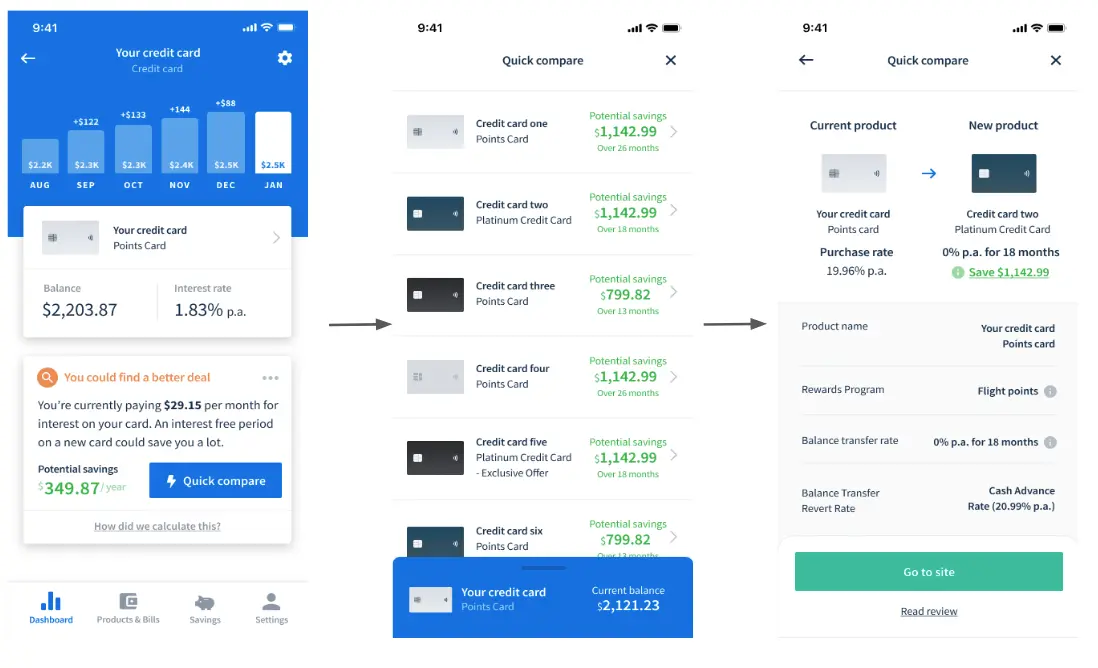 ---
v3.1.1
22 May 2020
We're cooking up another major improvement to the comparison experience in the app and we've decided to release a little teaser 🎉.
When you connect your credit card to the Finder app, you can now choose which credit card you own from a list powered by our extensive database. This is just the beginning - keep your eyes peeled for more to come 👀.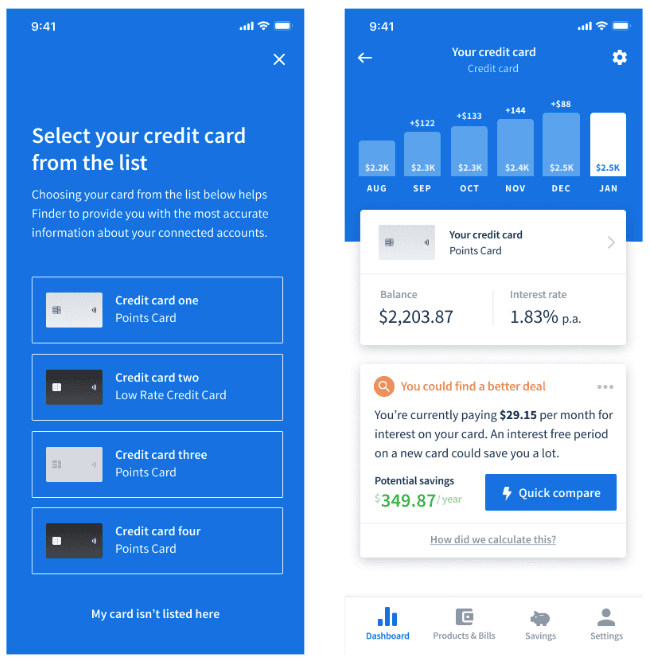 This release is also about polish. The past couple of releases were dedicated to two big features - connecting super and investment accounts, and finding your chance of approval for a personal loan. Our engineers have been squashing bugs 🐞 and smoothing out rough edges for our new features to shine a bit brighter ✨.
---
v3.1.0
8 May 2020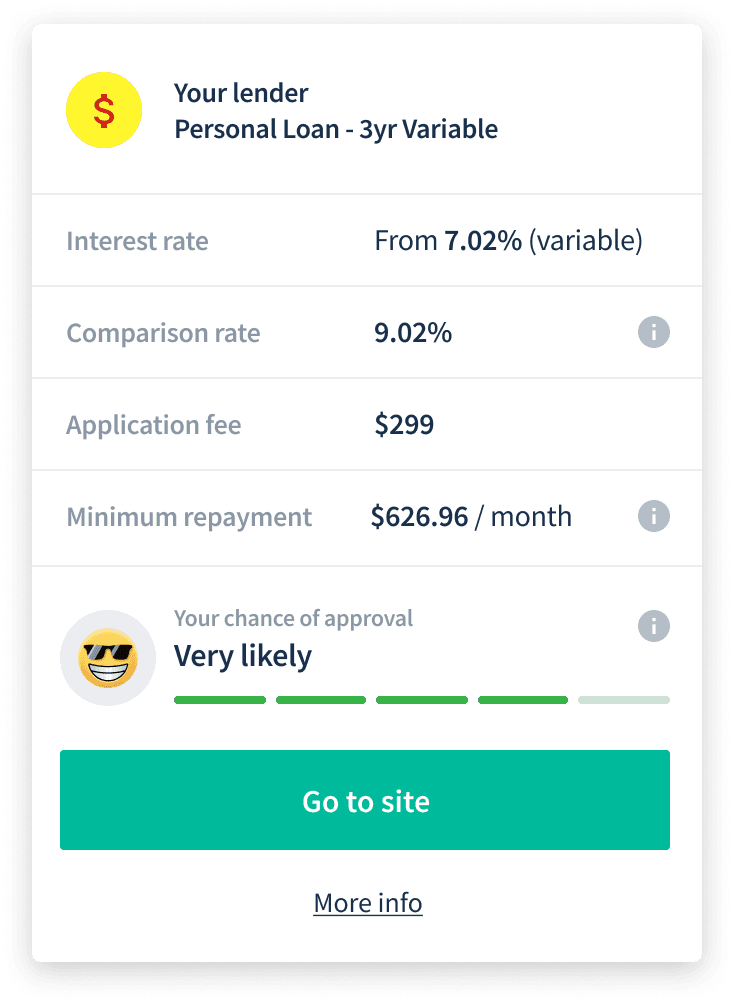 Introducing Finder's chance of approval 🥳!
Our latest feature is designed to take the stress and uncertainty out of applying for personal loans.
Head on over to your credit report in the Finder app and start comparing personal loans to take this new feature for a spin. All you need to do is answer a few short questions about yourself and the type of personal loan that you want and ta-da 🎉 ! We'll show you a list of providers to choose from and an indication of your likelihood of getting approved.
This is the first of its kind on an app in Australia, and we're pretty proud about that!
Find out how we calculate your chance of approval here.
It's a new feature so we're keen to know what you think about it! Let us know what you think about this game-changing feature by giving us a rating ⭐️ or by leaving us some feedback via the app.
---
v3.0.0
1 May 2020
To all of our Finder members, we heard you. Super and Investments are here! 🥳
Connecting superannuation and investment accounts has been one of our most popular feature requests since we first launched.
You can now connect these accounts the same way you connected your normal bank accounts and see them in the dashboard. Tap into your super and investment accounts and you'll also access the latest superannuation and investment content straight from our Finder experts to you.
We're excited to hear what you think about this new feature - we absolutely rate it here in the Finder app team! Let us know by giving us a rating ⭐️ or leaving us some feedback via the app.
Update the Finder app today and get on top of all your finances 😎.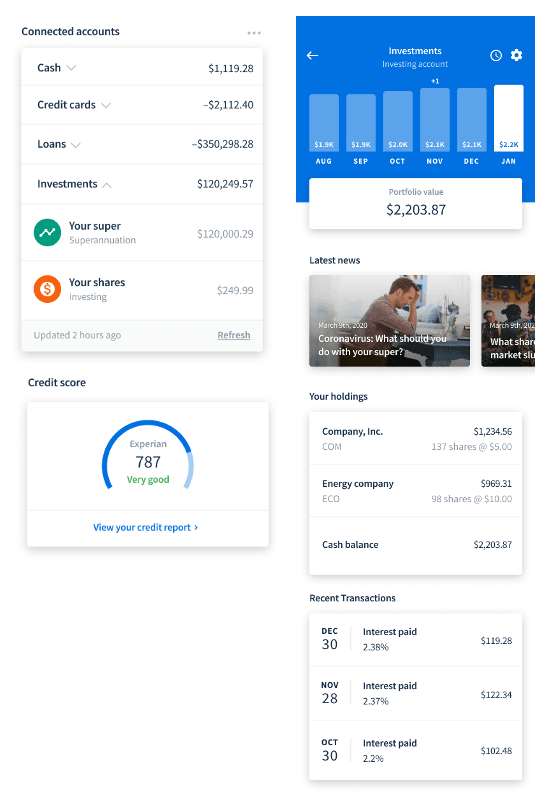 ---
v2.2.1
20 April 2020
We're keeping it short and sweet again for this release 🍫 - just a few bug squashes and small fixes.
---
v2.2.0
16 April 2020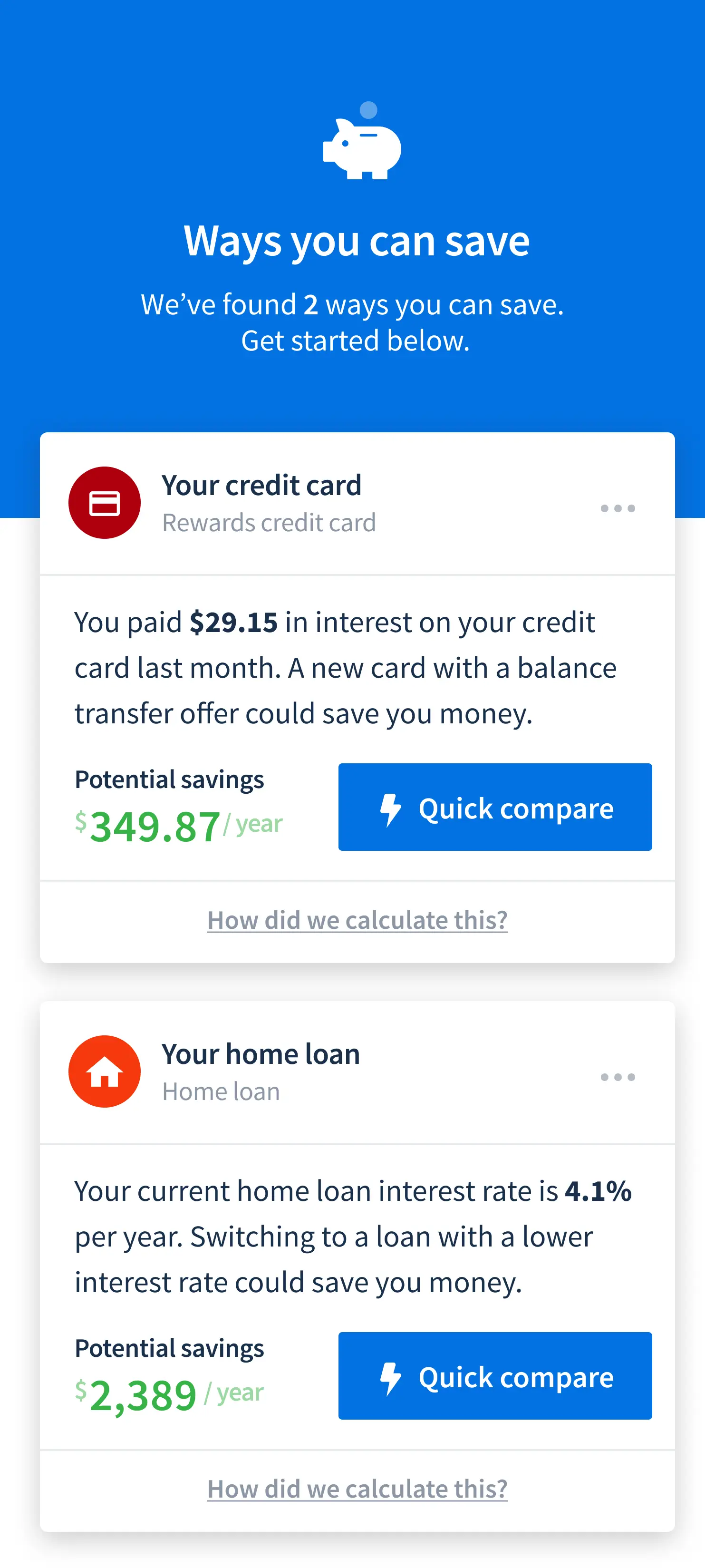 This is our latest major release and we've got some exciting news for you 🥳.
The Finder app now has a special tab entirely dedicated to finding new ways for you to save. The little piggy in the bottom navigation bar takes you to the savings tab, where you'll see potential savings based on your current bills and products. Just sit back and enjoy all the savings you can put back into your pocket 😎.
For now, we have four key insights for our members:
You could save on your mortgage by switching to a lower interest rate home loan.
You could earn more interest on your savings account.
You could save on credit card interest with a balance transfer.
You could find cheaper health insurance that still matches your needs.
This is just the beginning, there are definitely more savings to come!
Some of these savings insights may show up as locked. 🔒 That happens because we need a little extra information from you. Unlock these insights by answering a few simple questions in our quiz and voila! More ways to save! 🎉
Keen to get your hands on some savings? Download the Finder app here.
---
v2.1.5
3 April 2020
We love hearing from you! ✨
In this release, we've made it easier for you to let us know what you think about the Finder app. Every now and again, we'll give you a little nudge for feedback. Let us know if you rate it, let us know if you don't - we're all ears!
---
v2.1.4
23 March 2020
We're keeping it short and sweet for this release 🍰
We've squashed another bug and now all of the links open correctly when authorising connections.
---
v2.1.3
18 March 2020
We're dedicated to ensuring the Finder app is secure and we've made it easier for you to find information about our security measures.
Piqued your interest? Check it out here: www.finder.com.au/finder-app-security.
We also completed the following projects:
Implemented system upgrades
Squashed bugs around the swipeable content cards
Made improvements to the Find a New Product feature
---
v2.1.2
16 March 2020
This release is all about polish ✨
You can expect smoother edges, slicker swiping and scrolling. That's a lot of s's!
Not only are the in-app cards (those messages on your Dashboard under your Cash Position graph) smoother and slicker, but they are now easier to read too! We've made some adjustments so that these cards are legible across all devices.
We also polished up the Cash Position graph and Credit Score.
---
v2.1.1
7 March 2020
This one goes out to all of our amazing members who have been giving us feedback for the app.
Now you don't need to connect your bank account to start using the app. Check out the app's features, unlock your free credit score and comprehensive report, read our tips and guides and you can find new products before your accounts are hooked up.
Go on, take it for a spin before you connect your banks
---
v2.1.0
3 March 2020
We're getting ready for public launch with some key improvements 🎉
We made some core infrastructure upgrades so we're ready when we open up the doors to our beloved waitlist members.

No more bad pin codes! Your security is one of our highest priorities so we're saying "no" to bad pin codes and making it harder for unwanted access to your account.

Our data scientists worked some magic on our automatic bill detection! With the improved logic, the app can do a much better job at identifying your bills from your transactions. And then finding where you can save 🙂.

Our credit score bands needed some tweaking, and that's exactly what we did.
---
v2.0.5
28 February 2020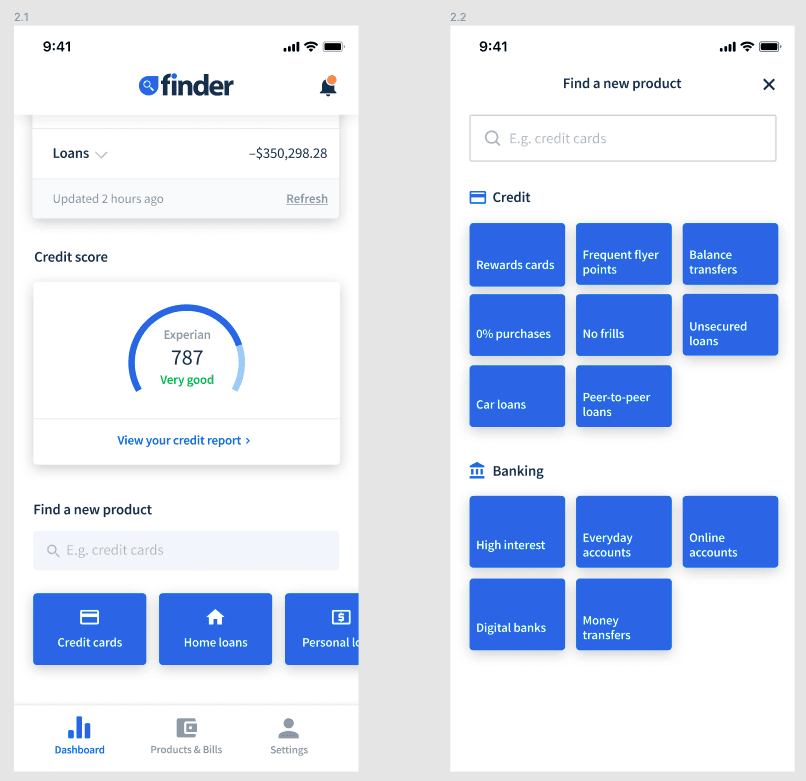 Looking for something new? We've got you sorted.
You can now start comparing right from the app without ever going to Google.
The new "Find a new product" feature allows you to search and compare across Finder's extensive database of thousands of products.
We've also revamped our swipeable content cards (check them out under the cash position graph).
We've built them from scratch to make the experience smoother. Get swiping and read up on all of your personalised content.
---
v2.0.3
14 February 2020
Happy Valentine's Day! In the spirit of spreading the love, we've been aggressively squashing bugs and fixing crashes, just for you. ❤️ Consider it our way of showing our love.
Found a sneaky bug we haven't fixed yet? Let us know in the feedback section of the app so we can squash these ASAP!
---
v2.0.0
10 February 2020
Hello world, the Finder app is here! 🔍
We have started to give our earliest waitlist members with exclusive codes so they can download the Finder app. It's not open to Australia just yet – the official launch is on March 16, 2020.
Here's what you can do in the app:
View all of your accounts in one place
Get a free credit score and comprehensive report
The Finder app constantly looks for money-saving opportunities just for you. We'll let you know when we find one!
---
Read more on this topic