FIFA 22 gets esports NFT experiment
In what could be a sign of things to come, the latest EA Sports FIFA 22 esports tournament saw the use of NFTs and the metaverse.
Have you been following the rollercoaster ride that is the AAA games industry's link to NFTs, the blockchain and play-to-earn gaming? It's a bumpy ride. And that rollercoaster has been none more obvious than with Electronic Arts (EA).
CEO Andrew Wilson has flipped, flopped and flipped again in regards to the famed company's stance on a blockchain future. I've done an extensive guide on the Electronic Arts NFTs journey that you can read for more information.
(I've done similar detailed breakdowns on the status of Nintendo NFTs, Ubisoft NFTs, Sega NFTs and Microsoft NFTs as well.)
The most recent development has just occurred in Qatar and relates to blockbuster game FIFA 22. The Middle Eastern country is right in the thick of unprecedented attention in the football world. It's not just hosting the real FIFA World Cup in November, but also the FIFAe World Cup.
Part of the lead-up to that esports event included a warm-up event, also held in Qatar. It was called the EA Sports FIFA 22 Champions Cup. And it's the first esports tournament involving gaming giant EA to introduce NFTs and the metaverse.
What is the EA Sports FIFA 22 Champions Cup?
The EA Sports FIFA 22 Champions Cup was a 16-player event with US$50,000 in prize money. It was organised by a group called Ooredoo Nation – Gamers' Land. It attracted the 12 best FIFA 22 players in the world, including current world champion MsDossary. Not only was there an in-person show held in Doha's Aspire Ladies Sports Hall, but it was broadcast live to fans all over the world.
The FIFA 22 Champions Cup concluded on 28 May 2022, with MsDossary taking home the trophy.
How NFTs and the metaverse were integrated
The EA Sports FIFA 22 Champions Cup's experimentation with a metaverse experience was rudimentary but represents a tentative first step for esports. Players and attendees were able to enter a virtual space and socialise with one another. After creating an avatar and customising an esports jersey, of course.
This space was custom-built to fit the tournament experience. Some of the novel ideas included a Hall of Fame area where your avatar could take a selfie with the Champions Cup's best players. You could also view games as they happened within a virtual crowd.
In addition, as soon as someone booked a free ticket to the event, it was minted as an NFT and transferred to the attendee. Holding this NFT granted entry to the metaverse viewing experience plus other goodies. This included free digital merchandise, meet and greets with the pro players and influencers, giveaways and other event activities.
The NFTs don't have any specific value, but as a digital receipt allowed holders to get much more value from the experience than just the entertainment that the general viewing experience provided.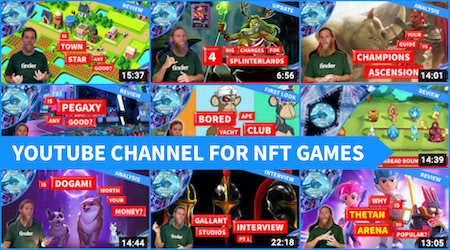 YouTube channel for NFT games
Chris Stead, Finder's game expert here. I've been covering video games since the mid-1990s, and I've turned all that experience towards providing honest feedback on NFT and P2E gameplay.
Does this mean EA and FIFA 22 now has NFTs?
No, it doesn't. From what I can tell, neither FIFA nor EA played any role in or even approved this NFT and metaverse esports concept. But Ooredoo Nation's efforts could inspire future ideas from both independent esports bodies and developers like EA who are clearly interested in joining the blockchain landscape.