FIFA 17 Review: Get in

FIFA 17 offers another dose of accessible football with a surprisingly addictive and heartfelt story mode.
FIFA 17's story mode, "The Journey", made me feel things. Excitement, anxiety and at times, sadness. This is not something I ever expected to write about FIFA 17's run-of-the-mill football simulator (or any sports game for that matter), but yet here we are.
Outside of the game's rising star storyline, proficient AI gives players a run for their money, but for the most part it's still a welcoming football sim that's more accessible to casual players than its rival title, Pro Evolution Soccer 17.
FIFA 17's The Journey mode chronicles two young lads' rise through the ranks of the English Premier League. When we first meet your character Alex Hunter, he and his best mate Gaz are two jovial young'uns on the brink of winning a Juniors final match.
Alex is cool but confident from the start, with a winning personality and a series of complex relationships with his friends and family. Your connection to Alex is intensified throughout the game mode thanks to some truly heartbreaking moments, where Alex gets knocked down both professionally and personally.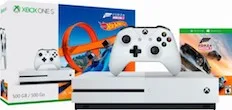 Shop Xbox One S Bundle (500GB) Deals
from Microsoft Store
View details
These moments are made extra poignant thanks to stellar voice acting and mo-cap work of the actor portraying young Alex, Adetomiwa Edun, and the evocative score from composer Atticus Ross (The Social Network, The Girl with the Dragon Tattoo).
There are many choices to be made in FIFA's The Journey, from accepting club offers to a Mass Effect-style dialogue wheel that lets you choose fiery, cool and neutral responses to in-game conversations.
While the Journey is a mostly linear experience, these decisions help carve your career path and win favour with your manager and social following, but when it comes down to it, it's your performance on the pitch that really decides whether your star will rise or come crashing down.
There's a big turning point early on in FIFA 17's campaign where Hunter takes a dip in favour, and finds himself working his way up from the bench of a lower league. From here you've got to impress the club manager enough (represented by a small gauge in between matches) to move from the bench to the starting 11.
This involves meeting the manager's set criteria, which ranges from creating opportunities for your teammates, breaking a tie or simply getting ahead of your opponent. Your time as a sub can be stressful. Your limited time on the pitch means you've got to impress fast and if you miss your opportunity, you'll have to wait until the next big match to prove yourself all over again. It really adds to the game's tension.
There's also an overall score of Hunter's performance that increases and decreases depending on your effort – or lack thereof. Managers take notice of your conduct during team training sessions in-between matches.
These training sessions start out at an invaluable tutorial to new players and lapsed players as they slowly ease you into the game's more advanced mechanics. However, they do become a bit tedious later in the game when you've polished your skills. You can opt for fast-tracked automated training, but I found on more than one occasion that AI Alex has the potential to royally screw me over. I'm sure there's some sort of algorithm there that decides a score based on your performance average, but I couldn't relinquish control when it meant making it off the bench or not.
Let me be clear though: the game's narrative isn't jaw-dropping. When you boil it down, it's a pretty stock-standard rise-to-fame story. But it's a helluva good start in a genre flooded with sterile simulations.
Thanks to the game's use of the Frostbite engine (a first for the series) the game also looks absolutely mint. Crowds are more detailed and lighting is significantly improved. But the graphics engine's biggest triumph in FIFA 17 is the way sweat on player's faces glistens under bright stadium lights or the strobe of the media's cameras.
You read that right. FIFA 17 is by far the most perspirant entry to the series.
As usual, changes to FIFA's long-running gameplay are few and far between. The new additions here don't shake the game's core in any meaningful way, but they're (mostly) welcome nonetheless. Players can now deliver low-driven shots on goal, meaning a powerful boot can place the ball in neatly in the goal's lower-half with some oomph. Players throwing in can now dummy as well, which can be a handy way to move the opposition off your mark.
FIFA 17's gameplay is otherwise just as accessible as previous years. When held up against this year's Pro Evolution Soccer, which features some absurdly aggressive AI, FIFA comes off as a little easier for newcomers and lapsed players.
FIFA 17's meaty tutorials and campaign help players break into the game, but its gameplay mechanics also feel a lot breezier than PES's.
If you're an obsessive football fan and seasoned competitive player, FIFA 17 might not scratch that annual itch. But if you're looking for a dose of FIFA's yearly fun, you'll find this year's release comes packaged with an engaging rise to fame plot and a few welcome changes to the series you know like the back of your hand.
---
FIFA 17 is available now on PS4 and Xbox One
---