We're reader-supported and may be paid when you visit links to partner sites. We don't compare all products in the market, but we're working on it!
Do you need a business loan? Do you need it yesterday? If you're looking for quick funding for your business, you can get approved for a business loan within a couple of hours and have the money the same day. Find out more about fast business loans and if there's one that's right for you below.
How fast can I get a business loan?
Turnaround times vary between different lenders, but some can approve your loan within hours and send you the funds within one business day. Some lenders might even offer same-day funding. It's good to note that non-bank lenders will generally have quicker approval times than larger banks.
How much can I borrow on a fast business loan?
You can generally borrow from $5,000 to $1,000,000 with a business loan, but some lenders have no limits as to how much you can borrow. However, the amount you can borrow depends on a variety of factors, including the following:
The cash flow of your business
Why your business needs the funds
How long your business has been around
The credit history of the business and the owners
The value security you can offer on the loan (for secured business loans)
You will need to provide this information as part of your application. Your business may also have to meet certain requirements, such as minimum turnover, to be eligible for a business loan.
Reasons to get a fast business loan
Assist with cash flow

The number one complaint you'll hear from any business owner is always cash flow, cash flow, cash flow. Many small businesses experience issues with managing capital and a business loan can help cover you in times of irregular cash flow. While a fast business loan can help you to manage cash flow, you may also benefit from invoice financing.

Compare invoice financing products
Purchase equipment or infrastructure

If you need to buy equipment in a hurry, you can use quick finance to cover the purchase of expensive equipment that is important to the operation of your business. Time is money, and if you need certain tools of the trade in order to be more efficient, the sooner you can get them, the better.

Fund expansion

If your business is looking to grow, you can use a loan to purchase stock, hire more employees or otherwise expand your business. Growing your business won't happen overnight, but your finance can.

Debt consolidation

You may be able to streamline your existing business debts by using a small business loan to consolidate them into one loan. The quicker you can get that finance, the more interest you'll save by consolidating your debts sooner.
How do I compare my fast business loan options?
There are a few factors that can help you decide what loan is best for you. Here are a few things to consider when applying for a business loan.
Turnaround time

If you need access to finance fast, look at how quickly the lender can get you your funds. Turnaround can be in as little as a few hours to as much as a few weeks.

Top tips. To cut down your turnaround time and get approved quickly, make sure that you:

Meet all of the lender's eligibility criteria
Ensure that all of the necessary documents are submitted with the loan application. Failure to submit a document will delay your application

Loan term

Loan terms vary with business loans. Commonly, they can be as little as three months to up to five years. But some business loans even have loan terms of up to 25 years. Other products such as business line of credit products offer ongoing terms.

Up-front and ongoing fees

These can include application fees, establishment fees, service fees and early repayment fees. Lenders usually also charge for late payments. Try to find a loan with low fees, or fees that suit your budget.

Interest rates

Interest rates may be standard annual rates or factor rates. Make sure to check the comparison rate when comparing interest rates, which can be found in our tables. Comparison rates take into account any mandatory fees which are included in the loan. This makes them more indicative of the true cost of the loan than the interest rate alone.

Secured or unsecured loans

If you have business or personal assets to attach to the loan, you may want to consider a secured business loan as it can offer more competitive rates. Secured loans (depending on the value of your security) also usually give you access to higher levels of funding.
Some providers to consider:
Will I be eligible for a fast business loan?
The eligibility criteria will differ between lenders, but you should keep the following in mind when considering your eligibility for a fast business loan.
Age of the business

Lenders are more likely to approve loans for businesses that have shown they can survive the marketplace for at least a year. However, there are some lenders that lend to start-ups. Many also accept businesses that have been in business for just 6 months.

Turnover of the business

Does your business have regular revenue? The higher the revenue of your business, the more funding you will qualify for.

Your personal credit history

Do you have bad credit history? Are you the owner of the business? This could impact your eligibility for a loan. If you do have a less than perfect credit history, never fear, because there are a number of lenders that accept bad credit borrowers. Most invoice financing companies also consider bad credit applicants, because they use the value of your invoices as security.

ABN/ACN

It's important to note that you need to have an active Australian Business Number (ABN) or Australian Company Number (ACN) before applying for any business loan.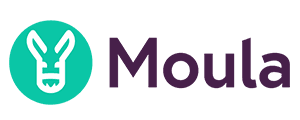 Moula Business Loan
Borrow up to $250,000
Flexible lending criteria
No hidden fees

100% confidential application
Moula Business Loan
An unsecured business loan with online application and no upfront or early repayment fees.
Interest rate type: Fixed
Loan security: Unsecured
Upfront fee: 2% Establishment fee
Minimum loan amount: $5,000
Maximum loan amount: $250,000
Maximum loan term: 2 years
Compare fast business loans
How do I apply for a fast business loan?
Most lenders have an online application process that you can start by clicking the "Go to site" button in the comparison table above. You will need to provide some details of your business as part of your initial application, but this will vary by lender.

What other types of business loans are available?
The following are a number of business loans to consider if you need cash fast for your business:
What to remember
While we understand that you need your funding in a hurry, still try to take the time to compare your options prior to submitting an application. Comparing what's available on the market enables you to make the most informed and therefore the best possible decisions for your business. It pays to compare.
Picture: Getty images
More guides on Finder