Every Far Cry game ranked from criminally insane to crazy cool
A deep dive into the madness of the Far Cry series and a plumbing of the quality of its particular brand of insanity.
Far Cry 5 will soon be out in the wild. But before that particular hit of madness enters gamer veins, let's take a closer look at the Far Cry games that came before. The series that started out as a glorified tech demo in the hands of Crytek and has become a staple for Ubisoft Montreal, has evolved in interesting directions. From the survival mechanics of Far Cry 2 to the full-blown insanity of Far Cry 3, the through line of the franchise has always been player empowerment in a sandbox environment with plenty of opportunities for epic 'splosions. How you want to tackle the game world is up to you and, outside of a main-path campaign, the Far Cry series has long been one that gets you, the player, to answer the question: "How would you like to frag today?"
Before we get too deep into the countdown, it's worth noting that there have been 10 Far Cry games, to date. Unlike DICE's approach to the Christopher Nolan School of Nonlinear Counting in the Battlefield series, Ubisoft knows how to count chronologically, meaning that Far Cry 5 will actually mark the fifth core entry in the series (for reference, Battlefield 1 was the 15th Battlefield game, but the eighth core entry). Outside of that, and most recently, there's Far Cry Primal and then there's a number of earlier spin-offs that stop this franchise from being a handful of titles and makes it, well, a couple of handfuls. So, before we get to the best, let's start with the rest.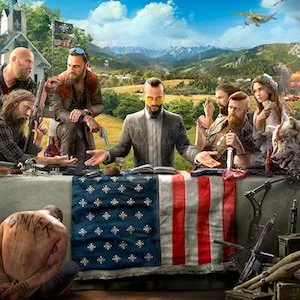 Buy Far Cry 5
from Amazon
Order Ubisoft's latest Far Cry at an absolutely mad price from Amazon and get expedited delivery on the day of release.
View details
10. Far Cry Vengeance (2006)
---
One of three Far Cry games released in 2006 (granted, one of those releases was a remaster), Far Cry Vengeance proves that, back then, a little bit of Far Cry could go a long way. I'm tempted to call it a remaster, but that's tricky given it's a Wii game that looks worse than the (original) Xbox game it's basically repackaging. In fairness, it does have some new stuff that wasn't in Far Cry Instincts: Evolution – like new shooters, new rides, and three new levels – but despite having good controls, there's nothing worth committing to paper, shoving it in a bottle and tossing it in the ocean.
9. Paradise Lost (2007)
Here's a Far Cry spin-off that's so far spun-off from the main series it doesn't even warrant having Far Cry in the title. That's kind of like creating a DC fighting game and not having "DC" in the title. Oh, wait. That one worked (soz, Injustice). Regardless, Paradise Lost is an on-rails arcade shooter: as in, it was actually only available at arcades. I'm tempted to say it's like Time Crisis to help with the visualisation, but that would probably be an insult to Time Crisis. As far as arcade-cabinet shooters go, Paradise Lost isn't the worst, but it is dangerously close to developer Global VR's earlier game, Aliens: Extermination.
8. Far Cry Instincts: Evolution (2006)
Usually, the trend with franchises is that successive entries add more to the equation. That's certainly the case with the higher-ranked entries in this list. Protagonist Jack Cleaver returns in
Evolution
for a lazy sequel whose
Evolution
title is incredibly misleading. For starters, the campaign is noticeably shorter than the preceding
Far Cry Instincts
. It finishes with one of the cringiest in gaming history, but at least it has requisite new stuff like guns, vehicles, one new multiplayer mode and a more in-depth map maker. I suppose. It doesn't help that this Xbox title released on the same day as
Far Cry Instincts: Predator
for the Xbox 360, which bundled
Instincts
and
Instincts: Predator
into a single graphically enhanced package.
7. Far Cry Instincts (2005)
---
Before the PC elite were asking, "Can it run Crysis?" they were asking, "Can it run Far Cry?" Crytek made its name on impossibly beautiful shooters that would stress test high-end PCs on max settings. Far Cry Instincts, though, is an Xbox-exclusive (that's the original Xbox) remake of the original (then PC-exclusive) game, which isn't as flash-hot in the looks department as its PC equivalent. It also loses some of what made Far Cry great, namely Instincts is a lot more linear and a lot less Sandboxie. Still, the addition of Feral Abilities – smell, vision, speed, jump, attack, strength and regeneration – are a great addition to the formula, even if they weren't carried too far forward, as were the then-new multiplayer modes and the inclusion of traps (for solo and multiplayer).
6. Far Cry (2004)
---
The original and the… best? Well, it's clearly not the best because it's in at number six on this list, but it's definitely the original. The original Far Cry was spawned out of an X-Isle: Dinosaur Island technology demo, and its tech-demo origins show. What it lacks in memorable narrative, interesting characters and in-depth world-building it more than makes up for with some of the best open-approach combat since Halo: Combat Evolved. Oh, plus it has tight gunplay and awesome explosions. Much like when Half-Life goes to Xen, the mutant-filled latter stages of Far Cry leave a lot to be desired, but the core gameplay loop and sandbox combat make for memorable player-driven action set pieces.
5. Far Cry Primal (2015)
---
You have to respect Ubisoft Montreal's gumption for this out-of-time Far Cry spin-off. A core part of the Far Cry gameplay loop has always been the ordnance, but this prehistoric setting ditched ballistics in favour of clubs, spears and bows. It forced Ubisoft Montreal to reimagine the core Far Cry loop in new ways, which resulted in the inclusion of the great animal-taming (and companion) system, with a bigger emphasis on world design. As far as a fish-out-of-water experience goes, Far Cry Primal nails this for the player, but the limited weapons and lack of ballistic options hollow out the tried-and-proven gameplay loop.
4. Far Cry 2 (2008)
---
Like Far Cry Primal, Ubisoft Montreal deserves a lot of kudos for trying something different. In this case, Ubisoft Montreal clearly hoped to forge a deeper and richer player experience in terms of the core gameplay loop stacked next to the original Far Cry. The new characters, African setting and emphasis on exploration are all great additions. Also, the fire propagation, which is still used in Far Cry games today, makes for flame-filled fun. It's just a shame about the bugs, lacklustre narrative and the presence of a poorly thought-through malaria mechanic that, like Niko Bellic's insecure and phone-loving companions in GTA IV, require constant (and frustrating) attention.
3. Far Cry 3 (2012)
---
Far Cry 3 marks the beginning of the franchise's obsession with larger-than-life (read: loony) baddies. It's held back by a douchebro protagonist and a story that's polarised in terms of its quality. On one side, it's about the plight of rich kids in a terrifying scenario (this bit falls flat). On the other side, it has Vaas: one of the greatest game villains ever, brought to life by Michael Mando before he was a household name. The main thing is the gameplay shows Ubisoft Montreal had learnt from the missteps of Far Cry 2, while the introduction of RPG elements, specifically the skill tree and crafting, enhances the usual sandbox gameplay.
2. Far Cry 3: Blood Dragon (2013)
---
There was no way Blood Dragon wasn't going into this list, even though it's technically an expansion. In fairness, it is a standalone expansion, and more to the point of this list, it's a fantastically bonkers spin-off that's impossibly entertaining. Basically, Blood Dragon is a Far Cry experienced dipped in 1980s action-movie tropes, dripping with pitch-perfect humour, and lit with an era-appropriate amount of neon lighting. Oh, and it stars Michael Biehn as super-solder Sergeant Rex "Power" Colt. This whacky Far Cry spin-off is so good that fans have been clamouring for a sequel or full-fledged standalone title since its release. If you missed it, forget about reading the number one choice on this list; seriously, just go play Blood Dragon.
1. Far Cry 4 (2014)
---
After the [Far Cry 3 spoilers] death of Vaas in Far Cry 3 [end Far Cry 3 spoilers], the campaign fails to provide an insane nemesis as memorable as the maniacal face that was plastered all over the game's advertising (and box art). Fast-forward to Far Cry 4, and Ubisoft Montreal had to overcome the same issue. How exactly do you do that? Well, you cast Troy "the voice of games" Baker as the appropriately bonkers Pagan Min. Then you focus on the gameplay. In many respects, Far Cry 4 is the culmination of the evolving Far Cry formula, to date. The systemic gameplay hits full stride with stacks to do, more options for taking down baddies and the exponential possibilities of co-op play. Even if you don't have a buddy to play with, the neat Guns for Hire companion system lets you fake like you're sharing the sandbox mayhem with a buddy.
We don't have long to wait until Far Cry 5 lands. It's out 27 March, and in terms of where I reckon it'll land on this list, well, from what I've played, it's poised to take out the pole position.