Far Cry 5's first 4 hours: Wholly appealing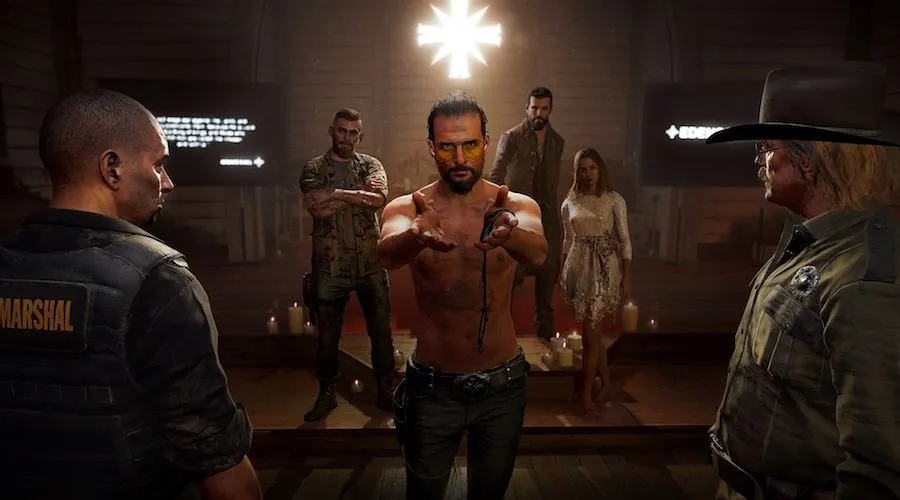 A few hours of hands-on time with Ubisoft Montreal's Far Cry 5 provides the kind of delicious Kool-Aid you'll happily guzzle down.
Far Cry 5 has an opening that's as captivating as it is chilling. I'm fresh back from playing the opening hours of Far Cry 5, in solo and co-op offerings and, honestly, it gets better every time I play it. This isn't so much because of the iterative nature of games development as much as it is clear that Ubisoft Montreal has, finally – after making every Far Cry game since Far Cry 2 – built a core Far Cry game that requires no disclaimers.
Don't believe me? Check it out. Far Cry 2 had great ambition, but also clunky mechanics like malaria . Far Cry 3 had one of gaming's greatest villains in Vaas but also sported a douchebag protagonist and lacklustre story. Far Cry 4 had an engaging open world but the storyline was mostly forgettable. And Far Cry Primal took big risks with the Far Cry formula but fell flat without firearms and its story left a lot to be desired. That basically amounts to a series that's renowned more for its open-world fun than it is for its storytelling.
Amazing Grace is given a subversive A Clockwork Orange-like rendition
That's set to change for Far Cry 5 if the opening hours of the game are any indication. There's a confidence to the opening that hasn't been present in Far Cry since Vaas' iconic ramblings about the definition of insanity. Amazing Grace, the iconic church hymn that's been done to death in any religious-themed thing, is given a subversive A Clockwork Orange-like unholy rendition in Far Cry 5.
Seriously, once you've played the start of the game I challenge you to associate Amazing Grace with anything but the sinister imagery and pitch-perfect setup of Far Cry 5. It ranks up there with that Singin' in the Rain scene in A Clockwork Orange or Patrick Bateman's deadpan face as he stomps through his office listening to Walking on Sunshine in American Psycho.
I won't go too deep into the specifics of the opening because it's best enjoyed firsthand. Suffice to say your silent playable character's plans to arrest big-bad cult leader Joseph, "The Father" Seed in Far Cry 5's opening, is going to go real south, real fast. Your character is silent this time around because it's meant to be you, further underlined by a basic (but satisfying) customisation screen that pops up after the game's harrowing opening.
You can pick sex, hairstyle and skin colour, then choose from an initially restricted selection of clothing choices that cover upper body, lower body, headwear and handwear. Fair warning: Far Cry 5 is an almost exclusively first-person game, so you won't get to see a whole lot beyond what's on your hands. That's why I recommend going with something classy, like the bling rings. Still, it doesn't hurt to arm your character with an area-appropriate mullet, then slap on a side of camo pants and an American flag singlet.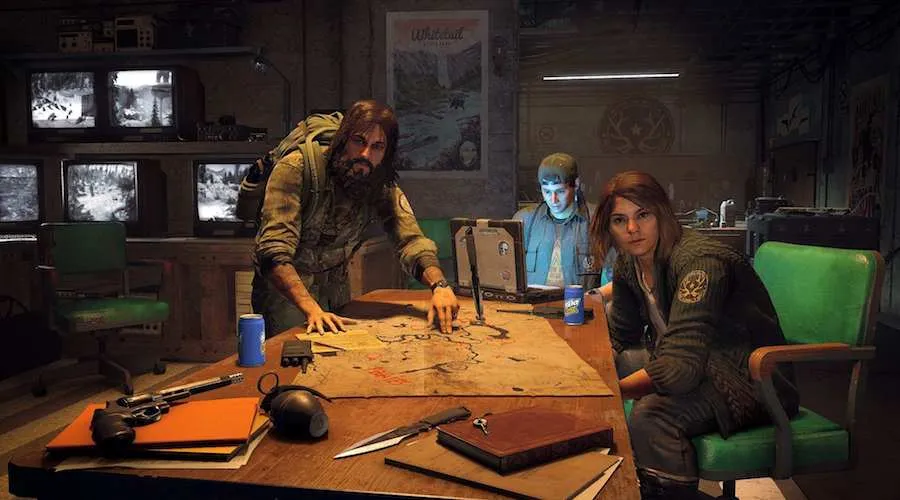 It's less directly for you to enjoy and more indirectly for you to marvel at when playing co-op. You'll have a glimpse of your character in third-person whenever you die but, for me, it was all about hearing the disgust in my co-op partner's voice whenever my mulleted head appeared on his screen to revive him. Far Cry 5 encourages you to be selfless like that.
Digression aside, after the killer opening, it doesn't take long for the sin to hit the fan. The first hour of the game is the right kind of tutorial: something that teaches you the essentials without actually feeling like the training wheels are on too tight. After that, it's up to you to do whatever the hell you want. There are three massive regions in the fictionalised Hope County to explore and conquer, and they're packed with activities.
The main ones revolve around cultist killing (at least, that's how I chose to play), but side activities include fishing, hunting and even stunt racing. Ubisoft Montreal has gone all out in creating a sandbox that empowers you to play your own way. The thing is, this time there's a compelling storyline that you'll actually want to engage with, whether you're tackling it head on or via the fascinating world-building side quests.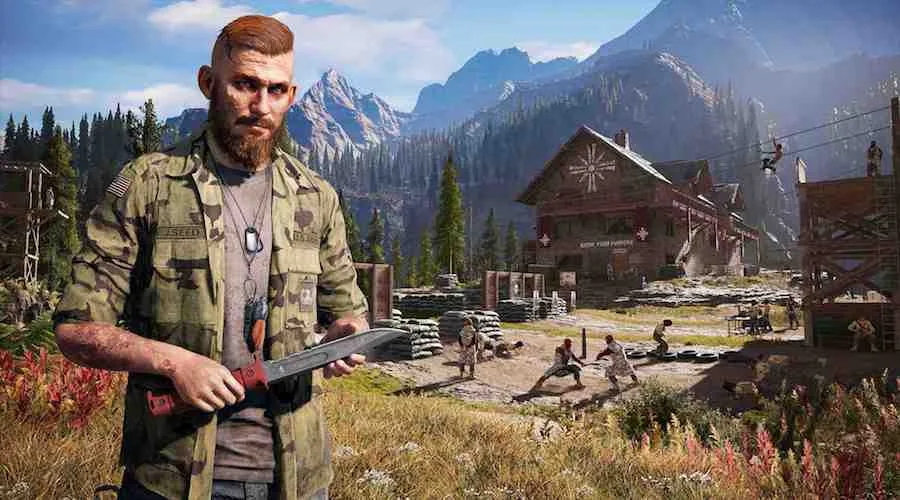 Drift too far away from the main path, though, and there's a chance you'll get dragged back onto it, less in a gimmicky way and more in a way that feels organic to the forced-conversion agenda of the Project at Eden's Gate cult. In the particular instance I experienced, I played through the return of Far Cry's patented psychedelic missions, and this particular gamified hallucination (albeit not in a fourth-wall-breaking kind of way) has some interesting potential implications for the campaign. Again, no spoilers.
At these kind of preview events for these kinds of games, I usually doggedly avoid anything story related to save it for the full play-through when the game launches. Collectively, I've put close to 10 hours into Far Cry 5 in preview form, and the fact I'll be replaying content at launch doesn't bother me in the slightest. That's because Ubisoft Montreal has expertly crafted a game world that's so engaging, which acts as the foundation of a gameplay loop that's so diverse and so compelling that the prospect of playing through it again (albeit in a different way) is wholly appealing.
From what I've played, I'm glad to report that Ubisoft Montreal hasn't just crafted what's likely to be the best Far Cry game yet, the studio has also forged a player-empowering open-world romp that may just prove to be one of the best of all time, especially for fans of co-op.
Ubisoft paid for my flights, accommodation, and meals for this Far Cry 5 event.
The latest Far Cry 5 news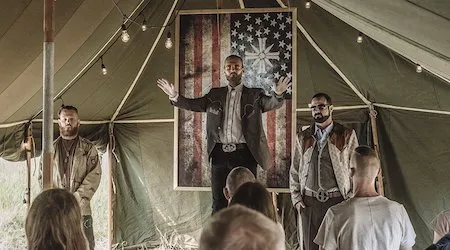 It's a far cry from the quality of the Michael "Vaas" Mando-led short film promotional series for Far Cry 3. Read more…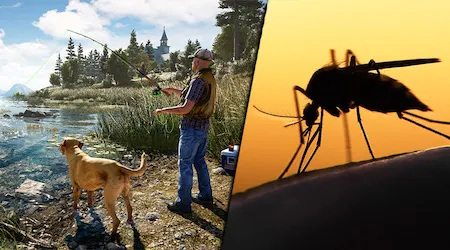 The much-maligned mechanic in Far Cry 2 could actually breathe new (slightly laboured) life into the Far Cry franchise. Read more…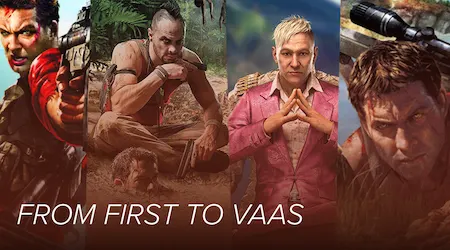 A deep dive into the madness of the Far Cry series and a plumbing of the quality of its particular brand of insanity. Read more…