Australian face mask rules: The complete list [Updated]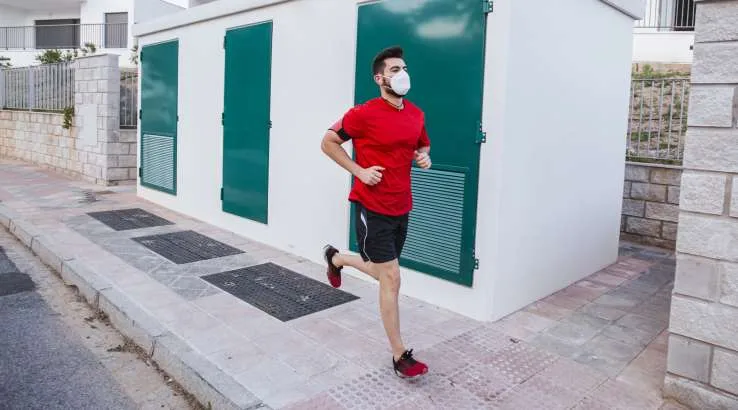 What are the rules for every state, airline and store?
Confused by all the face mask talk? This round-up summarises the rules around where face masks are required across Australia. We're updating regularly as new rules come into effect.
Australian face mask rules at a glance
| Location | Rules (as at 03/08/2020) |
| --- | --- |
| Victoria | Compulsory across state from 3 August |
| NSW | Recommended indoors in public when social distancing not possible |
| All other states/territories | Not compulsory |
| GPs and testing clinics | Sometimes compulsory |
| Stores | Compulsory at Apple; encouraged at Woolworths Group stores in NSW and ACT |
| Airlines | Encouraged on Qantas, Virgin and Jetstar; compulsory on Rex and flights to Victoria |
Even when they're not compulsory, face masks can help prevent the spread of coronavirus, particularly by people who aren't showing any symptoms and haven't been tested, and when it isn't feasible to be 1.5 metres away from others. Check our detailed guide to resusable face masks to find the right one for you, along with tips from doctors on how to use them.
Face mask rules in Victoria
Victoria is the first state to introduce mandatory mask rules in Australia. From 11:59pm on Wednesday 22 July, all residents of Metropolitan Melbourne and Mitchell Shire must wear masks when in public. And from 11:59pm on Sunday 2 August, that rule will apply across the entire state. Those rules are expected to be in place until at least 23 September. In Melbourne, a curfew applies from 8pm to 5am (except for work and essential medical care).
Under the lockdown rules, people should only be out in public for essential shopping; for education or work if they can't do that from home; for caregiving or healthcare appointments; and for exercise. Not wearing a mask while carrying out any of these activities can result in a $200 fine. Stage 4 restrictions are being imposed across Victoria from Thursday 6 August.
There are some exceptions to the mask rules:
The rules don't apply to kids under 12.
Teachers don't have to wear masks when teaching in class (but students do). All Victorian schools are returning to remote learning, however, so this exception is no longer broadly relevant.
If you have a medical condition that precludes wearing a mask, you don't need one (but you'll want a letter from your doctor confirming that if you do venture out in public).
If it's not practical to wear a mask (e.g. while running), you don't need one, but you should still be carrying a face covering.
Face mask rules in New South Wales
On Sunday 2 August, NSW updated its recommendations to encourage wearing of masks in any indoor setting where social distancing is not possible. In particular, masks are now recommended for:
public transport;
supermarkets;
staff in cafes, restaurants, pubs and clubs;
attending places of worship.
Unlike Victoria, there are no fines associated with not wearing a mask in these settings. "Wearing a mask in any of these settings is not mandatory but is highly recommended, especially in areas where there has been community transmission," the guidelines note.
Face mask rules in Queensland
Face masks aren't compulsory in Queensland. Current state guidelines
note: "You don't need to wear a face mask unless your doctor has told you to or you are caring for someone who might have COVID-19."
Face mask rules in Western Australia
Face masks aren't currently compulsory or recommended in Western Australia.
Face mask rules in South Australia
Face masks aren't currently compulsory or recommended in South Australia.
Face mask rules in Tasmania
Face masks are not compulsory in Tasmania. State health guidelines recommend "wearing a facemask if you are unwell with COVID-19 symptoms and need to be around other people (for example, to access arranged medical care)".
Face mask rules in the Australian Capital Territory
Face masks aren't required in the ACT. The territory guidelines note: "You can use a mask if you are unwell with respiratory symptoms like coughing and sneezing. You should use a mask if you are suspected or confirmed to have COVID-19."
Face mask rules in the Northern Territory
Face masks are not compulsory in the Northern Territory.
Face mask rules in hospitals, medical centres and testing locations
Most COVID-19 testing centres and many GPs ask for all patients and visitors to be wearing masks, but this isn't universal. Check the specific rules and whether you need to bring your own mask when you book or before making a visit. (See our list of COVID-19 testing clinics in Australia to find one near you.)
Face mask rules in stores
Apple requires face masks to be worn at all of its Australian retail stores, and is supplying disposable face masks for customers who enter. Its FAQ notes: "Face coverings will be required for all of our teams and customers while in an Apple Store, and we will provide them to customers who don't bring their own."
Woolworths is encouraging NSW and ACT residents to wear face masks in store, but hasn't made them compulsory. "We won't stop you from entering our stores if you don't have a face covering with you, but we ask that if you don't, you remain vigilant on adhering to the social distancing and health measures already in place," its guidance notes. That request also applies to Dan Murphy's, Big W and BWS.
(Reminder: In Victoria, face masks are required in all retail stores.)
Face mask rules for airlines
Qantas supplies disposable masks as part of the boarding pack for all customers. "While masks are not mandatory from a safety point of view, they are recommended to be worn for everyone's peace-of-mind," its guidelines note. "You can also bring your own mask if you'd prefer." Flights to Victoria do require masks to be worn.
Virgin Australia encourages mask wear, but it isn't compulsory. "Guests are encouraged to bring and use their own face masks and hand sanitiser for their journey," its guidelines say. Mask and sanitiser packs are provided prior to boarding if you don't have your own. Flights to Victoria require masks to be warn.
Jetstar takes the same approach as Qantas, its parent company. It supplies an in-flight pack with a mask to all customers, but doesn't enforce using them except in Victoria.
Rex is the only Australian airline which requires all passengers to wear masks throughout check-in, boarding and during the flight. Its guidelines note: "All passengers across the network will be required to wear face masks. Passengers are encouraged to bring their own masks, or masks will be available for purchase at check-in desks." Exemptions may be made for small children or passengers with medical issues.
We updated this guide on 3 August 2020 with new requirements for Woolworths group stores.