We tried the Face Halo and yes, it actually works
Our team tried out the latest cult product on the block, the Face Halo. And as you'll see from our pictures below, it really does remove all your makeup without soap.
We're reader-supported and may be paid when you visit links to partner sites. We don't compare all products in the market, but we're working on it!
The Face Halo is the latest cleansing product to stir up the beauty world. This product claims to cleanse your face and remove even heavy makeup with just water. Our team had watched a few of the demonstration videos and honestly couldn't believe a this sponge-cloth product could actually live up to its claims.
The water is supposed to lightly loosen your makeup while the fibres of the cloth grab and clean the makeup out of your pores, leaving you with clean fresh skin. You need to rinse the Face Halo out after each use and every few uses wash it out with a bit of soap. After two weeks or so you just drop you Face Halo into the washing machine with your clothes to give it a proper clean. Each Face Halo is supposed last up to 200 wash cycles - which means you can potentially get 7 or so years out of one Face Halo. And since a three pack will only set you back $30 at Priceline, that's pretty good value.
So, we got our hands on a bunch and decided to put them to the test. Here are our reviews.
Where to buy it: Face Halo at Priceline
What Mia thought:
I love Chloe Morello, so when I saw her promoting the Face Halo, I knew I needed to give it a go. Chloe never seems to promote bad products, so I went in with high hopes!
I'm rather pleased to say that I genuinely think the Face Halo delivers on all of its promises. I've been using it for about two weeks now and I love it.
The Face Halo promises to clean your face (even when wearing heavy makeup) with just water. It's a round fabric pad with loose fluffy fibres that are 100 times finer than human hair. Since the fibres are so fine, they're supposed to be able to reach into your pores and clean them out much more efficiently than an ordinary wash cloth, which is why there's no need for soap.
I've used it after a night out when I was wearing full-glam makeup. Admittedly, it did take a fair few tries to fully cleanse my eyes of all the mascara, but in the end, it got it all. According to the Face Halo instructions, there is no need to cleanse afterwards, but I did anyway because my cleanser is a special anti-ageing formula and I just like using it.
My Face Halo is now a permanent addition to my morning routine. I use it when I wake up to lightly cleanse my skin of all the creams and serums I put on the previous evening. Washing my face without soap in the mornings makes me feel like I'm not drying my skin out. And at 27, I'm starting to get very conscious of anything that could prematurely age my skin.
If you have dry skin or sensitive skin, I would certainly recommend this product. It's the perfect way to achieve clean skin without any dryness. It's also great if you're travelling and you don't want to cart around too many products. You won't need cleansers or micellar. All you'll need is this small, reusable cotton pad.
Here's two wipes of a Face Halo compared with two wipes of a cotton pad with micellar water.
We photographed the cleansing power of the Face Halo and micellar water up against a Guerlain foundation and a Charlotte Tibury Lipstick.
---
What Alex thought:
Real talk. I'm literally the laziest person in the world when it comes to removing makeup. I know it's terrible for your skin, but honestly I just can't be bothered. Most of the time, I just grab a face wipe and hope that does the job. Every now and again, I crack on some music and then pump through a proper skincare routine, but that's a rare occasion.
Therefore, when I saw the Face Halo on social media, it's safe to say I was intrigued. It seemed super simple and looked like it would work into my lazy-girl skincare routine perfectly.
When I got my hands on one of these bad boys, the texture of it already had me head over heels. It felt so soft that I quite literally could not wait to try it out. I have fairly dry skin so actually getting makeup off my face is harder than one would think. My makeup sticks to my skin and is not easy to remove, especially from my pores.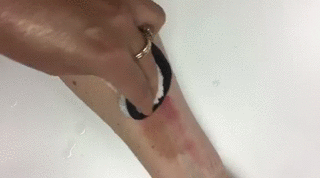 A Face Halo in action
Giving the Face Halo a try, I quickly discovered it's not a swipe once and your makeup disappears situation; instead, it's as if you're giving your face a bit of a massage. Also, it doesn't feel as rough or damaging to your skin as a face washer or makeup wipe, and that gets a big tick in my books.
The first time I used the Face Halo, I found it hard to believe that it was that easy. I even grabbed some micellar water and a makeup pad to see if it really did remove my makeup as well as I thought it had. I was incredibly impressed with the fact that there was little to almost no makeup left on my skin.
All in all, the Face Halo is definitely something I can see myself going into a long-term relationship with. It fits into my lazy-girl routine and accepts me for who I am. I'd easily recommend it to someone who wants an easier way to remove their makeup effectively and efficiently.
---
What Steph thought:
The Face Halo made all these promises that I was super hopeful about. The idea that one simple fabric pad can cleanse skin cleaner than anything else on the market without any extra products is a big claim, and I was 100% ready to laugh it off as a "well, we tried" kind of situation.
I'll be the first to admit that I went in sceptical. My regular day-to-day look is thick, winged liner and heavy mascara, so when they told me the Face Halo would be able to tackle that with only warm water, let's just say I had my doubts.
But, to its credit, not only has the Face Halo removed my makeup every day without fail, I've also found myself turning to it morning and night for regular light cleansing. I don't go too heavy on my face when it comes to foundation (at least on a day-to-day basis), but it's been a massive relief to no longer irritate the delicate skin around my eyes by rubbing back and forth with cotton pads soaked in micellar water.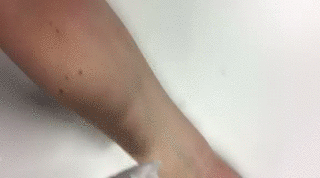 We used a tissue to check if the Face Halo removed all the makeup
I have dry, sensitive skin, so it's important to me that I avoid products that are going to be too abrasive or have too many chemicals. By using the Face Halo, my skin actually feels much healthier and has had the time to replenish itself naturally instead of chemically.
Having used it now for about two weeks, I can see how it can easily become a must-have element of a person's cleansing routine – and if I'm honest, it already is for me. A couple of swipes across my skin with warm water and the Face Halo has me cleansed and ready to moisturise to within an inch of my life.
You get three in a pack and they last a really long time, so I can definitely see myself using the Face Halo long term. In fact, I wouldn't be surprised if it makes the shortlist of my top products for 2018 – and it's only March!
---
Snap up a 3 pack of Face Halos at Priceline here.
---